Polish Opposition Vows to Keep up Blockade of Parliament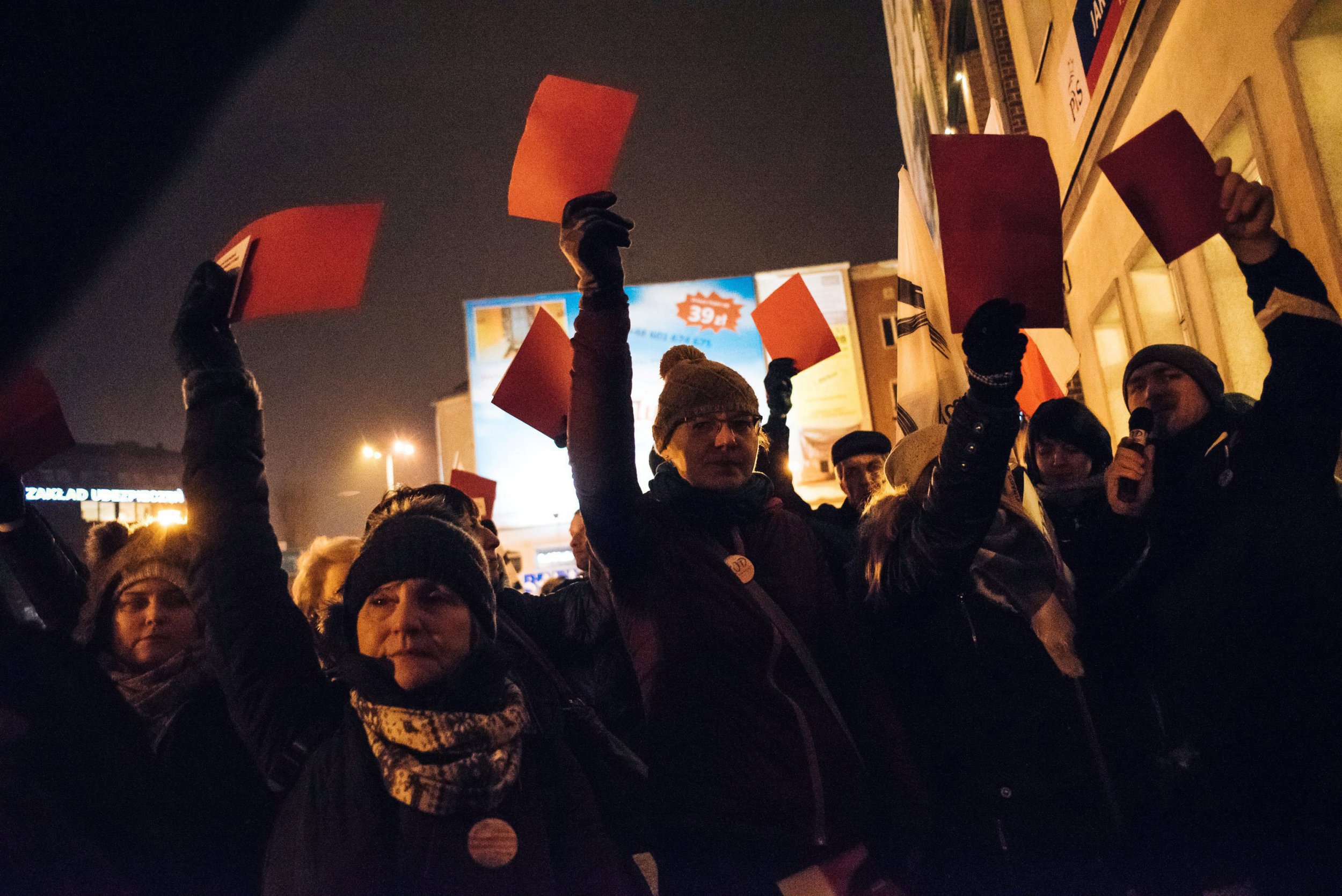 Polish opposition leaders called on Saturday for days of anti-government protests and vowed to maintain a blockade of parliament's main hall that the ruling party condemned as an illegal attempt to seize power.
About two dozen members of the opposition Civic Platform (PO) took turns to sit in the legislature's plenary hall through the night and the party's leader said they would remain there for the next few days.
"We will be on the streets until they are done destroying the country," Mateusz Kijowski, the leader of the Committee for the Defence of Democracy movement, told protesters.
Several thousand people protested in Warsaw and other cities after police broke up a blockade of the entrances of the parliament building in Warsaw in the early hours.
Poland 's biggest political standoff in years began on Friday when opposition lawmakers objecting to plans by the ruling Law and Justice (PiS) party to curb media access to parliament blocked the plenary hall podium ahead of a budget vote.
PiS lawmakers later moved voting to another area without media access, prompting accusations they had passed the 2017 budget illegally, breaching the constitution.
The clash with the opposition has highlighted a growing divide in eastern Europe's largest economy, with some Poles increasingly angry over the PiS government's efforts to assert more control over state institutions.
"If it becomes clear that it is impossible to talk to (PiS lawmakers), we should have early elections," Ryszard Petru, head of the liberal Nowoczesna grouping, told protesters at parliament.
A snap election is unlikely, however, as PiS holds an outright majority in parliament and would be able to overrule any vote of no confidence.
Poland 's Western allies have also expressed concerns over a push by the government to reform the constitutional court, saying it contravened democratic standards.
But despite criticism at home and abroad, the euroskeptic PiS enjoys steady support among many Poles eager to hear its message of higher welfare, more Catholic values in public life and less dependence on foreign capital.
PRESIDENT CALLS FOR CALM
European Union Council President Donald Tusk, former head of the PO—Poland 's largest opposition party—urged authorities to respect the constitution and warned about the risks of disregarding "the European model of democracy."
"I appeal to those who have real power to respect and regard the people, constitutional principles and morals," Tusk, who has a long-standing feud with PiS head Jaroslaw Kaczynski, told a cultural conference in Poland 's western city of Wroclaw.
"Those who undermine the European model of democracy, attack the constitution and good customs, expose all of us to strategic risks. By throwing away the spirit of freedom and community, they write the next act of Poland 's solitude," he added.
Government officials deny behaving undemocratically and have accused opposition leaders of fomenting dissent.
Interior Minister Mariusz Blaszczak said the opposition blockade of parliament was an "illegal attempt to seize power," while Prime Minister Beata Szydlo accused opposition lawmakers of being focused on "brawls."
Later in the day, however, Kaczynski told the speaker of the upper house of parliament to organize a meeting with media outlets on Sunday to discuss the new plan for journalists' access, PAP news agency reported, citing government sources.
Meanwhile, Polish President Andrzej Duda, a PiS ally, called on all sides to calm down. "I am ready to mediate in this matter," he said in a statement.
A Reuters correspondent in Warsaw and other journalists were not allowed to enter parliament on Saturday, which PO leader Grzegorz Schetyna called unacceptable.
"Parliament cannot be governed by censorship," he told a news conference. "It cannot be without journalists."