A Polish opposition senator was summoned for questioning as a result of a civil lawsuit against the ruling party leader after his phones were hacked more than 30 times in 2019.
While running for the opposition's parliamentary election campaign in 2019, two of Krzysztof Brejza's phones were hacked, according to an analysis conducted by the Citizen Lab at University of Toronto in Canada. Messages were stolen and doctored to make it appear Brejza was part of an online group that spread hateful anti-government propaganda, but the group didn't actually exist.
Jaroslaw Kaczynski, Poland's ruling party Law and Justice leader, suggested that Brejza was placed under surveillance for wrongdoing instead of being hacked. The comments led to Brejza filing a civil suit for slander.
Hours after the news of the suit was reported, Brejza's father, the mayor of Inowroclaw, a city in central Poland, was informed he was under investigation and needed to appear for questioning but was not informed of what the case involves. Father and son insist they have done nothing wrong and say this is political revenge.
The software used to hack Brejza, Pegasus, is spyware from Israel's NSO Group, which Poland bought as a tool to fight terrorism and other serious crimes. The father and son believe the ruling Law and Justice party is trying to cast suspicion on them to justify the use of Pegasus against political opponents.
Kacynski described Pegasus as a tool that many states now have to combat crime and corruption, which is why it was placed onto Brejza's phones.
Brejza spoke Monday at a news conference in parliament accompanied by Dorota Brejza, who is both his wife and his lawyer. He called the decision to summon his father "revenge for targeting the family."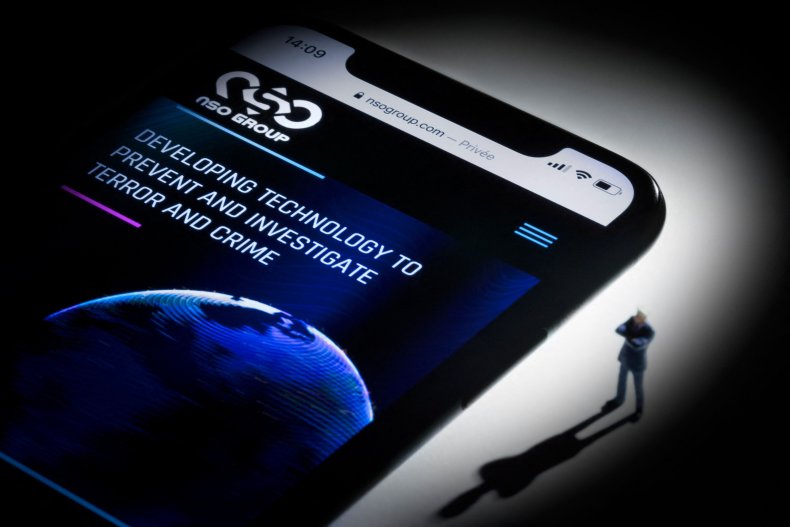 Citizen Lab found that two other Polish critics of the right-wing authorities were also hacked, all three with Pegasus spyware by Israel's NSO Group. The other two are Ewa Wrzosek, a prosecutor, and Roman Giertych, a lawyer.
AP reported the hackings in exclusive reports based on the Citizen Lab and Amnesty International findings.
In Brejza's case, text messages stolen from his phone were doctored and aired by state-controlled TV in Poland as part of a smear campaign in the heat of the race, which the populist ruling party went on to narrowly win.
The hacking revelations have rocked Poland, drawing comparisons to the 1970s Watergate scandal in the United States and eliciting calls for an investigative commission in parliament.
The Associated Press contributed to this report.