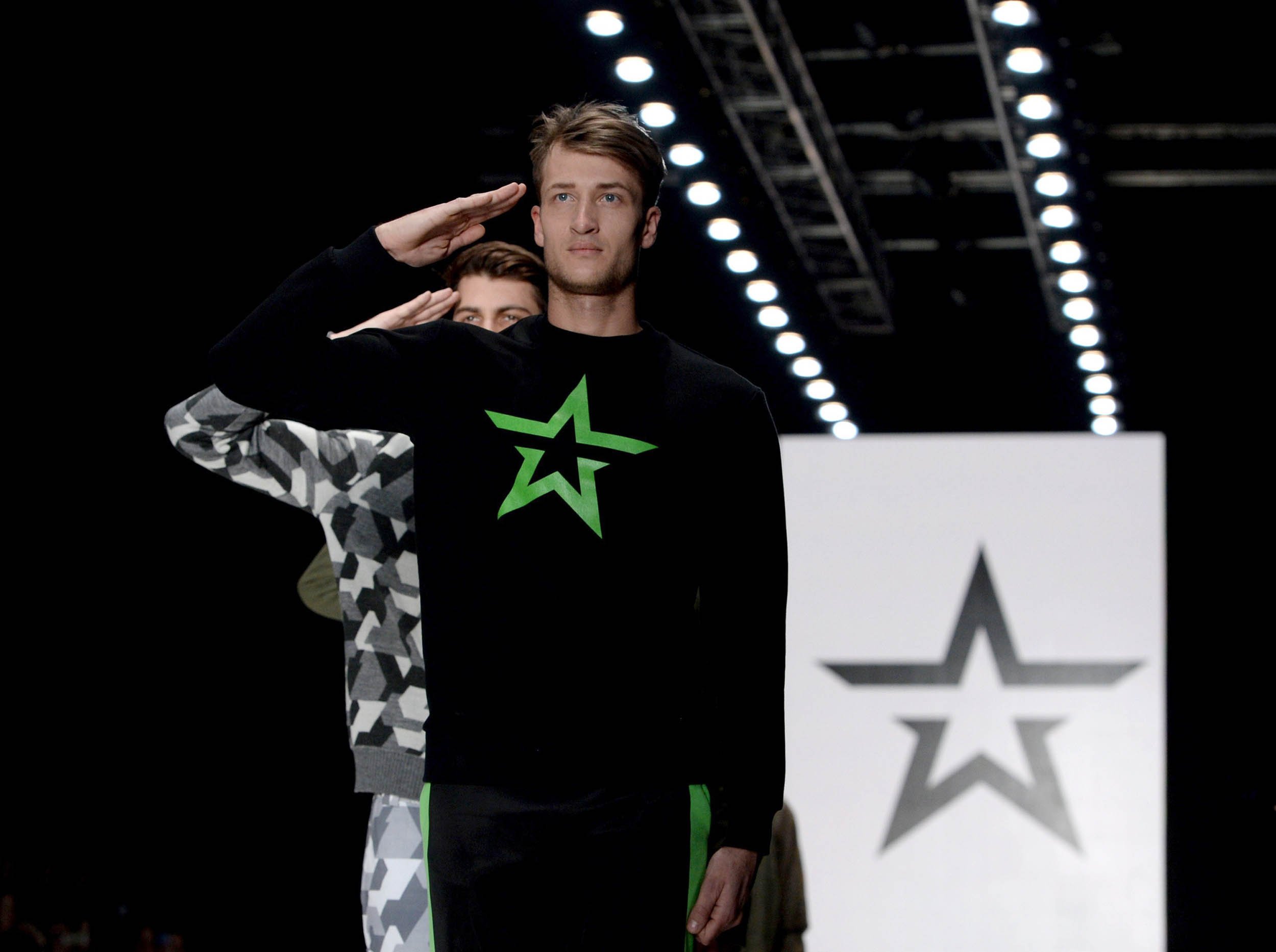 In Russia, the term "polite people" has lately taken on an entirely different meaning than we're familiar with, being used to refer to the masked, heavily armed soldiers who occupied and blockaded Crimea.
The usage was coined by Crimean blogger Boris Rozhin, the chief editor of the website Voice of Sevastopol. In his blog, Rozhin reported on a Ukrainian airport security chief who said the Russian military had "politely asked" his staff to leave, and the post was illustrated with ominous images of the Russian military.
The post caught fire on social media sites, and a new Russian meme was born.
Russia's state-owned media has begun using the term and its army has a Twitter feed called Вежливые люди (polite people). Some military officials' offices reportedly are even decorated with photos bearing the slogan: "Politeness is a power that can open any door." During the Victory Day holiday, the Ministry of Defense launched its own "polite people" clothing line, and a trademark dispute has erupted over the brand.
A second description of Crimea's masked troops has also taken off: "Little green men," referring to the color of their uniforms. The designation is popular with Ukrainian TV newscasters and Prime Minister Arseniy Yatsenyuk, who has used it while addressing parliament.
Russian spin doctors in Crimea have pushed back, creating what popular Russian blogger Ilya Varlamov refers to as "an image of a Russian liberator-soldier wearing a nice new uniform and armed with beautiful weapons, who has come to defend peaceful towns and villages."
During Mercedes-Benz Fashion Week in Moscow, "polite people" was showcased in a menswear collection designed by Leonid Alexeev in collaboration with the Ministry of Defense, called Army of Russia. Alexeev, who achieved wide renown as a guest editor and presenter on Russian MTV's version of "Project Runway," caused a stir last year in the fashion world by mysteriously disappearing from events for an extended period before announcing he had accepted an invitation to create a design bureau for the Ministry of Defense. He's now in charge of the military's entire aesthetic—clothing, souvenirs and interior design.
Alexeev's new Army of Russia winter line is meant to honor his "patriotism and love of Russia." The collection includes black T-shirts featuring a giant green star shape (like the red Soviet star without the hammer and sickle), hooded jackets that say "Army" next to a red Kremlin star, oversize camouflage pants and hoodie sets, fleece-collared leather jackets with tricolor patches on the sleeves, black T-shirts featuring silk-screened "little green men," aviator jackets with the words "Victory 1945-2015" on the back (a nod toward the upcoming 70th anniversary of the World War II victory against Nazi Germany) and sweatshirts and jackets featuring the word "POLITE."
Voentorg general director Vladimir Pavlov has called the clothing line an homage to the "Crimean Spring." He says the pieces are designed for people "leading an active lifestyle and sharing military values—patriotism, camaraderie and mobility."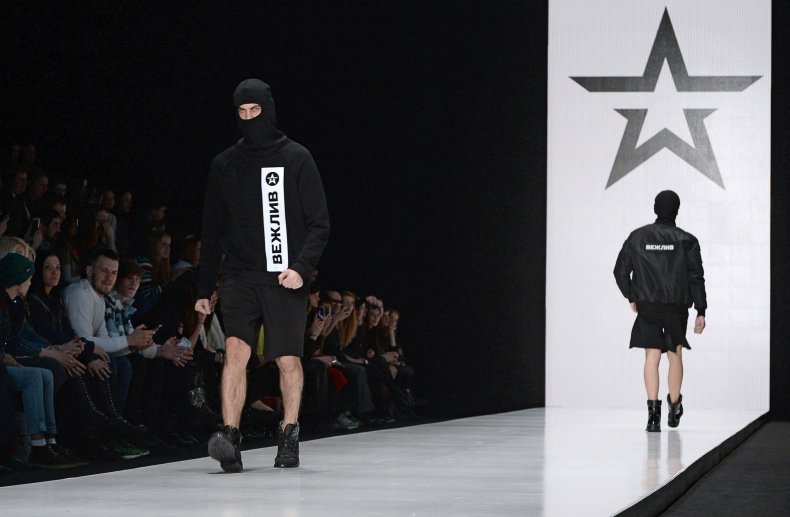 To Alexeev, the clothing is a calling. "I do not sew army uniforms, but I can help make the army attractive to people," he told Russian Time Out. "This is my personal form of patriotism. Any designer wants to do something important in life, not only for themselves but also for their country. I wanted to build a system which would make high-quality and beautiful things that can serve as promotion for the army."
Pro-Russian clothing is a growing trend in Russia. At T-shirt swaps last year in Novosribirsk and St. Petersburg, "I heart NY" and "FBI" shirts were traded for nationalistic wear. Two months ago, Moscow-based Voenpro unveiled a swimwear line that included everything from bikinis to hot pants to baby clothes emblazoned with what Newsweek Europe called "livery of the Kremlin-backed separatist rebels in Ukraine's eastern Donbas region who have been fighting the Kiev-loyal army since last spring."
The co-presenter of the Army of Russia collection was Voentorg, the official food and clothing supplier of the Russian defense ministry. The entire wardrobe will be available at the Voentorg stores, the country's Central Military outlets. Pictures of the entire show can be viewed here.