The Political Backstory in Ferguson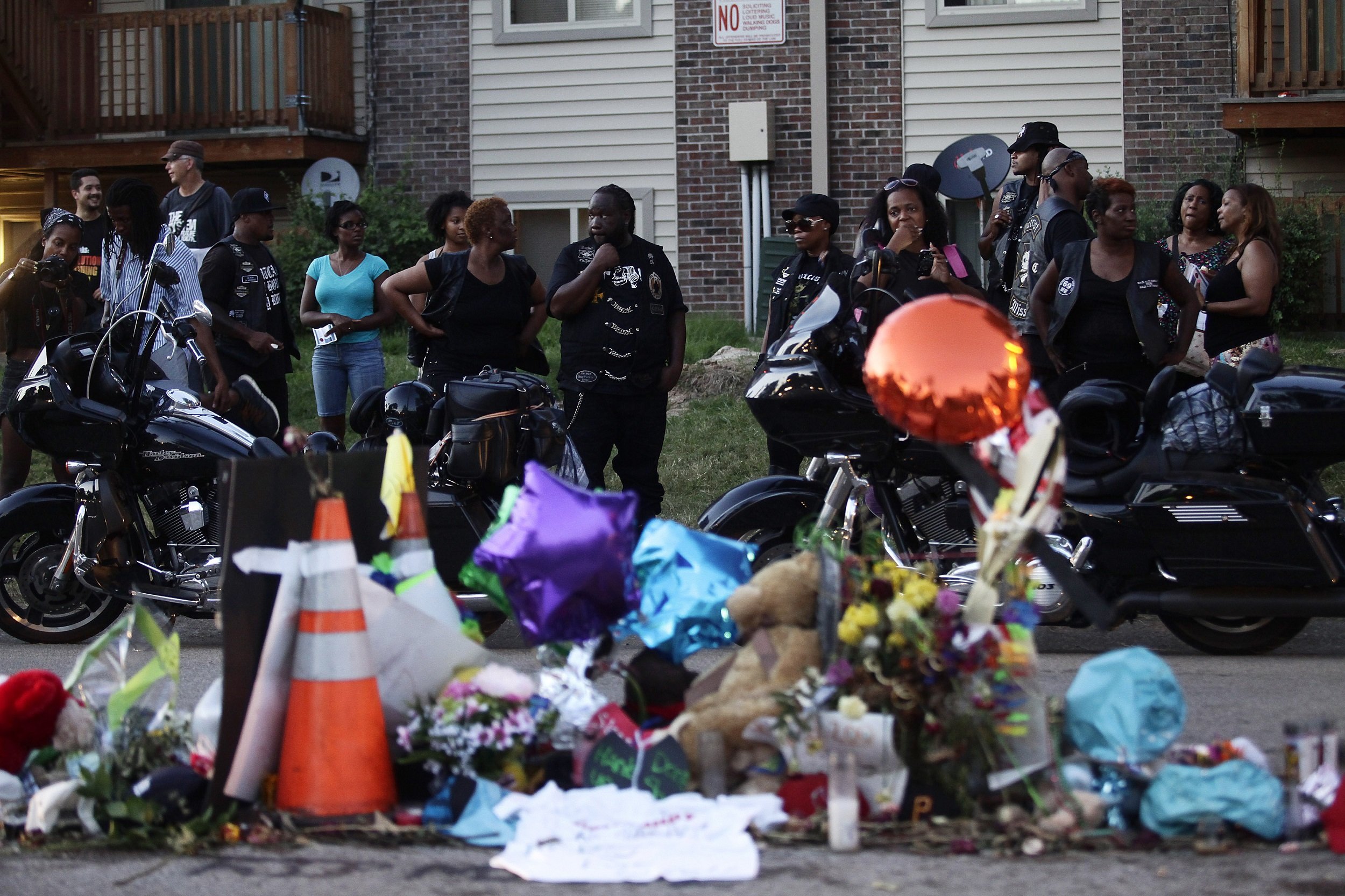 Four days before Michael Brown, an unarmed black teen, was shot dead by a white police officer in Ferguson, Missouri, sparking nearly two weeks of protests, the black community there lost the most racially divisive election in recent memory.
On August 5, Democrats in St. Louis County headed to the polls to choose their nominee in November's county executive race. On the primary ballot was 10-year incumbent Charlie Dooley, who is black, and his challenger, white county Councilman Steve Stenger.
When the votes were tallied, Stenger had won overwhelmingly, ousting the black incumbent by nearly the same margin (66 percent to 30 percent) that white residents in St. Louis County outnumber African-Americans (70 percent to 24 percent). As the St. Louis Post-Dispatch noted Aug. 28, a map of the precinct results looks "almost identical to census maps of county demographics."
Dooley's vote tally aligned even more closely with the number of Democrats in the county who are black, about one-third. Pollster Titus Bond, whose firm polled the race, believes Dooley won about 70 percent of black voters and just 20 percent of white voters.
"Race absolutely made a difference," said David Robertson, a political science professor at the University of Missouri-St. Louis.
Brown's shooting death at the hands of a white police officer on August 9 highlighted not just the tragic death of one young man but also the systemic powerlessness of Ferguson's black community. Reporters arriving at the location of Brown's death found a town that was nearly 70 percent black living under a white power structure, from the white mayor and the nearly all white City Council to the white judges, prosecutors and police force.
As the unrest in Ferguson continued, the twin issues of political power and police brutality began to blend together. St. Louis Alderman Antonio French, for example, is focused on registering black voters in Ferguson.
The Stenger-Dooley election became not just the context but also part of the Michael Brown case when longtime County Prosecuting Attorney Robert P. McCulloch's office began a grand jury investigation to determine whether to charge the officer who shot Brown, Darren Wilson, with a crime. McCulloch is distrusted by the black community because of his history of siding with the police and also because of his strong support for Steve Stenger.
In a letter urging McCulloch to recuse himself from the case and appoint a special prosecutor—which McCulloch has declined to do—Missouri State Senator Jamilah Nasheed, a Democrat, specifically mentioned the county executive election as a reason McCulloch's office should not handle the Brown case.
"For the past few months you have been intimately involved in perhaps the most racially polarized election in the history of St. Louis County," Nasheed wrote. "The racial overtones and undertones of the election were palpable and have left a deep scar in the black community, which has little faith that its interests are of concern to County Officials."
More than a million people live in St. Louis County, the suburbs that encircle the city of St. Louis. The county, which does not include the city, is unofficially divided into North County, South County, West County and Mid County.
Ferguson is in North County, an area transformed in the past 30 years from a middle-class white suburb to a largely black and poorer region of the county, as a steady stream of black residents abandoned the inner city for its northern suburbs. In 1990, for example, 75 percent of Ferguson residents were white. In 2000, the town was evenly split between white and black. By 2010, it was two-thirds black.
On the opposite side of the county, South County is like a white mirror image of North County. Its almost entirely white population is working class and middle class. There's a significant number of Democrats there, too, but of a different breed: economically liberal with strong union ties but socially conservative. South County is largely Catholic, pro-life and pro-gun-rights. Rather than resembling today's national Democratic Party, socially liberal and increasingly dependent on minorities, many of the white Democrats in South County resemble an older species of Democrat.
Dooley is from North County, Stenger from South County. Though neither campaign used race explicitly, their respective home base and turnout operations were unavoidably about turning out the white and black voters. "St. Louis is super-segregated. Everything here is black and white. There's no in-between," said Jerryl Christmas, a local criminal defense attorney.
Dooley was a less than perfect candidate. In his last term, he contended with the Great Recession, a misfortune that damaged many local politicians around the country. But his administration was also bogged down in controversies that, while never implicating Dooley directly, generated lots of poor publicity. His campaign, Robertson observed, wasn't run as well as it should have been. Even his African-American base in North County was disappointed in him over the past four years. If Dooley had won his primary, he would be in a very tough general election despite the county's Democratic leanings.
Despite Dooley's missteps, at the end of the day, the contest's racial element was unavoidable. Attacks on Dooley, whether there was intentional race baiting or not, were seen through a racial lens by many black residents. One ad in particular irked the black community.
The ad focused on "three FBI investigations" into county government under Dooley and showed Dooley's face projected onto the sides of buildings next to text describing the investigations. The ad never mentioned that Dooley was not the subject of the investigations and that no one was ultimately charged with a crime. This same ad featured McCulloch, the popular law-and-order prosecutor who has been in office since 1991, saying, "This kind of corruption is a disgrace.'' (The Stenger campaign has removed its political ads from YouTube, but local TV station KMOV played the ad as part of a fact-checking segment and can still be viewed online. KMOV labeled the ad "misleading.")
To many in North County, the fact that Stenger aligned himself with McCulloch was offensive, given the community's tense relationship with the prosecutor. They also felt the ad played to racial stereotypes about black people operating outside the law.
"They tried to say he was corrupt, [used] a lot of innuendo in getting him out," said Patricia Bynes, the Democratic committeewoman for Ferguson Township.
"Particularly in retrospect, some of his tactics were offensive" to the black community, said Linda Goldstein, who served as Dooley's communications director during the primary, pointing specifically to that ad.
Stenger has "a very broad base of support, including many African-American voters," Stenger's campaign spokesman, Ed Rhode, told Newsweek in a statement. "Most of the African-American leaders Mr. Stenger has spoken to over the past several weeks have been responding positively to his long-term solutions for North County.
"Further, none of the African-American leaders Mr. Stenger has spoken to have indicated that the primary election is an impediment to supporting him in the general election," he said.
McCulloch's high-profile role in the race was unusual for the longtime prosecutor, whom Jeff Smith, a former state senator in Missouri, describes as a political "lone wolf." Though he rarely throws his weight around in the local political scene, McCulloch is an entrenched figure in county politics. He is on the ballot this November, seeking a seventh term unopposed. His close ties to the police have earned him the distrust of black voters, but his support among moderate and conservative white Democrats in the county is very strong.
"Whites in St. Louis County weren't very familiar with Stenger but had been voting for McCulloch for all these decades," Bynes explained. McCulloch's support of Stenger "helped lend some credibility to his candidacy."
If you drill down into the vote tallies by township, which make up the county's election data, even liberal white Democrats abandoned Dooley. In Hadley Township, for example, a liberal enclave that borders St. Louis City and is about three-quarters white, 78 percent of primary voters chose Dooley in 2010, when he did not have a serious primary opponent. This August, 70 percent chose Stenger.
The tensions between black and white Democrats create a dynamic where the black community feels it is taken for granted by white politicians, Bynes said. Choosing between a white Democrat and a white Republican on the ballot, she said, is like choosing between two evils.
"Normally, African-Americans choose between two candidates who are usually white. They are not going to come out and be very big on issues for black people," she said. White politicians of both parties "shy away from that because they feel it doesn't play well to their white, middle-class base."
"It's a tightrope for any countywide Democrat to try to walk right now," said Smith, the former state senator, who now teaches at the New School in New York City. "There's a lot of conservative white Democrats, especially in South County, and to some extent in North County, and yeah, you need them to win a general election."
This tension has played out in how white politicians have responded to the unrest in Ferguson this month. Stenger and the Republican he will face in November, Rick Stream, both kept a very low profile when the violence broke out. People on the ground in Ferguson said they hadn't heard a peep from either candidate. But several days into the protests, the two alerted the media to the fact that they had visited Ferguson multiple times, they just hadn't told anyone about it. As Stenger's spokesman told St. Louis Public Radio, "Stenger has chosen to work behind the scenes instead of taking selfies with celebrities or generating media attention." This behind the scenes work is also less likely to cross their white bases.
Missouri's white Democratic governor, Jay Nixon, faced a similar predicament when he came under pressure to remove McCulloch from the Brown case—a move demanded by the black community but certainly opposed by McCulloch's white, Democratic base. Nixon settled for neither defending McCulloch nor removing him. Missouri Attorney General Chris Koster, a conservative Democrat who plans to run for governor in 2016, similarly deflected calls to replace McCulloch.
"It always has been difficult for especially the sort of conservative, white part of the Democratic Party and the African-American part of the Democratic Party to work together easily in this region," Robertson said.