A former political candidate has been publicly shamed online for appearing to trash items in a memorial dedicated to a teen who had recently been killed in a tragic car crash.
"Heartless" former UKIP candidate Brigitte Graham was caught last Sunday in East Budleigh, England, reportedly throwing out bouquets and cards left at the sight of a horrific car crash that took the life of 18-year-old Vinnie Dennis, according to Devon Live.
Video of the "insensitive" incident emerged on social media shortly afterward. The footage particularly struck a chord with viewers on Reddit's r/imapieceofs**t forum.
The clip starts with a concerned citizen approaching Graham as she appears to toss a bouquet in the trash can. "Brigitte, you can't do this without [the family's] permission," he says. "It's unacceptable."
As Graham asks about whether this was a request "from the council," the unnamed man filming retorts, "It's not about the council. It's about people grieving."
"People are grieving!" another offscreen onlooker shouts.
"You can't do this," the man adds. "It's not your responsibility, it's not your space."
Though the man demands a response, Graham ignores him and continues picking out flower arrangements to throw away.
"Why do you think it's acceptable to do this?" the man filming asks. "What are you going to do with the cards and the wine [not seen in the video]?"
"Wait and see what I do with the cards," she retorts. "Wait and see."
As the man threatens to call up the grieving neighbors who left cards behind at the memorial, Graham becomes aggravated and begins hitting the electrical pole near the trash bin.
"It's not for you to do!" the man adds before the video ends, as Graham returns to the task of dismantling the memorial.
Reddit viewers were outraged that someone with no affiliation to Dennis or his family would behave so "callously."
"Can't imagine what kind of miserable life you had to have to lead up to being this kind of person," one angry viewer wrote. "Wrong just wrong it's [someone's] life that's just passed and [you] just wanna chuck all the tributes in the bin like that...sort ya s**t out and maybe give the flowers some water [instead]," another added.
"She's mad a teenager that died got more flowers than she ever got [through] her life so of course, she gotta make others day!" one person even theorized.
Many also expressed that they would have put a stop to her actions had they been there, even if it resorted to physical violence.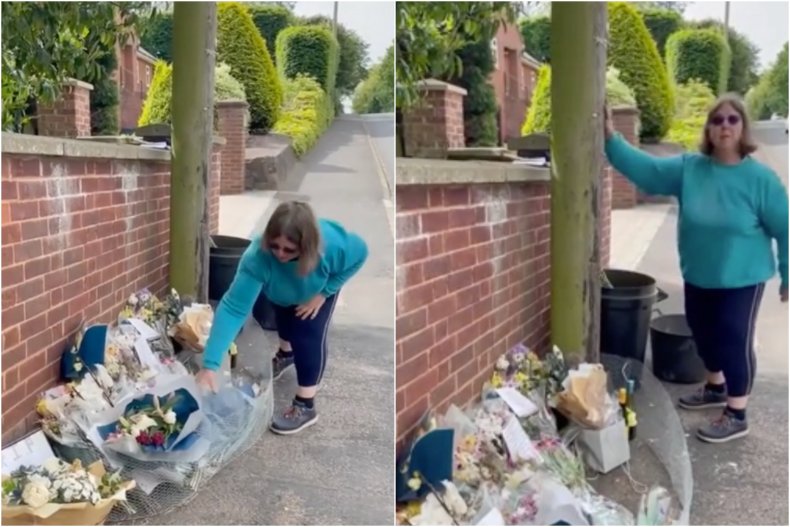 Graham was subsequently identified by eagle-eyed viewers and followers of the Devon County Council, as she was a candidate for an open position in May. She issued a formal apology on Tuesday.
"I shared the outpouring of grief that followed the shocking death that happened outside our homes on May 26. The flowers and messages left at the site expressed the communal sorrow experienced by myself and my neighbors," she said in a statement to Devon Live.
"After three weeks the flowers were dead which gave the impression that somehow this tragedy had been forgotten. It has not been forgotten.
"I, therefore, removed the dead flowers, kept all the messages from friends and family and attached them to the pole so they can continue to be read," she added. "I did this because I cared. I can only apologize for any upset this has caused."
Graham also noted that she would be willing to replace the flowers she threw away.
Her apology felt insincere to some. Dennis's family admonished her behavior in a statement obtained by Devon Live.
"Vinnie died two weeks tomorrow, not three weeks ago when he was alive and well, with us and not just in our hearts," his family and girlfriend said in a joint statement. "We laid some flowers the next day after his death, but the bulk of the flowers were driven up by family and friends on Saturday. Residents did demonstrate compassion and sorrow, and...[offered] their land for us to use as a memorial."
According to Dennis's family, the neighbors also volunteered to water and maintain the memorial, as they live about two hours away from the site of the accident.
"Most of the flowers that we laid on Saturday, May 29, had their own source of water and were stood in boxes. You can clearly see that they are not dead," they told Devon Live.
They also publicly dismissed Graham's apology: "As for Brigitte's statement that we had 'forgotten the tragedy' that stole someone so special, we find this comment and the removal of flowers to be callous, vindictive and heartless."
The family also expressed thanks to the community members for their continued support in honoring the memory of their son.
"We would like to thank those residents, particularly those that support us and Vinnie. We have found the actions of Brigitte totally inexcusable," they told Devon Live. "We only hope that the messages on the post are still sealed so we can read them when we are ready."
Newsweek reached out to Graham for additional comment on the situation, but she did not immediately respond in time for publication.