President Donald Trump sparked widespread outrage last week after he repeatedly rejected findings that put the death toll in Puerto Rico after Hurricane Maria at nearly 3,000.
The president put forth his comments as Hurricane Florence barreled toward the U.S., with the U.S. leader heralding his administration's response to the devastation of Hurricane Maria an "unsung success."
Trump then went on to tweet that 3,000 people "did not die" as a result of Hurricane Maria, which pummeled Puerto Rico, claiming, without any evidence, that the higher number was part of a plot by Democrats to harm him politically.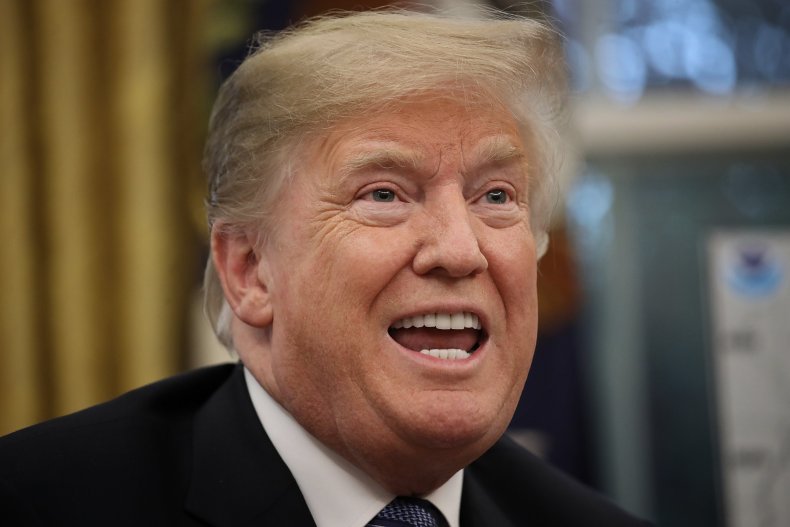 The president reiterated the claim days later, insisting that the death toll had risen "like magic," after he had initially been told in the immediate aftermath of the hurricane that the storm had caused "anywhere from six to 18 deaths."
In the days since the president made his unfounded claims, political cartoonists, both professional and amateur, responded with the same grim joke.
In one such cartoon, drawn by Marshall Ramsey and shared on Twitter by San Juan Mayor Carmen Yulín​ Cruz, Trump was shown pointing angrily at rows of graves labeled "Maria victims" as he shouted "stop making me look bad!!!"
"Too real, and painful, not to share," wrote Cruz, who has criticized the Trump administration's response to Hurricane Maria.
In another cartoon, drawn by Drew Sheneman for the Tribune Content Agency, Trump was shown tweeting: "3,000 people did not die in Puerto Rico. Made up by DEMS to make me look bad!"
That image was followed by another showing gravestones, with a speaking box above one gravestone that read: "Oh no...He's onto us."
In yet another cartoon condemning Trump's comments, artist Andy Marlette drew Trump holding up the obituary page of a newspaper with the Puerto Rican flag on it as he exclaimed: "Fake news!"
On Sunday, Federal Emergency Management Agency chief Brock Long refused to support the George Washington University study that found that at least 2,975 deaths were linked to Hurricane Maria.
Speaking on NBC's Meet the Press, Long defended the Trump administration's response to the storm and said that death toll estimates were "all over the place" in the wake of the disaster.
"I think the president is being taken out of context there," Long said. "I mean, I talked to the president every day this week and the secretary of Homeland Security [Kirstjen Nielsen], and we discussed what we're trying to do as a result of last year," he said.
The FEMA head said "there is a difference between direct deaths and indirect deaths.
"What happens, even in this event, you might see more deaths indirectly occur as time goes on because people have heart attacks due to stress, they fall off their house trying to fix their roof. They die in car crashes because they went through an intersection where the stoplights weren't working.… Spousal abuse goes through the roof. You can't blame spousal abuse after a disaster on anybody," Long said.
"The president's very passionate about the work we've done, he's been incredibly supportive of me and the staff," he added.
Researchers at GWU's Milken Institute School of Public Health stood behind the study's results. They said in a statement obtained by NBC last week, "We stand by the science underlying our study, which found there were an estimated 2,975 excess deaths in Puerto Rico after Hurricane Maria. We are confident that the number—2,975—is the most accurate and unbiased estimate of excess mortality to date."