Political Flyer Slams Texas Candidate Doug Woodward for BLM Sign in Yard
A school board candidate in a very wealthy Dallas district has been bashed by a political action committee for having a Black Lives Matter sign in his yard last summer. Doug Woodward, a candidate for Place 1 trustee in the Highland Park Independent School District (HPISD), confirmed he had a sign in his yard.
Woodward's campaign website has a section of questions asked by people, followed by his answer. One of them questioned if he actually had a BLM sign in his yard.
"I did, indeed, have a sign in my yard briefly last summer which expressed compassion at a difficult time for all of us," Woodward wrote. "If you are asking whether my response indicates a support of any political platform you may associate it with, the answer is categorically no and any suggestion otherwise is misinformed and irresponsible."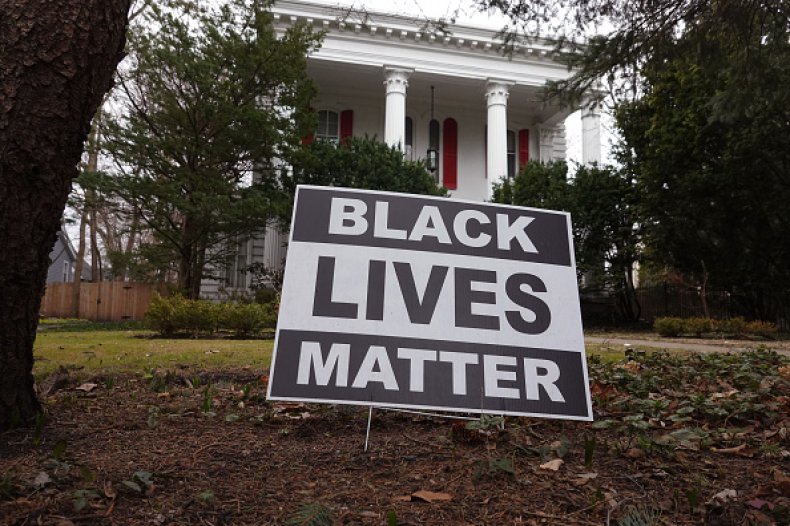 Highland Park is an affluential, and mostly white, section of Dallas that's completely enclosed by the City of Dallas. Highland Park has its own city structure and its own school district separate from Dallas ISD. Woodward is in a race against Kelli Mcatee, who's painted as the conservative in a flyer distributed within the community by the Metroplex Citizens for a Better Tomorrow PAC.
As for the flyer, it has Mcatee's photo on the left with verbiage about her, and then Woodward's on the right with things about him.
Mcatee's listed attributes—all with green checks next to them—include:
Christian Conservative Texan
Successful Businesswoman
Wonderful Wife and Mother
Born and Raised in Highland Park
Political Outsider
Grassroots Voice for HP Parents
Woodward's list, which all had a red 'X' next to them, include:
New Jersey Liberal
Votes in Democrat Primaries
Had BLM Sign in His Yard
Says #1 Quality in Teachers is Diversity, Not Teaching Qualifications
Recently worked as P&G's "Diversity Officer," whose materials stated that all white people are racist, just for being white
Woodward's website states he has lived in the Park Cities area of Dallas—which includes University Park—for 22 years. It says he was born in New Jersey, went to college in Kentucky and worked in Cincinnati and Florida before making the move to the Dallas Metroplex.
In a separate video on his Facebook page, Woodward called the idea of hiring unqualified teachers "absurd."
The spokesman for the PAC that distributed the flyer is the PAC treasurer, Monty Bennett, who told The Dallas Morning News that Woodward is the "lefty" while Mcatee is the "conservative" in the Place 1 race.
"Everyone knows that the left-wing media's bully culture is to twist whatever anyone says into making a conservative look bad and a lefty look good," Bennett wrote in a statement. "Everyone also knows that Kelli is the conservative and Doug's the lefty in this race. There's no point in countering the misrepresentations and distortions you will no doubt write in this article."
Mcatee said she wasn't involved in the decision-making process for the flyer, nor would she approve.
"We live in a very divided time, sadly, and there are often times outside groups that get involved in elections," Macatee said in the Park Cities People newspaper. "As I stated emphatically, my campaign (or I) had nothing to do with the flyer. I have been working very hard and my message is resonating and I feel like I enjoy widespread support across a lot of our community."
When Mcatee was asked whether or not she would post a BLM sign in her yard, she said the pro-Black group is founded on Marxism, and that she would be reluctant because to "put a sign in my yard without knowing exactly what it means, what it stands for and what it represents."
The HPISD election is scheduled for May 1, with early voting to begin April 19. This race will decide the trustee to replace board president Jim Hitzelberger.
Notable alumni of Highland Park High School include, but is not limited to: Jayne Mansfield, who was an actress and one of the earliest Playboy playmates; current Los Angeles Rams quarterback Matthew Stafford; current Los Angeles Dodgers pitcher and World Series champion Clayton Kershaw; 1980 Nobel Prize-winning astrophysicist James Cronin; actress Angie Harmon; Pro Football Hall of Fame quarterback Bobby Layne; former Supreme Court Justice James A. Baker; former Texas Gov. Bill Clements; 1948 Heisman Trophy winner and NFL Hall of Fame running back Doak Walker. John Hinkley Jr., who attempted to assassinate former President Ronald Reagan, also went there.