Political Football: Notre Dame Wideout Corey Robinson Doubles as Student Body President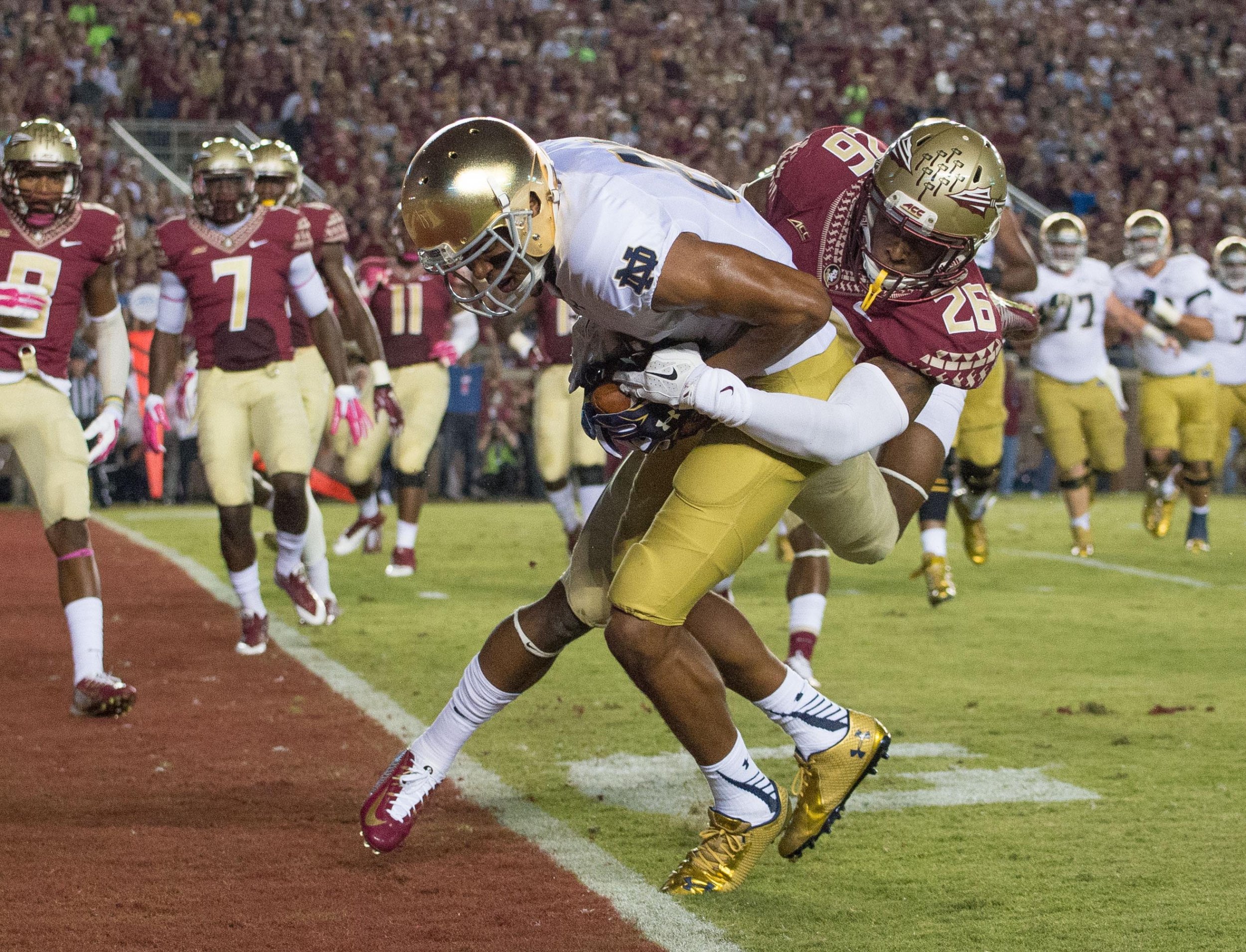 As a two-time All-American basketball player at the United States Naval Academy, seven-footer David Robinson was widely known as "The Admiral." Now his son, Notre Dame wide receiver Corey Robinson, may gain renown as the Commander in Chief. "I've heard 'El Presidente' in the locker room," says Robinson. "Also 'Mr. President' and 'El Hefe.'"
This was not an April Fool's Day joke: On Friday, Robinson, a junior, took office as the school's student body president. He is believed to be the first football player since the Fighting Irish took up the sport in 1887 to hold that office. The 6'4" Robinson, whose 65 career catches in three seasons makes him the team's leading returning wideout, will wear multiple hats in the coming months and only one of them will be a gold helmet.
"I'm very excited to have this opportunity," says Robinson, who was a first team Academic All-American in 2014. "I just love this place, and I feel as if I can make a difference."
Robinson took office one day after 17 of his former teammates, a few of them fellow juniors, had their pro day on campus, an audition of sorts for NFL scouts. Though a gifted athlete, Robinson has never seemed solely driven to excel on the gridiron. Besides excelling academically, he also plays five musical instruments, including the ukulele.
"I've never understood the concept of specialization," says Robinson, whom college football fans recognize as the player who caught the game-winning touchdown pass at unbeaten Florida State two years ago that was nullified by a rare flag for offensive interference in the end-zone. "That's something I've always been confused about."
In his first two semesters at Notre Dame, Robinson kept his head down. "In the beginning, it was just overwhelming to be a college student and a football player at this level," says the San Antonio native. "Then I decided I wanted to do more. And I set my sights on being a Rhodes Scholar."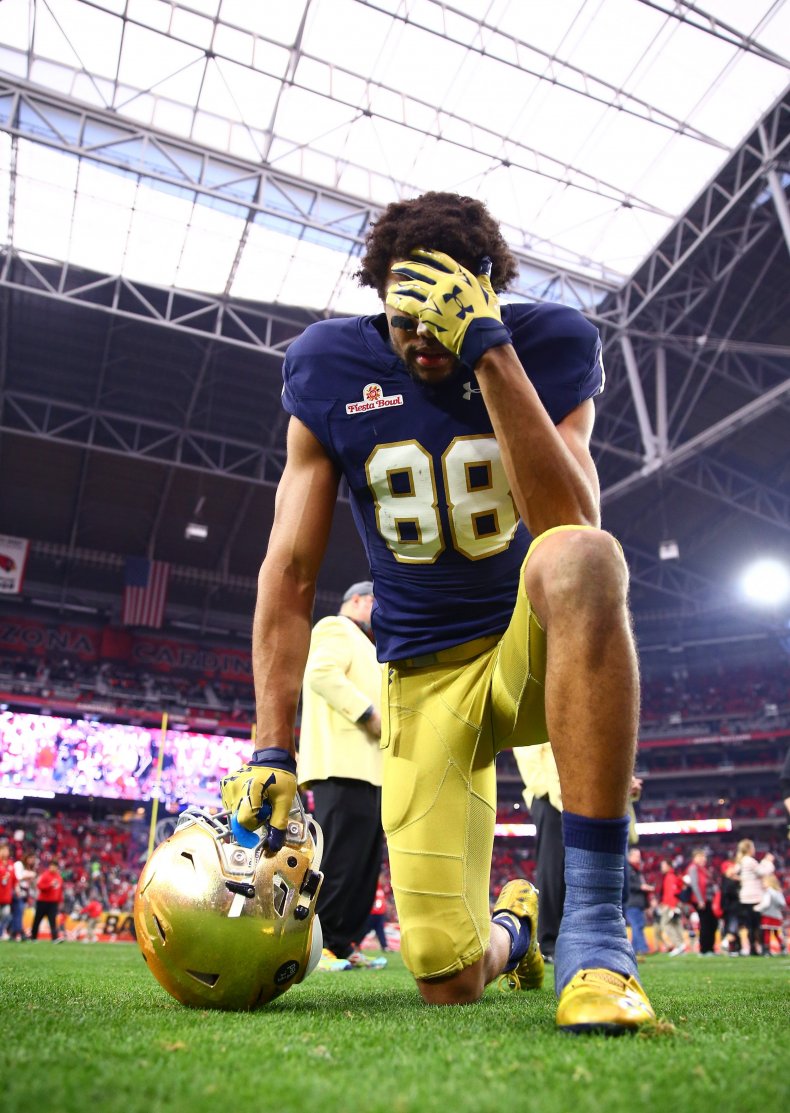 While Robinson looks up to his NBA Hall of Famer father, who attends every Fighting Irish game home and away, he found another mentor closer on campus in Alex Coccia. During Robinson's freshman year Coccia, a varsity fencer, was the school's student body president. And Coccia was on his way to earning the prestigious two-year Rhodes scholarship to study in Oxford, England. "I had breakfast with Corey in North Dining Hall during his first semester," says Coccia, who is pursuing a masters in comparative social policy and was a member of Notre Dame's 2011 national champion fencing team. "He already had a pathway there—football—but he wanted to do more. That was very clear from our first conversation."
After a year on the student advisory council, Robinson and classmate Becca Blais decided to run on the same ticket for student body president and vice president. That entailed collecting 700 signatures in January followed by a week's worth of campaigning. Robinson and Blais knocked on every door of every room in Notre Dame's 19 student residence halls. "Everyone told me campaigning was going to be the longest week of my life," says Robinson. "My reply to that was, 'Have you been to summer football camp here?'"
Robinson's political fervor is infectious. His freshman year roommate, Steve Elmer, a two-year starter at right tackle, announced in February that he would forgo his final season of eligibility for what he called "a career opportunity in the Washington, D.C. area." Elmer spent last summer working as an intern for Congressman John Moolenaar (R-Michigan).
As a sophomore, Robinson caught 40 passes, the second-highest total on the team after classmate Will Fuller (76), who declared early for the NFL draft this winter and is projected to be a first-round pick. Last season, despite being healthy, Robinson caught only 16 passes and was fifth among wide receivers. Even though he is as experienced as any wideout the Fighting Irish have, there is no guarantee he will start next autumn.
"Last year I was carrying 18 credits," says Robinson, who made sexual assault awareness and diversity the major platforms of his campaign. "I'm only carrying four credits next fall. Besides, the busiest time in student government is this spring. You can make the most impact in your first 100 days in office. I don't see why I can't have an impact in both arenas."