Political Rivals Slam Canadian Prime Minister Justin Trudeau's Climate Plan: 'You. Bought. A. Pipeline.'
Political opponents the National Democratic Party (NDP) have given Canadian Prime Minister Justin Trudeau a "reality check" Tuesday, after Trudeau revealed his plan to save the environment, by distributing an email statement reading only "You. Bought. A. Pipeline."
Trudeau and his Liberal Party released a campaign video earlier the same day, laying out a "climate action plan" which they claim will reduce Canada's carbon emissions to "net-zero by 2020." The NDP are one of several parties standing against the Liberal party in the Canadian federal election, which is set to take place October 21.
In the video, which has since been heavily disparaged on social media, Trudeau addresses the camera, saying "Years from now, I want to look my kids in the eyes and say we stepped up in the fight against climate change."
The video doesn't go far into specifics of the plan, although the words "investing in renewables," "ban single-use plastics" and "world class ocean protections plan" do appear on screen. Trudeau also states the plan is "not perfect" in the video, but says it's "serious."
The NDP statement refers to the controversial Trans Mountain pipeline, which Trudeau's government purchased last year for C$4.5 billion ($3.4 billion USD). The pipeline has been tied up in legal challenges from indigenous groups and environmentalists since then.
Critics of the prime minister have pointed out what they see as a contradiction between wanting to increase Canadian production of fossil fuels, while at the same time claiming to be dedicated to reducing carbon emissions in the country.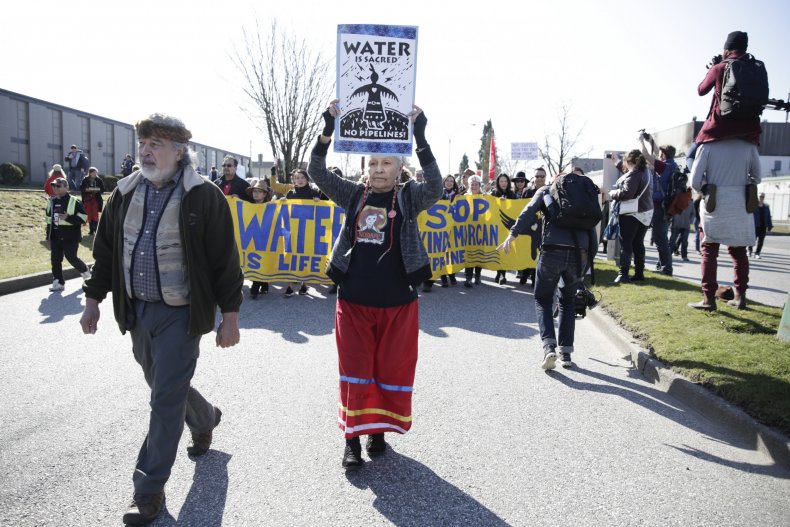 Trudeau has been under fire recently, after becoming embroiled in an inconveniently timed scandal last week. Revelations that the prime minister had been photographed apparently mocking people of color by wearing brownface and blackface on multiple occasions made headlines around the world.
One of the offensive photos featured Trudeau in brownface, wearing a turban. NDP leader Jagmeet Singh, who is a turban-wearing Sikh, had reacted to the photo with outrage, calling it "troubling" and "insulting." It was reported Tuesday that Trudeau had personally apologized to Singh.
Trudeau also issued a public apology last week, saying that his appearance in the photos was "a racist thing to do."
"I'm deeply sorry I did that, I should have known better," said the prime minister.
In addition to the climate plan, Trudeau has spent the last few days attempting to repair his image by announcing a series of campaign promises. The prime minister has pledged to cut taxes, lower phone bills and expand Canada's national health care system to include prescription drug coverage.
The damage to the prime minister's reputation certainly isn't doing him any favors in the attempt to maintain his parliamentary majority. A poll released Tuesday shows that the rival Conservative party has now taken the lead in the country's election.