A politician in Pakistan has praised the pilot of an airplane that narrowly avoided hitting an oil tanker by inches as it tried to land on the runway. Unfortunately for him, the footage was not real but was instead a clip from the video game Grand Theft Auto V.
Khurram Nawaz Gandapur, Secretary General of the Awami Tehreek political party, posted the video to Twitter last Friday. He applauded the actions of the pilot in the clip, saying: "Narrow escape of an aircraft which could have ended in a great disaster. Miraculous save by the pilot's presence of mind."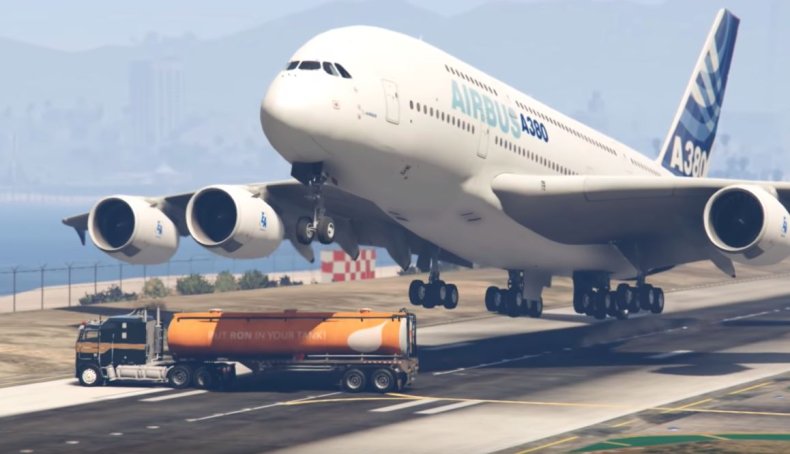 People were quick to point out the politician's error online. One person tweeted in response: "Hello, this is a simulation video. Such things aren't possible in real life situations. If so the KLM & Panam crash would have been avoided. You should learn about lift."
Another said, "Lol... Presence of mind or absence of mind?" while another posted "some one tell him please." Another person joked in response that the video "Couldn't have been possible without the blessing of prophet (GTA5)." After the mistake was pointed out, Gandapur subsequently deleted the tweet.
The animation that fooled Gandapur is a video by UiGamer, a YouTuber known for recording and posting clips of various planes stunts he makes in the hit video game. The video in question, "GTA5 -- An "Oil Tanker" Accidentally Came in the Runway during landing of A380..." was posted two weeks ago to his channel and has already attracted 1.9 million views.
The three-minute clip shows the Airbus A380 coming into land. But with an oil tanker parked on the runway, the plane begins to pull back up, narrowly avoiding a deadly collision by what appears mere inches.
Gandapur is not the first person to confuse the popular action-adventure video game with real life. On June 5, 2018, a man high on LSD stole a car, leading to an intense police chase, because he believed himself to be playing Grand Theft Auto.
Anthony Joseph Clark of Grants Pass, Oregon, is alleged to have jumped into an impounded 2003 Toyota Camry and drove away, sparking a lengthy and winding pursuit in which the 23-year-old frequently drove on the wrong side of the road.
When police deployed spike strips to deflate his front tires, Clark attempted to ram a patrol car before fleeing the vehicle, where troops were able to chase and apprehend him. In custody, he admitted to taking the hallucinogenic drug and stated he believed he was in the video game.