Politician Says Photos of Venezuelan Refugees Are Fake in an Effort to Sabotage Government
A high-ranking Venezuelan politician said Saturday that photos of Venezuelan migrants walking on the side of roads in other South American countries are fake, in an effort to sabotage the administration of President Nicolas Maduro.
"Doesn't it strike you as suspicious that there are photos of [these people] walking along the roadside in Peru, walking along the roadside in Ecuador, walking along the roadside in Colombia? It's as if it was: 'Lights, camera, action!' It is a campaign against our country—a campaign of extraordinary dimensions," Diosdado Cabello told a congress of the ruling United Socialist party.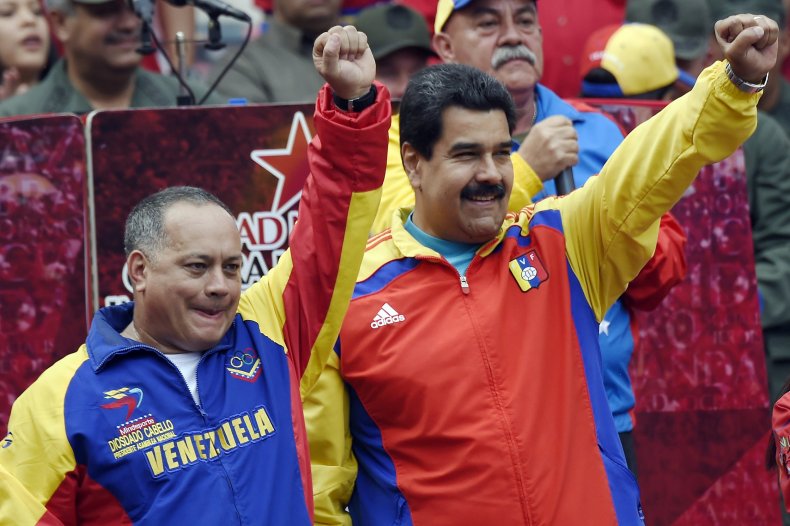 "We ask these young people who have gone to come back to Venezuela. Let's build the fatherland you dream of. We will welcome you with open arms," Cabello added, according to The Guardian.
Ninety percent of the 2.3 million Venezuelans who have left their home country are now living as refugees in other countries within South America, and a total of 1.6 million have left since 2015, based on numbers by the United Nations Refugee Agency.
"We commend the efforts already made by receiving countries to provide Venezuelans with security, support, and assistance. We trust that these demonstrations of solidarity will continue in the future," said William Lacy Swing, the director general of the International Organization for Migration.
The statement came after Peru and Ecuador announced that Venezuelans would need passports in order to enter these countries.
"We recognize the growing challenges associated with the large-scale arrival of Venezuelans. It remains critical that any new measures continue to allow those in need of international protection to access safety and seek asylum," said the U.N. High Commissioner for Refugees Filippo Grandi.
Ninety-seven migrants were flown back to Venezuela from Peru on Tuesday as part of a government initiative named "Return to Homeland."
"Venezuelans won't be slaves to anyone in the world!" Maduro exclaimed when the program was announced earlier this year. As a part of the program, returning Venezuelans will be offered job assistance, according to Deutsche Welle.
Venezuelans fleeing to neighboring countries are also facing xenophobic attacks. Over 1,000 migrants returned to Venezuela from Brazil last week when their belongings were burned and their tents were destroyed after a group of four alleged Venezuelan immigrants beat a shop owner.
"About 1,200 Venezuelans went back to their country yesterday. The flow has restarted today but evidently there are less people," the commander of Brazil's army operation at the border post, Colonel Hilel Zanatta, told Reuters at the time.