Trump and 2020 Presidential Candidates React to New York Hanukkah Celebration Stabbings
Five people in Monsey, New York were stabbed Saturday evening by an intruder while attending a Hanukkah celebration at a Hasidic rabbi's house. According to previous reporting by Newsweek, two of the victims were declared to be in critical condition after the attack, which comes amid a growing number of anti-Semitic incidents in the New York area.
On Saturday night and Sunday, numerous politicians, including President Donald Trump, took to social media to decry both the attack in Monsey and anti-Semitism.
Trump tweeted his response to the stabbings Sunday afternoon, writing: "The anti-Semitic attack in Monsey, New York, on the 7th night of Hanukkah last night is horrific. We must all come together to fight, confront, and eradicate the evil scourge of anti-Semitism. Melania and I wish the victims a quick and full recovery."
New York City Bill de Blasio wrote Saturday night that the community must not "overstate the fear people are feeling" after the "horrific" attack.
The mayor also wrote that officers of the New York Police Department were deployed to Jewish places of worship the night of the attacks. "We will NOT allow this to become the new normal," he wrote. "We'll use every tool we have to stop these attacks once and for all."
Speaking to reporters Sunday morning, New York Governor Andrew Cuomo characterized the incident as an act of "domestic terrorism," NBC News reported. He had earlier tweeted that New York stands with the Jewish community:
One of the 2020 Democratic presidential contenders, Andrew Yang, wrote on Twitter that his feelings were with the victims of the Monsey stabbing and the Jewish community as a whole.
"Anti-Semitism is a horrifying scourge that has no place in America," he wrote in a tweet published Sunday morning. "We must do all we can to prevent, punish and investigate these crimes and protect all who gather and worship in peace. We must do more."
Yang further wrote that many of his friends were Jewish and that he could not imagine being part of a community as targeted for discrimination as theirs. "It turns a time of celebration to one of fear and mourning," he wrote.
Julián Castro, a candidate for the Democratic Party's 2020 presidential nomination and the former U.S. Secretary of Housing and Urban Development, called the attack "heartbreaking."
"My thoughts are with the Jewish community as they cope with what appears to be another hateful attack on their humanity during Hanukkah," Castro wrote late Saturday night. "We must combat the rise of anti-Semitism and hate."
Senator Cory Booker of New Jersey, another candidate for the Democratic nomination, said Sunday morning that the increase of anti-Semitic violence was alarming and that Americans must band together to stymie it.
"We must all join to stop them in their tracks and root out the hatred and ignorance at their core," Booker wrote. "My heart is with the victims in Monsey, their families, and the entire Jewish community."
Former vice president and current presidential contender Joe Biden offered sympathies to those directly affected by the attack as well as the Jewish community.
Fellow 2020 rivals Elizabeth Warren, Bernie Sanders and Pete Buttigieg shared their thoughts as well:
Activist and television host, the Rev. Al Sharpton, commented Sunday morning following news of the incident: "The daily attacks on people of the Jewish community is horrific. We all must respond as we would want to see if we were the targets. Stand!"
Ivanka Trump tweeted a response, saying "the vicious attack of a rabbi in Monsey, NY last night was an act of pure evil."
Mark Levine, a Democratic member of the New York City Council, wrote a tweet Saturday night that the Monsey attack, combined with recent anti-Semitic hate crimes in New York City, constituted a "full blown crisis."
"None of what we are doing is good enough," Levine wrote.
"Speechless," wrote Linda Sarsour, a political activist and co-organizer of the 2017 Women's March in Washington, D.C., wrote of the attack. "This cannot continue. We need diverse community-led response in [New York State]. I am in. We cannot and will not be bystanders."
Representative Gregory Meeks, who represents New York's 5th Congressional district in the U.S. House of Representatives, wrote that he was "devastated" by the violent attacks in Monsey and that the victims and Jewish community were in his thoughts.
"This string of anti-Semitic attacks and rising hate crimes is deeply concerning, and New York has zero tolerance for it," Meeks wrote.
Sarah Riggs Amico, a former candidate for the lieutenant governorship of Georgia currently running to be the Democratic nominee when that state's citizens vote for a U.S. Senator in 2020, wrote that everyone in America should be able to practice their religions in peace.
"Rising anti-Semitism in America must be confronted — and defeated — everywhere it is found," she wrote.
Journalist David Leavitt wrote simply that people should not have to worry about being stabbed in a rabbi's house while celebrating Hanukkah.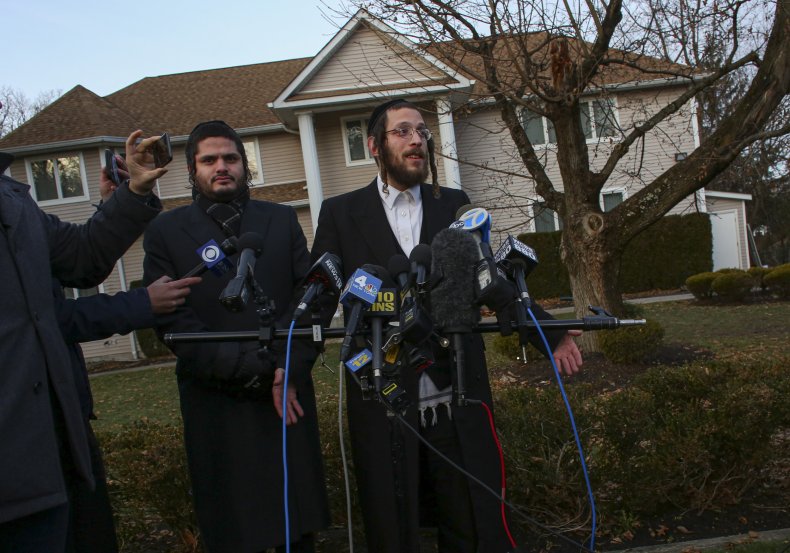 Updated 2:20 AM ET, with President Donald Trump's Twitter response.