Politics After Bernie: Progressives Plot Their Next Move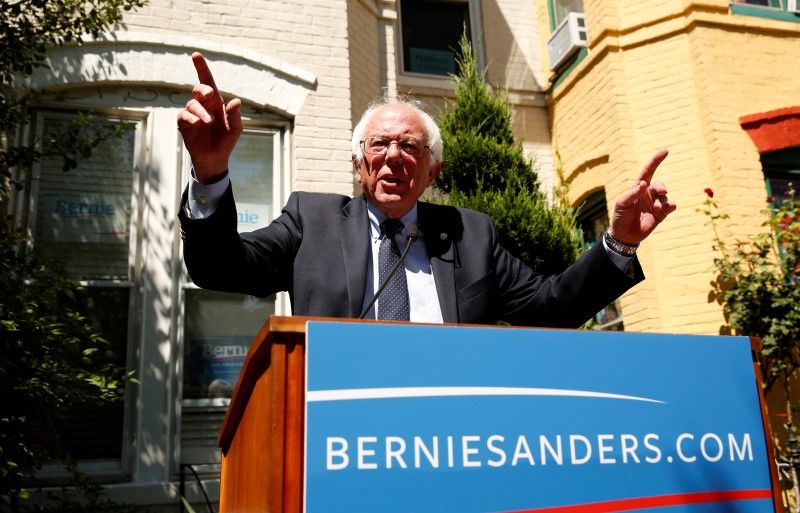 Sharon Moore has always been a voter, always kept up on the issues, but never saw a presidential candidate so appealing as Vermont Sen. Bernie Sanders. "I've pretty much voted the least-bad-candidate ticket my whole life," the 54-year-old marketer told Newsweek. "Then along came Bernie Sanders, who I really wanted to vote for."
Moore's candidate may not have prevailed, but her enthusiasm isn't extinguished, which is why she flew to Chicago this weekend to attend a "People's Summit," a gathering of some 3,000 progressive activists determined to continue the momentum Sanders's campaign catalyzed and push for change, even in another least-bad-candidate election. "It's time for all of us to say 'OK, what's next?' How do we keep together on all of these important issues?'"
The summit, which began Friday and ends Sunday, is sponsored by progressive groups such as the National Nurse's Union, several Sanders's fundraising groups, and features speeches from progressive stars including U.S. Rep. Tulsi Gabbard, D-Hawaii, and activist and author Naomi Klein. On Saturday, participants sat at some 200 tables and answered a set of questions, mostly about how they prefer to communicate, what methods they use to stay involved, conference organizer and Charles Lenchner told Newsweek. "There's a lot of enthusiasm in the room," Lenchner said. "All these folks are focused on what's next."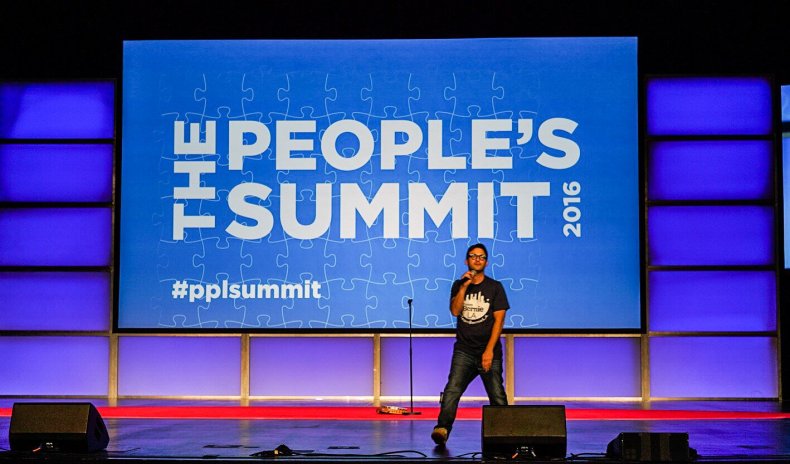 One obvious next step, of course is the general election. While Sanders has yet to endorse Hillary Clinton, his primary rival, he has already begun urging his supporters to work to defeat presumptive GOP nominee Donald Trump. The Chicago attendees say they're ready to join that fight—in their own way.
"We do have to defeat Trump, but we don't have to do it in the way the Democratic establishment wants us to," said Becky Bond, a senior adviser to the Sanders campaign, in a Saturday panel discussion. "The Clinton campaign and Democratic establishment only want to talk about Trump's racism and don't want to talk about why people are hurting."
This movement is different than the surge of involvement and activism that catapulted President Obama into office, Bond added. Much of Obama's political connections went straight to the Democratic National Committee, she said, which essentially let all the momentum fall away. Sanders's email lists and contacts are more widely distributed, she said, and went a long way toward training new activists and empowering them with tech-driven tools, so they have a much better chance at carrying on. "A lot of the time and money invested by Bernie Sanders was invested in building this independent force," Bond said.
Especially after a loss, it can be tough to sustain the level of enthusiasm generated during a campaign, Lenchner said, outside of "peak politics." One participant Saturday, student Dominique Scott, said in a panel discussion that she's "distraught" that the choice in November is between Clinton and Trump. Still, she said, "This brings to light how important it is that we are all here as the people. It is necessary for us to continue our fight on the ground. We've never relied on a presidential candidate to solve all our problems for us, and it would be silly and irresponsible for us to do that."
Lenchner is hopeful that the inspiration from Sanders's run can produce some lasting effects. "The tide goes up, and then it goes down. But it doesn't always go down in the same place it was before. There's a political cohort that gained experience and built social capital, bitten by the bug. Next time there's an opportunity, their starting point is ahead."
Lenchner hopes to turn some of these citizen activists into "citizen candidates," he said, and to change the landscape of politics by involving more people in the process.
What matters more, said Chuck Idelson, another of the organizers, is bottling the energy.
"People here understand what the obstacles are in a system that's still dominated by neoliberal policies, and that Wall Street has an enormous influence over the economic and political system," Idelson, a spokesman for National Nurses United, told Newsweek. "But they understand it takes a movement of millions of people to challenge that."
The mainstream media tends to focus on these massive contests, Moore said. "If you step back from that, you can see how much he's actually accomplished. We've done amazing things."