Politics Don't Stop After Orlando, Despite Calls for Unity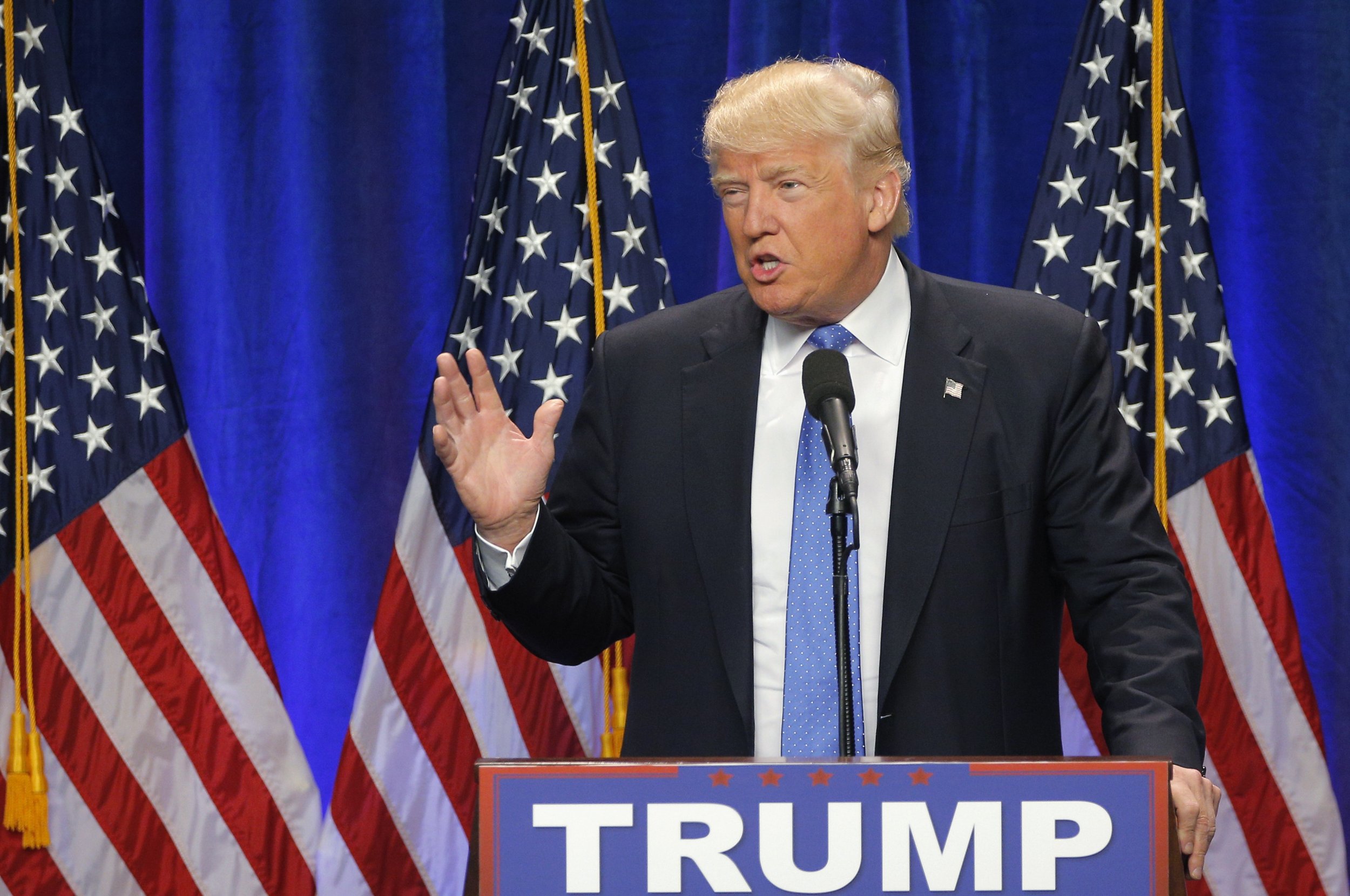 Politicians called for national unity Monday, a day after 49 people were killed at a gay nightclub by an attacker in Orlando, Florida, the worst mass shooting in the country's history. "Today is not a day for politics," presumptive Democratic presidential nominee Hillary Clinton declared in a speech in Cleveland Monday afternoon. "This is a moment when all Americans need to stand together."
But politics was never far from the surface. And in some cases, they were blatantly front and center.
"She supports so much of what is wrong with the country," Donald Trump, the presumptive GOP nominee, said during a national security speech in Manchester, New Hampshire, part of an extended attack on Clinton. "Hillary Clinton's catastrophic immigration plan will bring vastly more Islamic radicalization into this country, threatening not only our society but our entire way of life."
Trump also hammered President Barack Obama, after questioning on Fox & Friends Monday morning whether Obama may sympathize with attackers. "Truly, our president doesn't know what he is doing," Trump said in New Hampshire.
Where Trump was in your face, Clinton took a couple of indirect jabs at her general election opponent. The U.S. government should be intensifying its contacts with America's Muslim community to combat radicalization, said the former secretary of state, "not scapegoating or isolating them" by calling for a ban on Muslim immigrants, as Trump has proposed.
Her supporters were more direct. Throughout the day, a super PAC coordinating with the Clinton campaign, Correct the Record, and another run by Clinton ally David Brock, called American Bridge, issued a stream of press releases pointing to Trump's divisive rhetoric in the wake of the Orlando massacre as evidence that the real estate tycoon "is fundamentally unfit to be commander in chief" and that he "fails leadership test."
Clinton did offer her supporters some red meat, but it was of the policy variety. Her biggest applause line of the day was something that for years liberals have been calling for but remains politically dicey: renewing a ban on assault weapons, like the one Omar Mateen used to mow down clubgoers at Pulse, the Orlando nightclub, on Saturday. Several other Democrats also raised the issue in the wake of the attack. An assault weapons ban, which was in place from 1994 to 2004 before being repealed, is a polarizing issue in Washington, despite polls showing a majority of Americans support it. The last legislative effort to reinstate the ban, in 2013, couldn't even pass a Democratic-controlled Senate.
On a conference call Monday, New York Senator Chuck Schumer acknowledged Democrats would have a hard time moving a new assault weapons ban in the Republican-controlled Congress. Instead, they're seizing on the Orlando attacks to renew a push to pass legislation they think is more politically potent, which would allow the attorney general to block people on the FBI's Terrorist Screening Database from being able to buy firearms. Democrats forced a Senate vote on the legislation last December, but Republicans blocked it.
"We believe that closing this loophole is just common sense, and it is the least we could do to resist terror attacks," California Senator Dianne Feinstein, the bill's lead sponsor, said on the call, while also acknowledging the legislation faces long odds. "I don't know what it will take to change the mindset of this Congress."
Expect Democrats to hit Republicans with plenty more of that kind of rhetoric in the coming days: Schumer said senators are looking to try to attach the proposal to a bill the Senate is currently considering. The Democrats' refrain: Republicans are too radically knee-jerk pro-gun to consider something so "common sense."
But it's not quite that black and white. For one thing, Trump has actually suggested he'd support barring people on such watch lists from buying guns, which makes the Democrats' attacks more difficult. As for the Republicans in Congress who are resisting, they aren't the only ones squeamish about this type of gun ban. The watch list the FBI maintains is notoriously opaque, prompting even groups like the American Civil Liberties Union to come out against the proposal. They argue that until the list is less sprawling and more transparent, "it shouldn't be used to restrict people's freedoms."
Republicans have been whacking Democrats for turning the conversation to gun control after the Orlando attack, but their own political calculations are shining through as well in the way they've responded to the tragedy. Neither of the Republican leaders in the House or the Senate acknowledged the fact that LGBT people were the targets of the shooting—during a gay pride month—when they issued statements condemning the attack on Sunday. There was no mention of gays and lesbians in the Republican National Committee's statement on Orlando, either.
Given how closely the wording in these press releases is parsed, it's a notable, and clearly intentional, omission. A sizable part of the GOP base does not support gay rights and would be opposed to the open homosexuality on display at Pulse.
In fact, Trump seemed to be the only Republican openly talking about the Orlando massacre as an attack on gays; he mentioned the LGBT community multiple times in his remarks on Monday. In an otherwise belligerent speech that cast blame on immigrants, writ large, for America's woes, Trump said he wouldn't "allow America to become a place where gay people, Christian people and Jewish people are the targets of persecution and intimidation."
His solution, however, was to target Muslim immigrants.