A professor of international politics at The Fletcher School at Tufts University is calling on former Trump administration national security officials to speak on the record about their time serving the president.
Daniel W. Drezner, who recently wrote a book about Trump called The Toddler in Chief, published an open letter in The Washington Post Thursday urging several former top administration officials to break with precedent and speak publicly about their insights into President Donald Trump. Drezner mentioned several individuals by name, including former national security adviser John Bolton, former Secretary of Defense Jim Mattis, former national security adviser H.R. McMaster, former director of Trump's National Economic Council Gary Cohn, former Attorney General Jeff Sessions and several others.
"As the 2020 election approaches, here is a resolution I would really like all of you to make: Talk to the country, on the record, about what it was like to work for President Trump," Drezner wrote. The professor noted that the norm of keeping silent has already been broken by members of past administrations, and argued that it is better for the American public to have a fuller picture of a president's decisions and actions than it is to keep silent.
"The public is much better served by candor," he argued. Drezner explained that the former administration officials speaking out could even potentially present Trump in a better light.
"Maybe Trump is a better decision-maker than outsiders think! Maybe his gut really is high-quality. In this case, talking about his strengths as well as his weaknesses would better inform voters," he wrote.
Drezner suggested, however, that the former Trump administration officials would likely provide greater insight into the president's controversial actions. He said he wondered whether many were staying quiet as they planned to reveal more details in forthcoming books.
"Staying silent will only lead observers to infer that you care more about book royalties than, you know, who should be the president of the United States," he wrote.
Newsweek has reached out to press representatives for Bolton, Mattis, McMaster and Sessions for further comment. A press representative for Cohn declined to comment.
Several former Trump administration officials, including some mentioned by Drezner, have publicly criticized the president or his policies since their resignations or firings. But the remarks have often been vague and without specific details.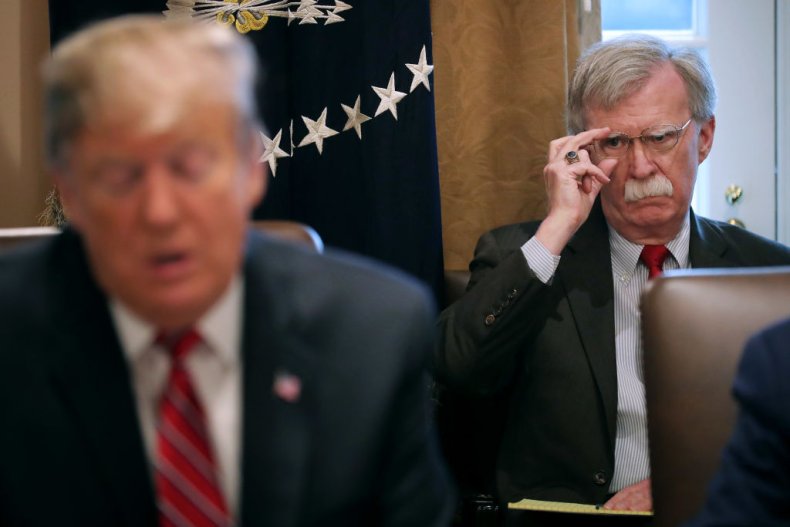 Cohn, who was involved in advising the president's economic policy, has repeatedly criticized the president's use of tariffs to target trading partners. "Tariffs don't work. If anything, they hurt the economy," Cohn said in an interview with Freakonomics radio last March.
Bolton has also expressed his disagreement with Trump over North Korea since parting ways with the administration last year. He argued in a December interview with NPR that the Asian nation has "successfully jived the three prior American administrations, and they plan to do the same with this one."
The former national security adviser has also stated that he has significant information about Trump's actions toward Ukraine, which led Democrats in the House of Representatives to impeach the president in December. Ahead of an expected Senate trial, Democrats have urged the Republican-controlled upper chamber of Congress to call Bolton and other Trump officials to testify as witnesses. These potential witnesses were barred by the president from testifying in the House impeachment inquiry, with several seeking judicial rulings to decide on whether they should obey congressional subpoenas or orders from the president.
Senate Majority Leader Mitch McConnell, a Republican from Kentucky, has largely dismissed the notion of calling witnesses, saying he plans to take his "cues" from White House lawyers. Those comments have drawn substantial criticism from Democrats, as well as from two Republican senators. GOP Senators Lisa Murkowski of Alaska and Susan Collins of Maine have both voiced their disapproval of McConnell's stance, suggesting that they'd be open to calling witnesses.
This article has been updated to note that a press representative for Cohn declined to comment, and to add "at The Fletcher School" to Professor Drezner's title.