Of Politics, Protest and Painting: What Art Basel Lacked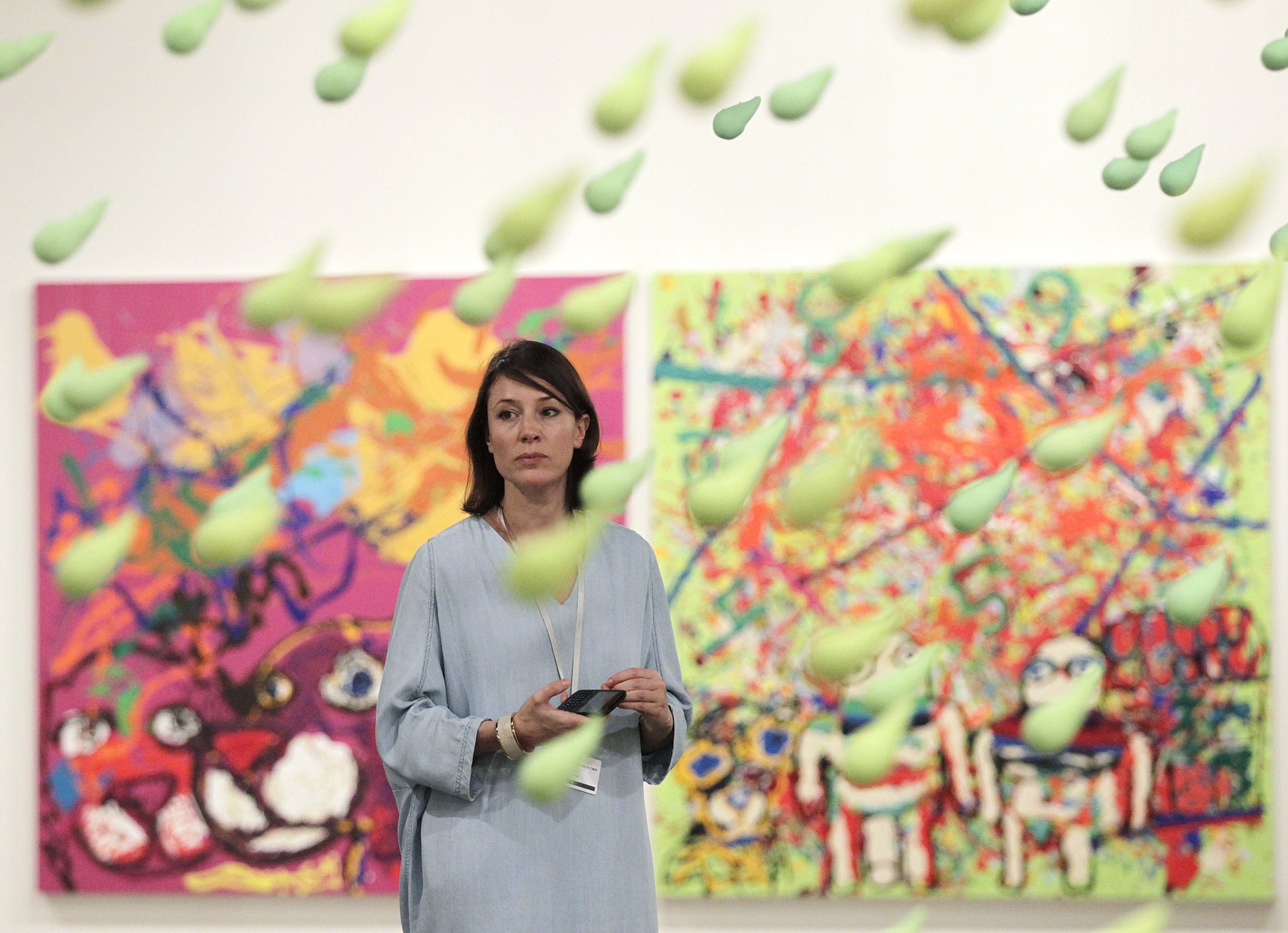 Gallery gurus, fashion killers, weirdos, collectors and billionaires, both foreign and domestic, gather once a year on Miami Beach to mill around paintings, installations and parties at Art Basel in early December. It is North America's largest art extravaganza, an enormous affair sprawling across Miami and, this year spawned 17 others simultaneous events around the city, including NADA and Art Miami. Under palms and perfect azure skies, there is champagne and wannabe Cy Twomblys, linked arms and looking at art, sort of. Make sure you've practiced your air kisses before you arrive.
Now in its twelfth year, Art Basel Miami Beach stemmed from the event founded in Basel, Switzerland, which was kicked off in 1970 by a group of gallery owners and continues to meet annually. There's a Hong Kong Basel too. The fair at Miami Beach purports to be the "premiere art of the Americas" mecca. Over four days, I will see absurdist pipe cleaner dog sculptures, Picasso plates and tree stumps painted to look vaguely like penises. One booth at the main fair features hundreds of beer can airplanes hanging on a mesh canopy, for the teenage stoner aviation enthusiast in your family, while another gallery ceremoniously displays stained glass pieces depicting Bruce Springsteen and the E Street Band mid-song.
The line between highbrow and lowbrow, kitsch and couture, is entirely blurred here. Throughout the week I think often about how close "Miami" is to the word "miasma".
The artists exhibited at Art Basel are here for a reason, whether that be for their extraordinary perspective or scintillating color schemes. The competition is steep for a spot in the main program, whether it be for performing arts, film, or visual works. It's unclear how the Selection Committee chooses the works exhibited at Basel, but a press release details all the stands as "ambitious" and promoting the "latest developments in the visual arts".
But as the second and then third day rolls on into another perfect papaya sunset, I realize that I have yet to be moved, let alone see any art that feels urgent or that addresses any burning contemporary issues. Art Basel is known for promoting art that is both chic and kitsch, but to have polemic pieces of art absent from the fair feels like a huge oversight. Even Wynwood Arts District, the recently gentrified neighborhood where the young, hip, socially aware artists and enthusiasts play, and the second-most popular location for Art Basel festivities after the Beach, is strangely missing art that speaks toward any kind of revolution, social or otherwise. Here street artists are constantly taking up paint cans and creating compelling graffiti on the walls. Even these rebellious expressions, however stunning, feel oddly safe. It's possible that I just didn't encounter any political-leaning art; given Art Basel's sheer size, it's physically impossible to see every piece of art there. But I should have run into something.
The Internet continues to be the primary venue for criticism and commentary about the social, political and racial inequities that are manifesting themselves in real, traumatic ways from Oakland to Hong Kong. Back home in New York, people were gathering by the tens of thousands and marching. Large demonstrations, namely the Ferguson/Garner protests, hadn't been present in Miami, which I found strange, given the city's size and diversity.
On Saturday night, I meet an architect turned engineer-artist named Therdo on the outdoor bleachers at the hip bar Wood Tavern, a sea of neon and leathers. I ask him why there is a palpable lack of art addressing the political, and he says that a lot of artists are likely scared of doing it. Some of the street artists are maybe doing it, but on the very periphery. Plus, he says, this kind of art doesn't sell. Many of the buyers who come to Art Basel looking to fill their home with pieces of art that are valuable (or soon to be valuable), or aesthetically pleasing.
Of course. Sadly, the intention of Art Basel isn't really about people getting together and enjoying art. Although many of the galleries and parties are technically "free", there is a certain level of exclusivity to the festivities. For instance, you can't enter the main fair unless you've paid for a ticket ($45 a day) or have a VIP badge. The ones who can afford to come to Art Basel to buy culture, and any kind they want: Japanese numerical light installations, contemporary Argentinian optical illusions, a home installation of chain-linked curtains.
In Wynwood, for instance, I step into a gallery as an older couple is contemplating which silkscreen they are going to take home. The two are bickering back and forth, attempting to decide which piece will "fill the front wall in their mansion" better. There is no mention of the art itself, what kind of feelings it emotes. Just what it might be worth later on. At the more high-end galleries and at the main fair, I notice that price tags are absent. I get the sense that if you have to ask, it's not in your price range.
The Ferguson and Eric Garner protests against police brutality finally hit Miami on Friday night. The protesters blocked off highway I-95, which separates the mainland from the Beach where most of the revelry of Basel took place. There they blocked traffic, and demanded that no, people don't go back to business as usual. The protests were flourishing online, yet out loud nothing was uttered amidst the Basel festivities. I missed the protests, unfortunately resigned to taking it easy after a nasty bout of food poisoning, but it felt like the largest unofficial statement piece to come out of Art Basel week. On Saturday, the protests were already resigned to memory.
This year's main fair drew over 73,000 attendees—not even counting what was happening on the outskirts, such as Wynwood, Midtown and the Design District. In many ways, Basel reminded me of South by Southwest: culture dispersed across a city. But it's unlike SXSW in that the educational component is largely absent. There are few talks, and those that there are feature established names such as Marina Abramovic and MoMA PS1 curators. What about workshops? Discussions between up-and-coming artists and kids, who perhaps for the first time can experience art, given the crisis of cutting arts funding from schools?
After a drive from the mainland to Miami Beach, I read something I scribbled in the dark: "Nathanael West was wrong. Florida, not California, is where people go to die."
Near the middle of Basel week I'm itching for movement. I absentmindedly check Instagram, and I see a flyer for a concert I end up attending. The five bands are varied, ranging from Danish country-punk to Bay Area rap to Swedish drone to Florida gutter-punk swamp rats. But each of the artists on the lineup all, in some way, demanded that people shake or shimmy or sing along. For the first time all week I felt challenged and inspired. Not necessarily at home, but it was something good, and emotive, to engage with.
That night I saw people of all creeds and colors diving into a mosh pit, holding each other up while crowd-surfing at a friendly backyard performance, buffeted by the howls of Iceage and their singer, Elias Bender Ronnenfelt, who taunted and teased the crowd into a kind of unified zombie bop. Gimme danger, said Iggy Pop, now a resident of Miami. Sharks die by standing still; that night, we stayed alive by dancing.