'Spotted It?': Rare Polka-Dot Zebra Wows Internet in Resurfaced Image
A resurfaced picture of a rare polka-dot zebra has wowed the internet this week.
Originally shared in 2019 when the animal was caught on camera at the Maasai Mara National Reserve in Kenya, the unusual markings made the foal stand out next to its mother.
A 580-square-mile area of preserved wilderness in southwestern Kenya, the reserve is home to lions, cheetahs, elephants, zebras and hippos. One of the most popular spots for safaris and animal spotting, it hosts over 95 species of mammals and over 570 recorded species of birds.
Causing a stir online, Tira the rare zebra has her unusual markings thanks to a genetic abnormality.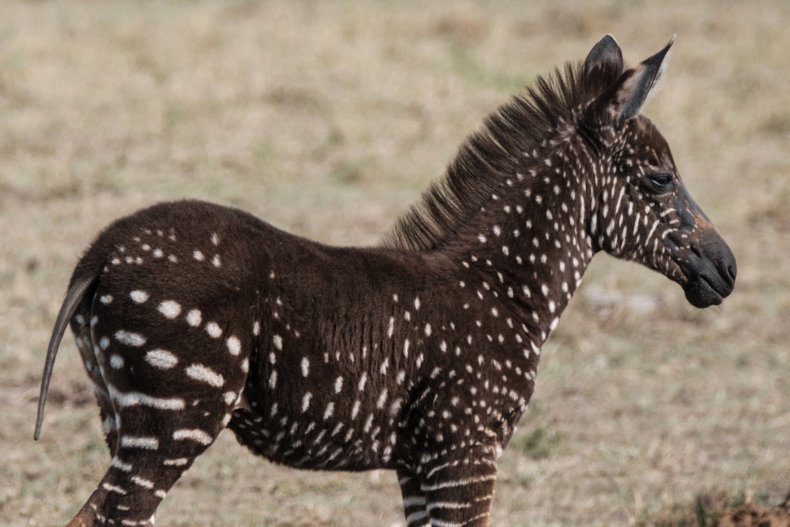 Professor of biology at the University of California, Davis, Tim Caro told Newsweek: "Just a simple mutation caused it. It is moderately rare."
The polka-dot coat is caused by a condition known as pseudomelanism—a variant of pigmentation that results in dark spots or enlarged stripes, which cover a large part of an animal.
Melanocyte cells produce melanin in mammals that determine hair and skin cell color, and in zebras, these melanocytes are equally distributed throughout the skin.
"The color pattern shows that zebras are black animals with white markings," said Caro. "[The markings] always [happen] by chance [...] No one has tried to breed it intentionally—there are few breeding facilities where this has appeared anyway."
In a 2019 paper, Caro suggested that the zebra's distinctive stripes' evolutionary driver was to deter biting flies—one theory for the markings alongside camouflage and temperature regulation.
As a result of the unusual markings, Tira is likely to struggle more in the wild environment than her striped counterparts. Tira would be unable to blend in with her surroundings and fellow zebras and perhaps be more prone to bites from insects that carry diseases like equine influenza.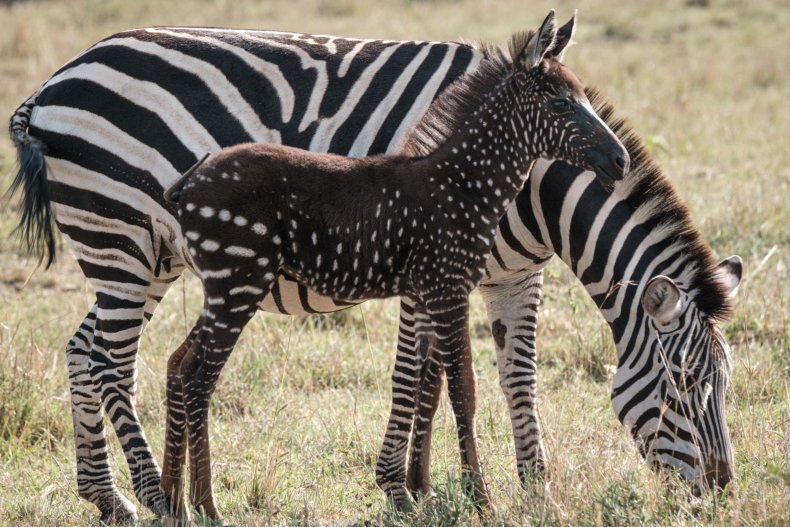 The breathtaking photograph taken by Yasuyoshi Chiba has gained viral attention after being shared again on Twitter on Monday where it has received over 79,000 likes and thousands of retweets.
Amazed animal lovers rushed to share their reactions. One reply joked: "Looks like mum had a very close encounter with a leopard." Another tagged a friend and quipped: "Have you spotted it?"
"Wow wow wow, nature is beautiful," said another Twitter user. Another reply said: "Stripes are so out this season."
Tira's whereabouts are not currently known, but the Kenya Wildlife Service (KWS) told Agence France-Presse in 2019 that it would not put the animal under any special protection because of her markings.
"KWS operates on the premise that animals should be in the wild. The zebra is not a special species, it is just a freak of nature," a communications officer had told AFP. "It won't be fair to isolate the animal and from a conservation point of view that would inhumane. The zebras protect each other and it will be protected by its own. If a predator spots it and preys on it, it will be just the course of nature."