Americans Trust Barack Obama, Democrats Over Donald Trump, Republicans on Health Care, Poll Indicates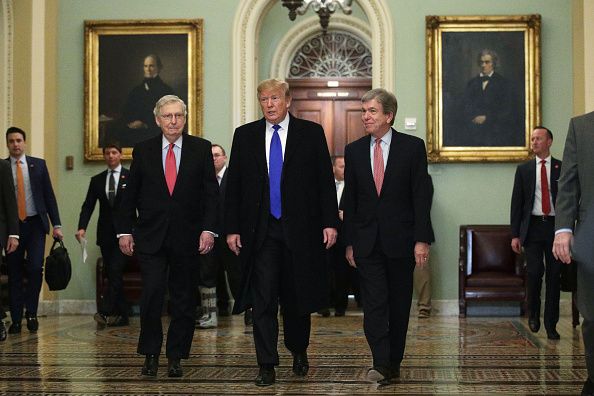 Amid Donald Trump's recently renewed calls for dismantling the Affordable Care Act, also known as Obamacare, a new poll showed that Americans had more trust in former President Barack Obama and Democrats when it came to health care policy.
A majority of voters (53percent) have "a lot" or "some" trust in Democrats in Congress to protect the health care system or enhance current policies, according to a new Politico/Morning Consult poll. Of the 1,945 people polled, 41 percent of voters said they had more trust in congressional Republicans.
Nearly 60 percent of voters said they didn't have a lot of trust or any trust at all in Trump when it came to health care.
The survey's findings came after the president and his administration called for Obamacare to be struck down in its entirety. Last week, Trump promised that the GOP would become the "party of health care" with a much better policy than that of his Oval Office predecessor.
But the biggest problem for the president is that Republicans do not currently have a health care plan to replace Obamacare. And Senate Majority Leader Mitch McConnell said that they would not work on a comprehensive health care package until after the 2020 election, and that he had relayed that message to the president.
"I made it clear to him that we were not going to be doing that in the Senate," McConell told reporters on Tuesday. "We don't have a misunderstanding about that."
After discussing the issue with McConnell, Trump tweeted a temporary concession on the matter but pledged that a health care vote would be taken after the next election cycle when "Republicans hold the Senate & win back the House."
In another Twitter post, Trump wrote that "everybody agrees that ObamaCare doesn't work. Premiums & deductibles are far too high - Really bad HealthCare! Even the Dems want to replace it, but with Medicare for all, which would cause 180 million Americans to lose their beloved private health insurance."
But according to the recent Politico/Morning Consult poll, Americans who approve of Obamacare outnumber those who disapprove. Forty-eight percent of voters said they either strongly approved or somewhat approved of the health care law, while only 30 percent disapproved. The poll also found that far more voters supported, rather than opposed, a "Medicare for All" health care system.
After Trump retreated on his demands for a new health care package this week, top Democrats mocked the president and said that they were happy to make the topic a primary campaign issue heading into the 2020 election.
"Don't let President Trump fool you, America. Republicans are not the party of health care. They are the party that wants to end your health care," Senate Minority Leader Chuck Schumer said at a rally on Tuesday. "We Democrats will not stop fighting tooth and nail to protect America's health care, today, tomorrow and on in through 2021."
On Wednesday morning, Trump seemed to change his mind yet again and said that a Republican health care package would be "on full display during the Election."