Arizona Democrats Like Anti-Trump Republicans More Than Members of Their Own Party, Poll Suggests
GOP Arizona Senators Jeff Flake and John McCain, who have both shown resistance to President Donald Trump and his policies, are viewed more favorably by Arizona Democrats than members of the Republican Party, according to a new poll.
Flake, who announced last year he won't seek reelection, was viewed favorably by 35 percent of Arizona Democrats and just 16 percent of Republicans, a new CBS News found. McCain, who was diagnosed with brain cancer last summer, was viewed favorably by 62 percent of Democrats and 20 percent of Republicans.
The poll also found that the majority of Arizona voters disapprove of Flake by 54 percent. McCain is also seen unfavorably by 44 percent.
Both senators have criticized Trump and distanced themselves from his administration. Flake said in a speech before Congress in January, "An American president who cannot take criticism, who must constantly deflect and distort and distract, who must find someone else to blame, is charting a very dangerous path," he said. "And a Congress that fails to act as a check on the president adds to the danger."
Flake also hasn't been afraid to align with Democrats. In December 2017, he donated to Alabama Democratic Senate candidate Doug Jones after the Washington Post reported that his opponent, Alabama Judge Roy Moore, had a history of alleged child molestation. "[If we] become the party of Roy Moore and Donald Trump, we're toast," Flake said in November. Trump continued to support Moore after the allegations were reported.
McCain's public feud with Trump began in 2015 when the real estate tycoon said he was "not a war hero."
"He was a war hero because he was captured. I like people who weren't captured," Trump said at the 2015 Family Leadership Summit in Ames, Iowa. McCain was shot down in a warplane during the Vietnam war and was held as a prisoner for over five years.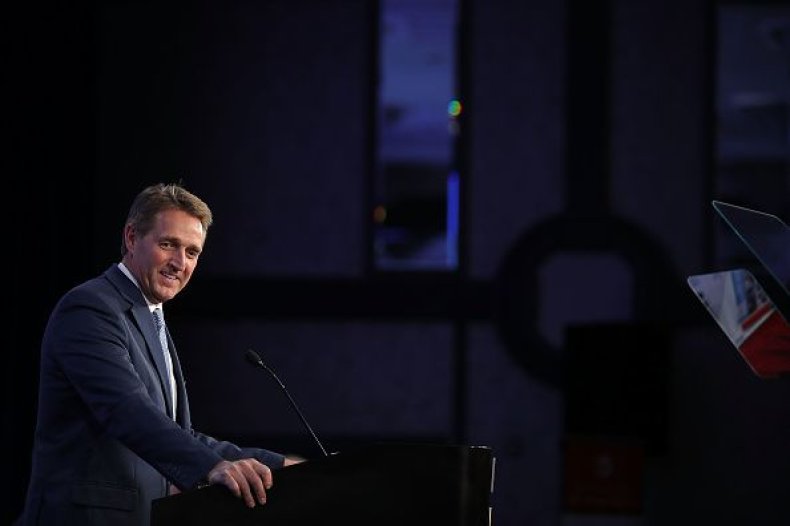 Since Trump's election, McCain has voted against the GOP's health care plan and reached out to global allies to distance the country from Trump's actions at the G-7 Summit. "To our allies: bipartisan majorities of Americans remain pro-free trade, pro-globalization & supportive of alliances base on 70 years of shared values," he said. "American stand with you, even if our president doesn't."
Trump has criticized both senators on Twitter as well. "How could Jeff Flake, who is setting record low polling numbers in Arizona and was therefore humiliatingly forced out of his own Senate seat without even a fight (and who doesn't have a clue), think about running for office, even a lower one, again? Let's face it, he's a Flake!" Trump tweeted in June.
"In addition to doing a lousy job in taking care of our Vets, John Mccain let us down by losing to Barack Obama in his run for President!" Trump said via Twitter at the beginning of his campaign.