Poll Finds Newsom with 57 Percent Voter Support Less Than 3 Weeks Out from Recall
More than half of likely voters in California who were polled for a recent voter survey said they did not intend on supporting the effort to remove California Governor Gavin Newsom from office during next month's recall election.
The poll, conducted by Change Research between August 22 and August 25, found 57 percent of respondents said they have either already voted or intend to vote in favor of keeping Newsom in office through the end of his term. Undecided voters polled at 1 percent, and 42 percent of respondents said they did intend on voting in support of recalling Newsom.
Change Research said it surveyed 782 likely voters for the poll, which pollsters said had a 3.7 percent margin of error.
With less than three weeks remaining until the September 14 election, some voters have already begun returning their mail-in ballots. If more than 50 percent of voters cast their ballots in favor of removing Newsom, he will be replaced by whichever recall candidate receives the greatest number of votes. Forty-six recall candidates appear on the ballot as possible replacements for Newsom.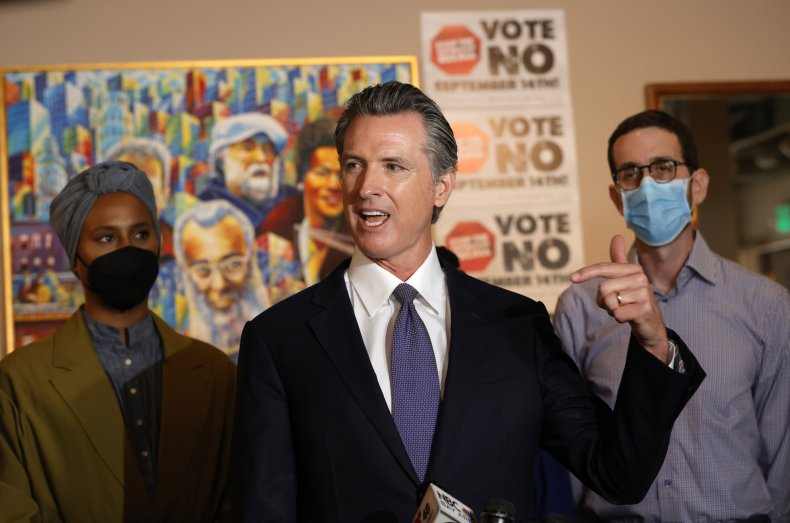 Though Newsom's Stop the Republican Recall campaign has painted the recall as a removal effort driven by "national Republicans, anti-vaxxers, Q-Anon conspiracy theorists and anti-immigrant Trump supporters"—a description those behind the recall petition have disputed—polls conducted this summer found voters relatively split on the decision of whether to remove Newsom from office or allow him to complete his term.
A YouGov survey conducted earlier this month found 48 percent of likely voters wanted Newsom to be recalled, while 52 percent were against the effort. An early August SurveyUSA poll found 51 percent of likely voters in favor of the recall, and an Emerson College poll conducted in late July and early August found just two points separating voters who support the recall and voters against it.
Newsom and his recall challengers have been actively campaigning throughout the summer to raise voter awareness about the election and encourage voter participation. According to the Change Research poll, there has been an 8 percent jump since June among Democrats who said they would "definitely" vote in the recall election, with 54 percent of Democrat respondents telling pollsters they have already voted and 38 percent saying they intended to do so. Meanwhile, 98 percent of Republican respondents said they too would "definitely" vote.
Of Newsom's recall challengers, conservative radio host Larry Elder continues polling ahead of his fellow Republicans in the Change Research survey. Elder quickly gained a lead in the polls after announcing his campaign last month, shortly before California election officials released the state's certified list of recall candidates.
Elder has polled more than 10 points ahead of other Republicans in most polls and continued to do so in the Change Research poll, with 27 percent of likely voters saying they intended to support Elder and 4 percent of likely voters saying they intended to support state lawmaker Kevin Kiley, who took second place among Republican candidates in the poll.
Other Republicans polling behind Elder and Kiley were former San Diego Mayor Kevin Faulconer, businessman John Cox, reality television personality Caitlyn Jenner and former Congressman Doug Ose. Though Ose's name appears on the recall ballot, he suspended his campaign last week after suffering a heart attack and has since endorsed Kiley.
While the California Democratic Party has encouraged all voters to reject the recall effort and skip the question on the ballot pertaining to which candidate voters would pick to replace Newsom if the governor is removed, there are other Democrats who appear on the ballot.
Kevin Paffrath, who is known by his YouTube username "Meet Kevin," has previously polled ahead of the eight other Democratic recall candidates who appear on the ballot and retained his position ahead of other Democrats in the Change Research Poll, with 6 percent of likely voters telling pollsters they intended to vote for him.
One other Democrat appeared in the poll behind Elder and Paffrath but in front of Kiley: Jacqueline McGowan, who is identified on the state's list of recall candidates as a cannabis policy adviser.
Pollsters found 22 percent of respondents said they intended to leave the recall candidate question blank. All voters are permitted to pick a replacement candidate regardless of how they vote on Newsom's removal, but Newsom's campaign and the state Democratic Party have discouraged voters from doing so.
Though the Change Research poll results indicated support for Newsom is rebounding, a spokesperson for his campaign told Newsweek Democratic voters "shouldn't take a shred of comfort" in the poll's results.
"There is no precedent for this election, and no one has a crystal ball," said Nathan Click, the communications director for Newsom's campaign. "The only way to prevent California from having a Trump-supporting Governor like Larry Elder is by voting NO on the recall by September 14."