New York Voters: The NYPD Does a Way Better Job than Bill de Blasio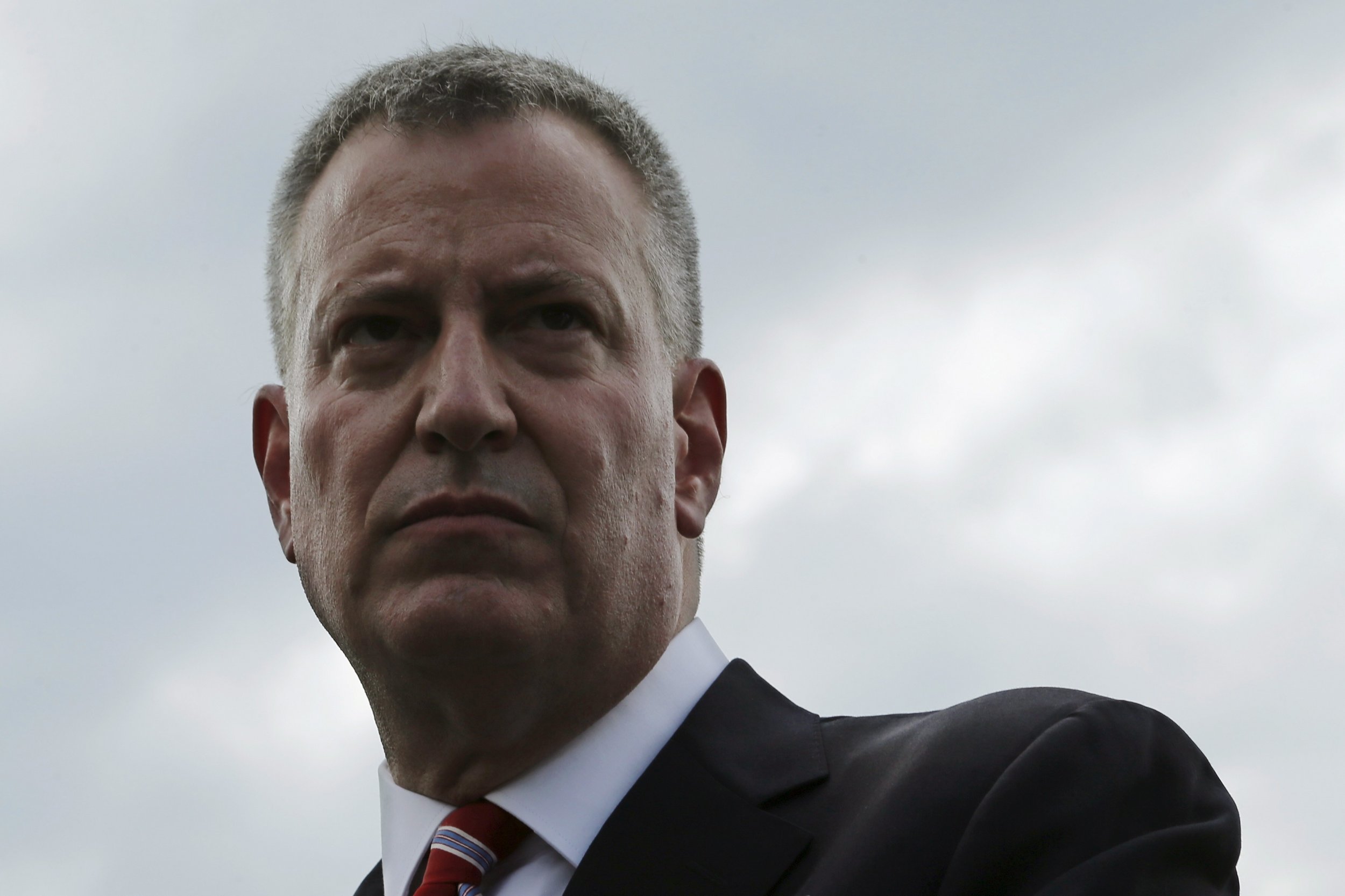 New York City Mayor Bill de Blasio might have fallen out of favor with voters—but they sure do like his police commissioner and cops.
Sixty-one percent of New York City voters disapprove of the mayor's handling of poverty and homelessness, and 53 percent say the city's quality-of-life is worsening, according to new Quinnipiac University data.
The poll, released Friday, came a day after Quinnipiac said New York City voters were split on de Blasio's work as mayor, with 45 percent approving and 46 percent disapproving. Quinnipiac said Thursday it was "de Blasio's lowest net approval rating."
In the same poll, 48 percent of New York City voters said he didn't deserve re-election, while 42 percent said he did. De Blasio kicked off his re-election campaign the same day this data came out.
Despite ongoing criticism, the New York Police Department and Commissioner Bill Bratton are faring far better than de Blasio. Fifty-eight percent of voters approve of what Bratton is doing. And though some of Bratton's best known policies, such as Broken Windows policing, have hit communities of color particularly hard, 53 percent of black voters approve of the job he's doing.
Fifty-six percent of voters approve of the department's overall work, the poll shows. Fifty-one percent of black voters disapprove, however. When it comes to how voters think of cops in their communities, more than two-thirds (68 percent) approve of the job they are doing, as do 57 percent of black voters.
New York City voters' seeming satisfaction with the NYPD does not extend to the mayor's relationship with the department. Nearly 60 percent disapprove of how de Blasio handles crime, the NYPD, and police-community relations.
Eighty-nine percent of voters think crime is a "very serious" or "somewhat serious" problem in New York City. However, 84 percent think their neighborhood is either "very safe" or "somewhat safe."
"From the beginning, Mayor Bill de Blasio has promised to reduce homelessness. His comments about income inequality have been eloquent. But on deeds—not words—New Yorkers give him negative marks. On dealing with poverty and homelessness, he comes up short 2-1," said Maurice Carroll, Quinnipiac University poll assistant director, in a statement.
He also said: "White voters think New York City cops do a good job. Black voters don't approve of cops citywide, but do approve of cops in their neighborhood. Voters agree that crime is a serious problem in the city. But they think their neighborhood is safer than the city as a whole."
Sixty-one percent of voters, including 59 percent of black voters, support having police issue summonses or make arrests for so-called quality-of-life offenses, which is "the strongest level of support" since the university first asked this question in August 2014.
While 55 percent of voters think this enforcement improves the quality of life in a neighborhood, 34 percent believe it exacerbates tensions. Black voters are divided on whether this enforcement improves quality of life, with 45 percent believing it helps and 45 percent believing it worsens tensions.
Carroll said: "Police critics complain about enforcement of so-called 'quality of life' offenses. But voters approve. Enforcement improves the quality of life, voters say. But a sizable minority also caution that such enforcement increases neighborhood tension."
Quinnipiac University surveyed 1,155 New York City voters from October 22 to October 28 for this poll.
Asked about the data, the mayor's office commented:
The crime rates are at record lows and New York City is the safest big city in the country. We've enrolled more than 65,000 4-year-olds in pre-K, seen the first ever rent freeze, have the lowest unemployment rate since the recession, and we are creating more affordable housing than in decades. The Mayor is focused on making New York a fairer city for millions of New Yorkers, not polls.