Poll: Obama Approval Jumps, Dems More Fired Up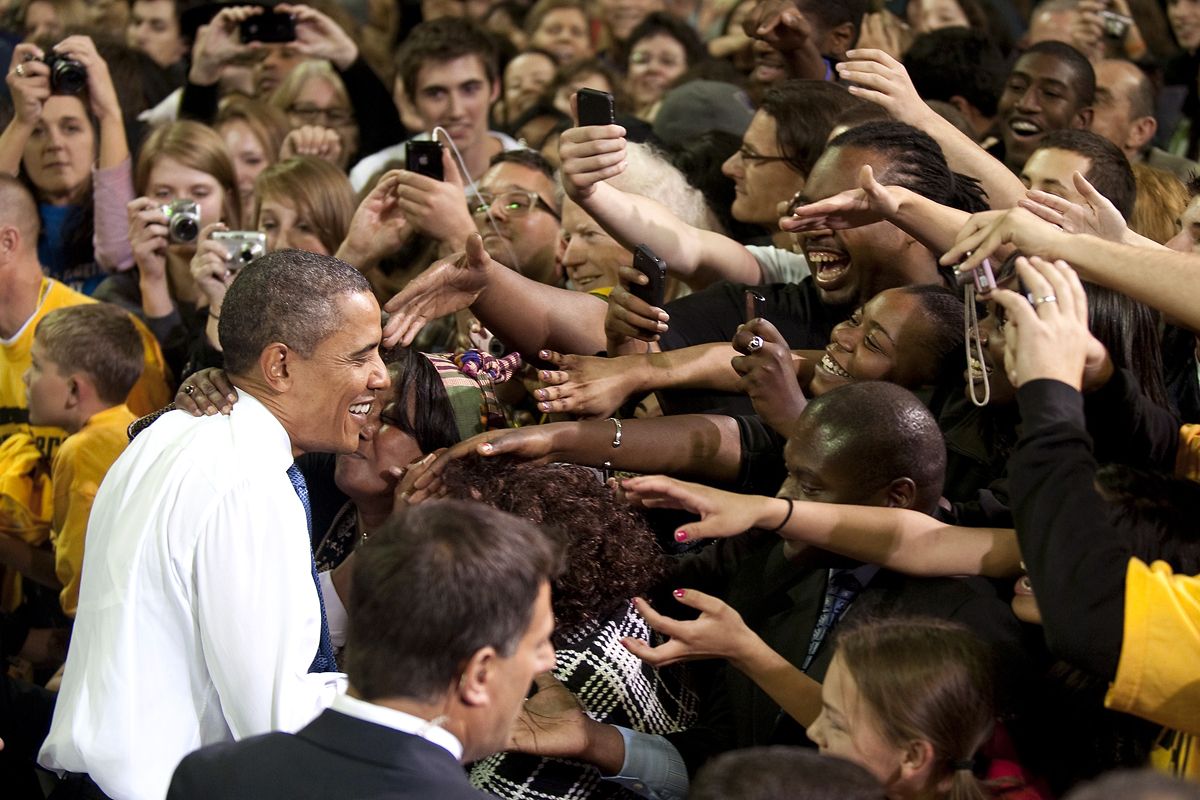 Despite doom-saying about Democrats' chances in the midterms, the latest NEWSWEEK Poll (full results) shows that they remain in a close race with Republicans 12 days before Election Day, while the president's approval ratings have climbed sharply. The poll finds that 48 percent of registered voters would be more likely to vote for Democrats, compared with 42 percent who lean Republican (those numbers are similar to those in the last NEWSWEEK Poll, which found Democrats favored 48 percent to 43 percent). President Obama's approval ratings have jumped substantially, crossing the magic halfway threshold to 54 percent, up from 48 percent in late September, while the portion of respondents who disapprove of the president dropped to 40 percent, the lowest disapproval rating in a NEWSWEEK Poll since February 2010. However, his approval rating, which is notably higher than many recent polls of the president's popularity, may be evidence of a closing "enthusiasm gap" more than a sea change in voter attitudes, and may not substantially affect Democrats' fortunes come Election Day. In 1994, NEWSWEEK Polls showed a similar steep climb in President Clinton's approval between late September and late October, but Democrats still suffered a rout in the midterms.
While two thirds (69 percent) of self-identified Republican voters say they've given a lot or some thought to the election, 62 percent of Democrats say they have. This result indicates that the difference in enthusiasm between Democratic and Republican voters may be less stark than some other polls have suggested. A small plurality of registered voters—48 to 43 percent—would prefer that Democrats keep control of Congress. (The poll's margin of error is 4.3 percent.) The new survey also offers a morsel of evidence that Democrats' strategy of gaining an edge among early voters might be succeeding. They hold a 10-point lead among those who have already voted, 52 points to 42, but because the sample only represents 92 voters out of the 1,005 polled, Hugick says more polling is necessary for a conclusive picture. Early voting—which has steadily gained popularity in recent years—is expected to have an impact on the election, with three in 10 voters expected to cast ballots before Nov. 2.
Pollster Larry Hugick says that while Republicans are still likely to come out on top on Nov. 2, the results of the new poll show it might not be the runaway domination some commenters have suggested. "The idea that the Democrats are just going to sit this one out doesn't seem very likely," he says. "While there's no question that Republicans are going to pick up seats, the question is how many."
One factor feeding excitement for the GOP: the Tea Party. A quarter of likely voters, 24 percent, say they support the movement, with 27 percent of likely voters opposing it. Among Tea Party supporters, two thirds identify as Republicans, but nine in 10 intend to vote for Republican candidates for Congress. Eighty-one percent of Tea Party backers oppose the bank bailouts, 90 percent oppose health-care reform, and 85 percent think the economic stimulus was bad for the country. Among the entire sample of voters, two thirds look unfavorably on the bailouts, but support and opposition for the stimulus and health-care reform are roughly equal and within the margin of error.
As in NEWSWEEK's September poll, voters give Democrats higher marks for their handling of a range of issues, including the war in Afghanistan, health care, taxes, and unemployment. Republicans are favored on immigration and federal spending. Unsurprisingly, most voters remain focused on the economy, with 62 percent saying it's the most important issue in deciding who they'll vote for. Health care runs a distant second, with about one in four voters saying it's a central concern. On economic issues, 41 percent say they are concerned about the economy as a whole, while unemployment and the federal deficit loom large for a quarter of voters each, and one voter in 10 says taxes are most important to them. In good news for Republicans, the GOP has pulled even on the question of which party is handling the economy better, after having lagged behind Democrats on that question in earlier polls: 43 percent of registered voters favor Democrats' handling of economic issues, while 42 percent favor the GOP, well within the margin of error.
The current poll also measured voters' attitudes on California's Proposition 19 and marijuana legalization more generally, finding that a majority of respondents were opposed to the legalization of marijuana in their state (52 percent to 45 percent) and nationwide (52 percent to 44 percent). More than three quarters of those polled supported the legalization of marijuana for medical use for certain conditions, however, and 55 percent supported California's recent move to downgrade the penalty for possession of an ounce of marijuana to a fine and no arrest record.
This poll was conducted by Princeton Survey Research Associates International on October 20–21, 2010. Telephone interviews were conducted with a nationally representative sample of 1,005 adults, age 18 years and over, including 672 adults reached on a landline telephone and 333 adults reached on a cell phone. The overall margin of sampling error is plus or minus 3.8 percentage points for results based on 1,005 adults. Results based on smaller subgroups are subject to larger margins of sampling error. The margin of error is plus or minus 4.2 percentage points for results based on 848 registered voters and plus or minus 4.3 percentage points for results based on 773 likely voters. In addition to sampling error, the practical difficulties of conducting surveys can also introduce error or bias to poll results.