Poll That Predicted Dead Heat Between Trump and Clinton in 2016 Says Biden Has Strong Lead
A poll that predicted a close race between Donald Trump and Hillary Clinton in the 2016 presidential election shows Democratic nominee Joe Biden holding a commanding lead over the Republican incumbent with just two months left before election day.
The Investors Business Daily and TechnoMetrica Market Intelligence's latest TIPP poll found Biden was backed by 49 percent of registered voters, putting him eight points ahead of Trump on 41 percent support.
According to the pollster's past surveys, Biden held a 7-point lead over Trump at the start of August and a similar 8-point lead at the start of July, meaning his rating in the tracker poll has remained level over the past few months.
However, the gap between Trump and Biden was far slimmer at the start of summer. At the beginning of May, TIPP pollsters found both candidates polling at 43 percent, and only gave Biden a 3-point lead in June.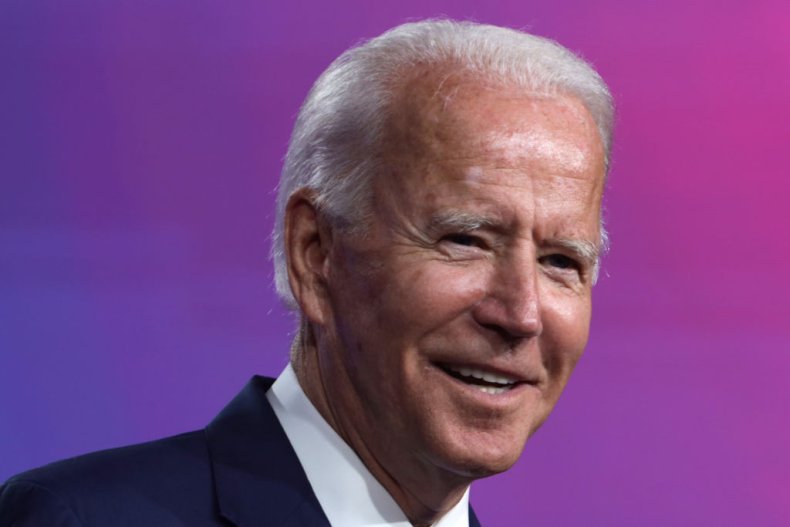 Independent voters broke for Biden in the latest poll, with 42 percent saying they backed the former vice president as 34 percent favored Trump for a second term in the White House.
A majority of the swing voters also said they disapproved of Trump's time in office thus far. Fifty-seven percent said they were dissatisfied with his record as 33 percent approved—a slight improvement on the 64-27 percent divide in August.
But the president's overall approval rating also fell to 39 percent at the start of this month as 55 percent of voters told pollsters they were unhappy with his performance.
Unsurprisingly, there was a significant partisan split among Republicans and Democrats when they were asked who they would be voting for in the 2020 election.
Ninety-three percent of Democrats opted for Biden, while just 3 percent said they were going to vote for Trump. By comparison, the Republican incumbent was backed by 89 percent of those in his party.
The latest IBD/TIPP poll surveyed more than 1,000 registered voters and 1,197 U.S. adults between August 29 and September 1. TechnoMetrica President Raghavan Mayur said the poll's margin of error would stand at 2.9 percentage points were it a probability sample and not a panel sample.
In the later stages of the 2016 election cycle, the IDB/TIPP poll predicted the race between Trump and then-Democratic candidate Hillary Clinton would be closer than other national polls were forecasting.
As the Washington Post reported in late October of that year, the IDB/TIPP tracking poll put Clinton's vote share at 41 percent and Trump's at 40 percent—a near tie.
This time around, the forecast is more in-line with other national tracker polls. According to the FiveThirtyEight head-to-head forecast, Biden's average lead over Trump in national surveys is roughly 7 percentage points.