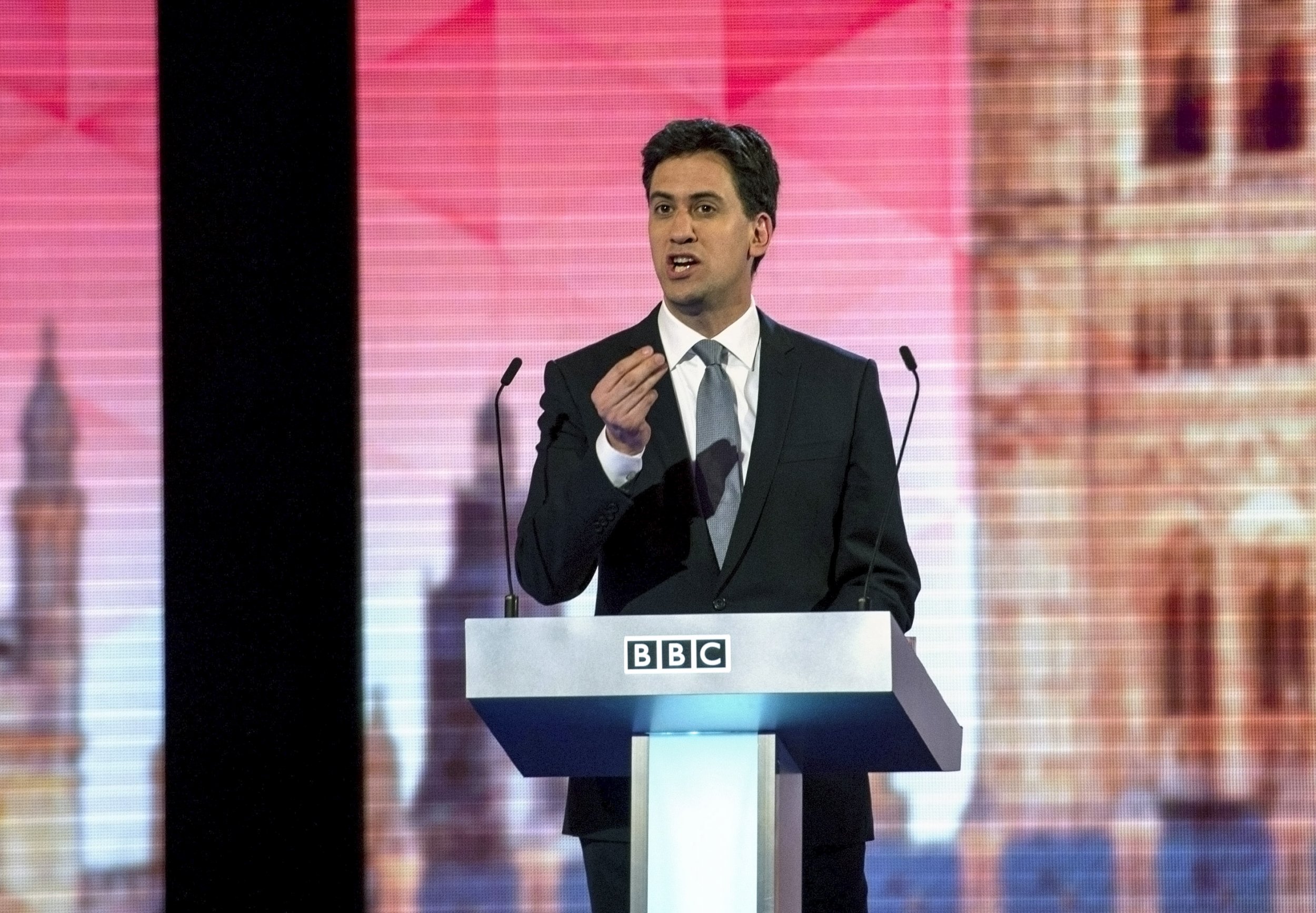 A snap opinion poll declared opposition Labour leader Ed Miliband the winner of the final TV debate of a knife-edge British election campaign on Thursday, but Prime Minister David Cameron didn't take part, making it an oddly unbalanced event.
With Cameron, his main rival, agreeing to only participate in one earlier debate, Miliband took a risk by appearing in Thursday's contest which pitched him against the leaders of four smaller parties before the country's May 7 election.
Miliband's gamble was that the event would be an opportunity to showcase his leadership credentials - which are frequently called into question by Britain's mostly right-leaning press - and to close the gap between his and Cameron's personal ratings.
A Survation poll published after the 90-minute debate suggested his punt may have paid off, with 35 percent of a sample of people who had watched the debate judging Miliband the winner, with Scottish nationalist leader Nicola Sturgeon second on 31 percent.
Some critics said the sample was biased toward Labour supporters.
With most opinion polls showing Cameron's Conservatives neck-and-neck with Labour ahead of what is shaping up to be the closest British election since the 1970s, both parties are seeking a game-changing moment.
So far, nothing that has been said or done by any politician has shifted the polls significantly including a 7-way leaders TV debate earlier this month, which did feature Cameron.
While Miliband faced a combined attack from Sturgeon and other left-wing, anti-austerity parties over Labour's plans to cut government spending to reduce the deficit, he turned in a confident performance.
With polls predicting neither Cameron or Miliband will win an outright majority, Sturgeon used the debate to repeat her offer to support a Labour government. Miliband has ruled out a formal deal with her Scottish National Party (SNP), which is set to virtually wipe out Labour in Scotland, but not a looser pact.
"I have got fundamental disagreements with you Nicola," said Miliband, dismissing her offer again. "It is a no I'm afraid."
But Sturgeon, who was applauded by the studio audience for describing it as a "disgrace" that Cameron hadn't turned up, resorted to pleading with Miliband.
The SNP has bounced back after losing an independence referendum last year.
"Whatever differences you have with me, surely it will be as nothing to the differences both of us have with the Tories? (Conservatives)," she said.
"We have a chance to kick Cameron out of Downing Street, don't turn your back on it. People will never forgive you."
By staying away, Cameron left himself open to the charge of political cowardice and Miliband repeatedly sought to highlight the Conservative leader's absence using his closing statement to challenge him to a head-to-head debate.
Nick Clegg, the leader of Cameron's junior coalition partner the Liberal Democrats, was also absent from the debate, saying he had not been invited due to Cameron's refusal to take part.
While Cameron was not in the line-up, his ministers were quick to offer their views on the debate, warning it had shown the "chaos" that would result from a minority Labour government supported by smaller parties.
"What we saw was that them in any combination in a majority in the House of Commons would be a coalition of chaos," said William Hague, former Conservative leader and foreign secretary.
"Two of them want to break up the country, most of them would bankrupt the country, and the consequences of the higher spending, higher debt, higher taxes that they would all bring in would be very serious."