Poll Shows Biden Tied With Trump in Georgia—A State Democrats Haven't Won Since 1992
Democratic presidential nominee Joe Biden appears to be tied with President Donald Trump in Georgia, which has not flipped blue in a presidential election for nearly three decades, since 1992.
A new poll carried out by The Atlanta Journal-Constitution and the University of Georgia's School of Public and International Affairs showed Biden with the backing of 47 percent of Georgians, while Trump was also supported by 47 percent. An additional 1 percent of voters said they planned to back Libertarian candidate Jo Jorgensen, while 4 percent said they remained undecided.
The poll also showed a close Senate race between GOP Senator David Perdue and his Democratic opponent, John Ossoff. Perdue was supported by 47 percent of Georgians while 45 percent backed Ossoff—a lead of 2 percentage points for the Republican. About 5 percent of voters were undecided on which senator to choose, and 4 percent said they'd support Libertarian candidate Shane Hazel.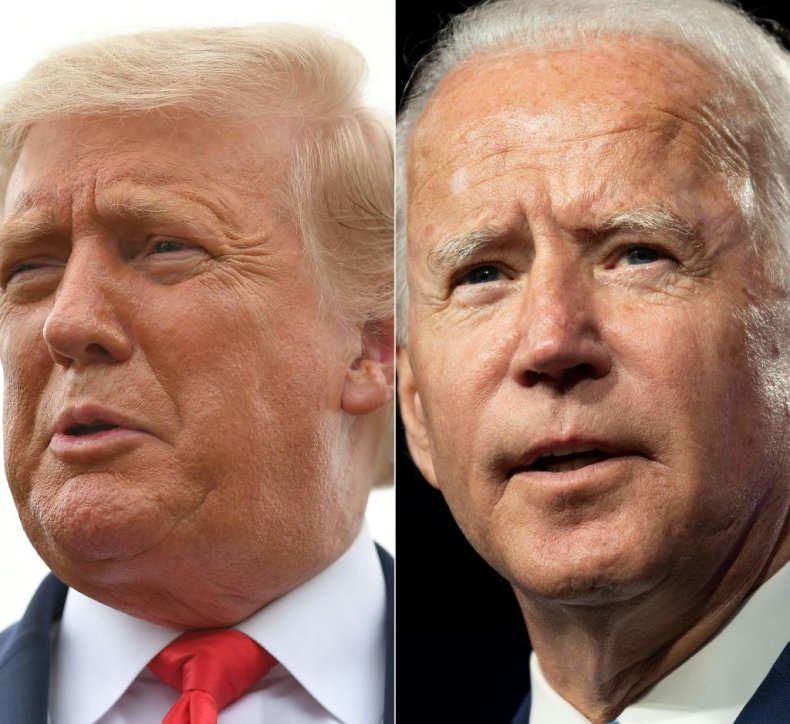 Georgia also plans to hold a special election on January 5 of next year to fill the seat currently occupied by GOP Senator Kelly Loeffler—who was appointed by Governor Brian Kemp, a Republican, after former Senator John Isakson retired last December. Loeffler is in the lead, with the support of about 24 percent of likely voters. But her Republican rival, Representative Doug Collins, has about 20 percent support, while Democratic candidate Raphael Warnock also has the backing of about 20 percent of Georgians. Fellow Democratic candidates Matt Lieberman and Ed Tarver are backed by 11 percent and 5 percent, respectively.
More than 1,100 likely voters were surveyed for the Georgia poll, which was carried out from September 11 to 20 and published on Tuesday morning. The margin of error was plus or minus 4 percentage points.
Other recent polls out of Georgia show mixed results. A recent survey carried out from September 14 to 16 by GBAO had Biden up 3 percentage points over Trump—with support from 49 percent of voters in the Southern state, as opposed to 46 percent who backed the president. But a poll conducted by Redfield & Wilton Strategies from September 12 to 16 showed Trump ahead by 1 percentage point, as 46 percent of likely voters backed his re-election, compared with 45 percent who supported Biden.
Most recent national polls show Biden comfortably ahead of Trump. The current Real Clear Politics average of national polls has the Democratic candidate ahead by about 6.5 percentage points, while he leads by about 6.8 percentage points in FiveThirtyEight's average.
The only recent national poll to show Trump ahead was carried out by conservative pollster Rasmussen Reports from September 9 to 15, with the president ahead by just 1 percentage point. Meanwhile, multiple polls carried out in September show Biden ahead by 9 percentage points.