Poll Shows Biden's Gun Violence Approval Rating Falling to 37% Amid Rise in Shootings
President Joe Biden's approval rating for his handling of gun violence has fallen to 37 percent, according to a new poll, as shootings continue to rise in five major U.S. cities.
The latest ABC News/Ipsos poll, conducted between July 23-24 and released Sunday, showed Biden's gun violence approval rating under water, with 37 percent approving and 61 percent disapproving.
The findings marked a slump in the president's approval rating on gun violence compared to the same survey conducted between March 26-27, which showed 42 percent approving and 57 percent disapproving.
Attorney General Merrick Garland on Thursday pledged to address the surge in gun violence in Chicago, New York, Washington, Los Angeles and San Francisco with a crack down on gun trafficking and additional funding for neighborhood intervention programs.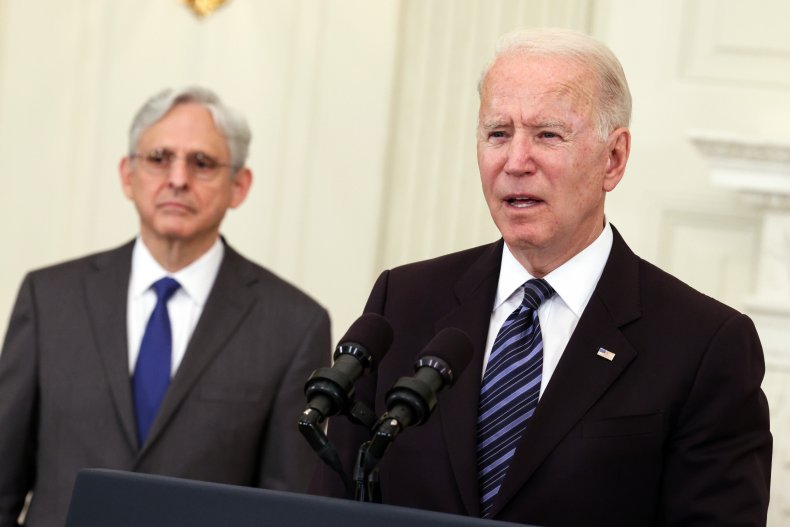 The Justice Department recently launched strike forces to combat gun crimes and facilitate prosecutions across jurisdictions, according to the Associated Press. The department said it has also embedded federal officials in local police departments across the nation and organized fugitive sweeps to detain individuals with outstanding warrants for violent offences.
Garland and Deputy Attorney General Lisa Monaco met with officials from the Bureau of Alcohol, Tobacco, Firearms and Explosives (ATF) last week to discuss a comprehensive approach to fighting the rise in violent crimes.
"We all know our job is to go after those who pull the trigger," Monaco said. "Our job is also of course to go after the sources of those guns, the corridors that they travel in and the networks that feed those guns to the places where they are doing the most violent crime, and that is what this series of strike force efforts is all about."
The attorney general then traveled to Chicago, his hometown, to visit a local police precinct and church group working on gun violence prevention in the community. Garland called gun violence a tragedy, saying "I feel it particularly in my hometown."
He later held meetings with Mayor Lori Lightfoot and Police Superintendent David Brown to encourage law enforcement to work alongside community leaders to ensure the success of his federal strategy. "We can't hope to solve this problem without some of both," he said.
The Biden administration has also prioritized delivering aid to communities affected by violent crimes as shootings and homicides continued to rise in many cities following the lapse of months-long pandemic restrictions.
Experts have suggested that the rise in violent crimes, which is still lower than it was in 2016, could be due to individuals' financial struggles and other worries caused by the pandemic.
The poll sampled 527 adults in the general population. Its margin of error is plus or minus 5 percentage points.
Newsweek reached out to the White House for comment.