Poll Shows Declining Support for Trump Among Older American Voters Since 2016
A new poll published Wednesday showed support for President Donald Trump has declined by 12 percent since 2016 among voters 65 and older, his strongest age demographic during the last presidential election.
The Quinnipiac University poll, which was conducted between May 14 and 18 among 1,323 registered voters, asked respondents whether they would support Trump or presumptive Democratic presidential nominee Joe Biden if the 2020 presidential election were held at the time of the poll. Respondents were also asked to gauge their opinions on topics that have been relevant in the general election conversation thus far, including the federal response to the coronavirus pandemic and both candidates' favorability ratings.
"You can't find a glimmer of good news for the president in this poll—from favorability, to him versus Biden, to his handling of the coronavirus, to fear permeating society," Quinnipiac polling analyst Tim Malloy told Newsweek.
Overall, respondents told pollsters they favored Biden over Trump by an 11 percent margin, with 50 percent supporting Biden and 39 percent supporting Trump. The results mark a small shift in voter opinion from Quinnipiac's April poll, at which time only an 8 percent margin between the two politicians existed as Biden led Trump with 49 percent of voter support.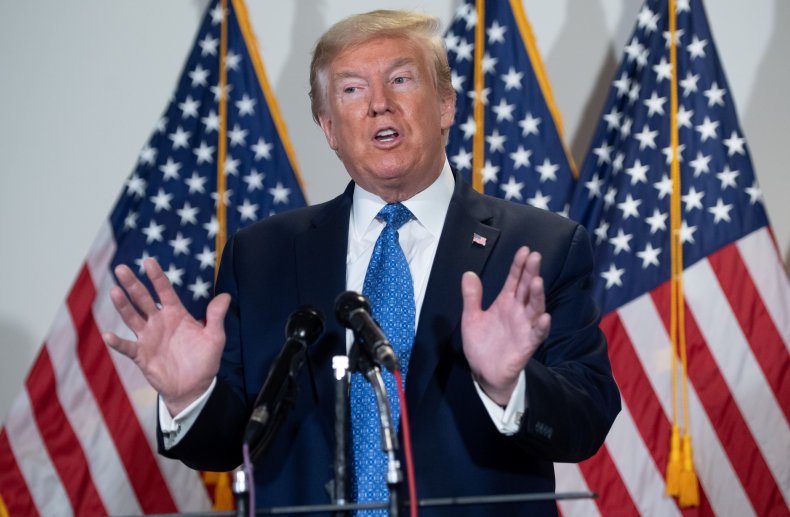 While the poll found support for Trump varied between 33 and 41 percent among all voting ages, only 41 percent of voters 65 and older said they would vote for Trump if they had to decide which candidate to support that day. In 2016, the Pew Research Center found that 53 percent of voters 65 and older cast their ballots for Trump in the 2016 presidential election. The new Quinnipiac poll also found Biden leading 51 percent to Trump's 43 percent among voters between the ages of 50 and 64, another age group Trump commanded the majority of (at an estimated 51 percent) during the 2016 election.
According to the U.S. Census Bureau, older Americans traditionally turn out in higher numbers to vote in presidential elections. In 2016, voters 65 and older led all other age groups in voter turnout, with 70.9 percent casting their ballots. In comparison, 66.6 percent of voters ages 45 to 64 participate, with turnout rates falling considerably among younger voters.
"The president has lost ground with older Americans—there's no doubt," Malloy said. "Not a tremendous amount, but since he was relying on them to get reelected, it has to be a troubling sign."
Newsweek has reached out to Trump's reelection campaign for comment and will update this article with any response.
Support for Trump among what was his most supportive age group in 2016 appeared to have stalled at 41 percent after an earlier Quinnipiac poll found similar results among older voters in April. Though pollsters did not ask voters within that age group specifically why their support for Trump had fallen since 2016, Malloy said it's possible the virus and its effects on the U.S. economy are factors.
"They're frightened," Malloy said. "We can only speculate, but you're living in an era where the older Americans are the most vulnerable to the virus. There are concerns on both sides of the aisle that the president has not handled the coronavirus crisis well."