Poll Shows Just 12% of Texans 'Definitely' Plan to Donate to Construct Mexico Border Wall
Texas Governor Greg Abbott has opened a website for monetary contributions to the state's border wall project, but a new poll shows not many residents plan to donate.
A survey conducted by The Dallas Morning News and the University of Texas at Tyler found just 12 percent of adults "definitely will" donate to the project. Eighteen percent of respondents said they "probably will" contribute money to the cause.
Twelve percent of Texans said they're unlikely to provide funding, and 38 percent of adults said they're "definitely not" likely to donate to the border wall. Fourteen percent of those polled said they weren't sure yet whether they'd contribute to the project.
The Republican governor officially announced plans to build a wall along its own border with Mexico on June 16. Construction of the structure will be paid for by a combination of state funds and contributions from the public.
"These are Texas taxpayer dollars that Texans should not have to be paying for because the federal government has a legal responsibility under the federal immigration laws to do it," Abbott said in a press conference. "But because they are not doing it, Texas taxpayers are having to step up so that we as a state can protect our citizens."
Roughly $250 million in state funding has already been devoted as a "down payment" for the project—a move 43 percent of Texans support, according to the survey.
The governor set up a crowdfunding website where individuals can donate money either by check or by credit card. The fund will be maintained by the Texas Division of Emergency Management.
Abbott's office told Newsweek on June 23 it had received $459,000 in donations for the wall.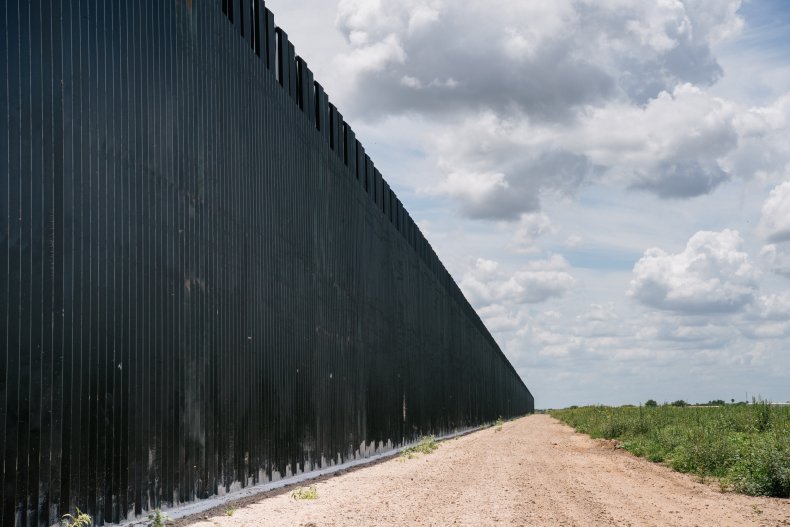 The Texas plan to construct its own physical barrier with Mexico comes after President Joe Biden ordered a pause on construction of former President Donald Trump's wall along the southern border. During Trump's four years in the White House, 450 miles of border wall was built, though not all of it in Texas.
Abbott has argued the Lonestar State must take action to protect residents amid a surge in migration. In May, border officials encountered 180,034 crossings—the largest figure in two decades.
Appearing alongside Trump at the border last week, Abbott hailed the former president as "the man who did more to secure the border than anybody and any president ever has."
Forty-five percent of Texans strongly or somewhat agree that a Texas-Mexico wall is necessary for a safe border, according to the poll. Roughly a quarter of respondents disagreed that the wall was needed for safety.
The Dallas Morning News and the University of Texas at Tyler surveyed 1,090 adults between June 22 and June 29. The poll has a margin of error of plus or minus 3 percentage points.