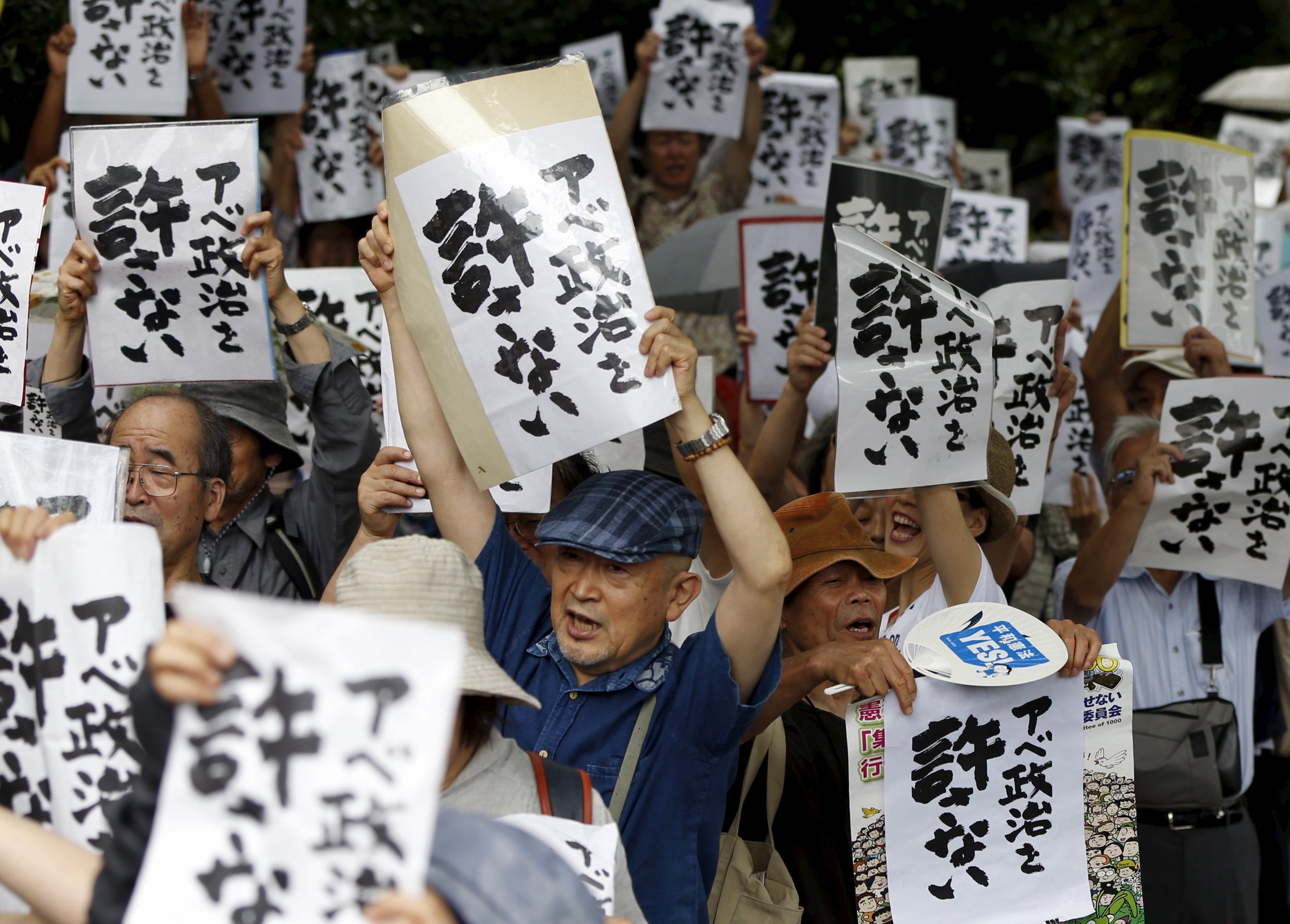 TOKYO (Reuters) - Japanese Prime Minister Shinzo Abe's support rate fell nearly 10 points to 37.7 percent in a poll released on Saturday, the first since his ruling bloc pushed forward legislation marking a dramatic shift in the nation's post-war defense policy.
The approval of the security bills by the lower house of parliament sparked large protests from voters worried the changes violate the pacifist constitution and could entangle Japan in a U.S.-led war. The legislation will now be deliberated in the upper house.
The survey by Kyodo news agency, conducted on Friday and Saturday, showed 51.6 percent disapproved of Abe's government.
The fall in support was within the range analysts had predicted but it was the first time Abe's disapproval rating had topped 50 percent since he took office in December 2012, promising to bolster Japan's defenses and reboot the stale economy.
The new bills would allow Japan to exercise its right of collective self-defense, or to defend a friendly country under attack.
Abe says the legislation, which would also expand the scope for Japan's military to provide logistical support to friendly countries and participate in peace-keeping operations, is vital to meet new challenges, such as from an assertive China.
Nearly three-quarters of voters were critical of the way the bills were approved.
Abe's Liberal Democratic Party-led coalition voted in favor of the legislation on Thursday despite a large demonstration the previous day and after the main opposition parties walked out of the chamber in protest.
The bills will now pass to the upper house, where the opposition will try to delay a vote, although the ruling bloc has a majority. If no vote is held within 60 days, the legislation returns to the lower house, where Abe's coalition can enact it with a two-thirds majority.
Just over 68 percent of voters were against passage of the bills in the current session of parliament, which ends on Sept. 27.
Support for the LDP slipped 5.1 points to 31.9 percent, still nearly three times that of the main opposition Democratic Party of Japan at 11.2 percent, Kyodo said.
Abe has been expected to win re-election for another three-year term as LDP leader in a September party election. So far no rival has indicated a desire to contest the race.