Donald Trump Is Losing To Every Top Democratic Challenger in Key Swing State of Pennsylvania, New Poll Shows
A new poll shows President Donald Trump losing to every top Democratic challenger in Pennsylvania, a key swing state for the upcoming 2020 election.
A Morning Call/Muhlenberg College survey released Thursday shows Trump trailing to former Vice President Joe Biden, Massachusetts Sen. Elizabeth Warren and Vermont Sen. Bernie Sanders.
Biden, who was born in Scranton, performed the best in a head-to-head race with the president, topping Trump by 9 percentage points. Fifty-two percent of Pennsylvania voters polled backed the former vice president compared with the 43 percent who would support Trump in his re-election bid.
Warren and Sanders were tied in the poll, each beating Trump by 5 percentage points. The two senators earned 50 percent support from Pennsylvania voters in head-to-head match-ups with Trump while the president earned 45 percent. But, both of these hypothetical races fell within the poll's 6 percentage point margin of error.
The poll also found that nearly six in 10 Pennsylvania voters don't think Trump should be re-elected to another four years in the White House, despite the fact that half said he's done a good job at creating jobs and slightly fewer than half, or 45 percent, think he's been treated unfairly.
In 2016, Trump narrowly defeated Hillary Clinton by less than 1 percentage point to capture Pennsylvania's 20 electoral votes. Since then, his approval rating has stayed virtually the same in the swing state. According to the poll, 54 percent of state voters view the president unfavorably and 43 percent have a favorable view of him.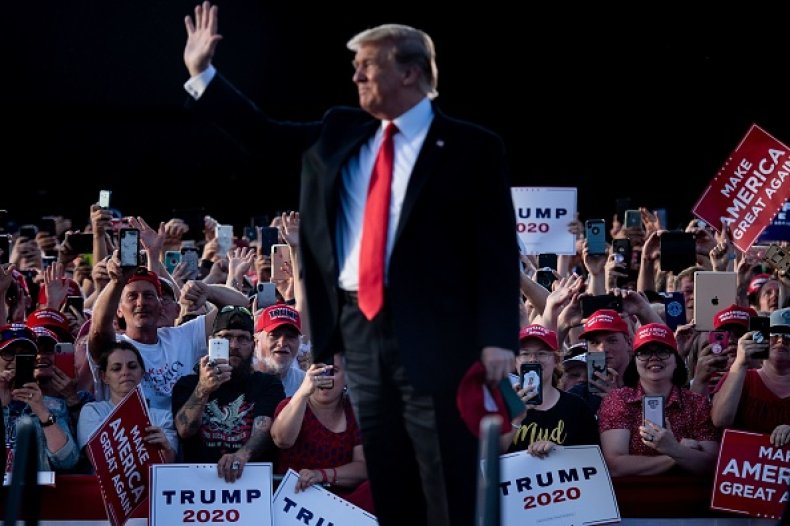 While the 2020 election is still about a year away, Trump's hold on the presidency is uncertain as House Democrats move full steam ahead with their ongoing impeachment inquiry. The inquiry was launched in late September amid reports that the president tried to pressure Ukraine to investigate Biden.
Trump and his Republican allies have largely dismissed the probe as a baseless "Democratic witch hunt." But national polling shows that Americans are getting on board with the idea of impeaching and removing Trump from office much faster than they did with President Richard Nixon during Watergate.
But Morning Call/Muhlenberg College found that Pennsylvania voters are still largely split on whether or not they support the impeachment inquiry into Trump's communication with Ukraine. Fifty-one percent of state voters surveyed said they support the probe while 47 percent were opposed.
Pennsylvanians were even more divided when it came to whether Trump's behavior warranted his removal from the Oval Office. Forty-nine percent of those polled were in support of removing him and 48 percent were opposed.
The Morning Call/Muhlenberg College survey polled more than 400 Pennsylvania voters between Nov. 4 and Nov. 9. The margin of error for the survey is plus or minus 6 percentage points.