New Poll Shows Top Democratic Candidates Beating Donald Trump in Key Swing State
A new poll shows President Donald Trump losing to every top Democratic challenger in New Hampshire, a key swing state for the upcoming 2020 election.
An Emerson College/WHDH 7 News survey released Wednesday shows Trump trailing to five Democrats vying for the party's nomination, including Joe Biden, Pete Buttigieg, Bernie Sanders, Elizabeth Warren and Andrew Yang.
Registered New Hampshire voters in the survey were given head-to-head races between Trump and leading Democratic candidates. Half of the voters polled were given an option to say they were undecided between the two candidates, while the other half were forced to choose between the two options.
Among voters who were given an undecided option, Buttigieg and Sanders performed the best in a direct matchup with the president. Each candidate topped Trump by 7 percentage points. Buttigieg, the mayor of South Bend, Indiana, had the most support among New Hampshire voters—49 percent—in facing off with the president.
Biden, Warren and Yang were all tied in the poll, each beating Trump by 4 percentage points. Biden and Yang both earned 46 percent support among voters polled compared with Trump's 42 percent. Warren had 47 percent support among voters compared with the president's 43 percent.
Not all of the Democratic candidates fared so well among voters who were not given an undecided option. In this group, Buttigieg, Biden and Sanders still bested the president. But Warren and Yang were shown to be trailing Trump by 2 percentage points.
The Emerson College/WHDH 7 News poll was conducted from November 22 to November 26 and surveyed 1,184 registered voters across the state. The survey had a margin of error of 2.8 percentage points.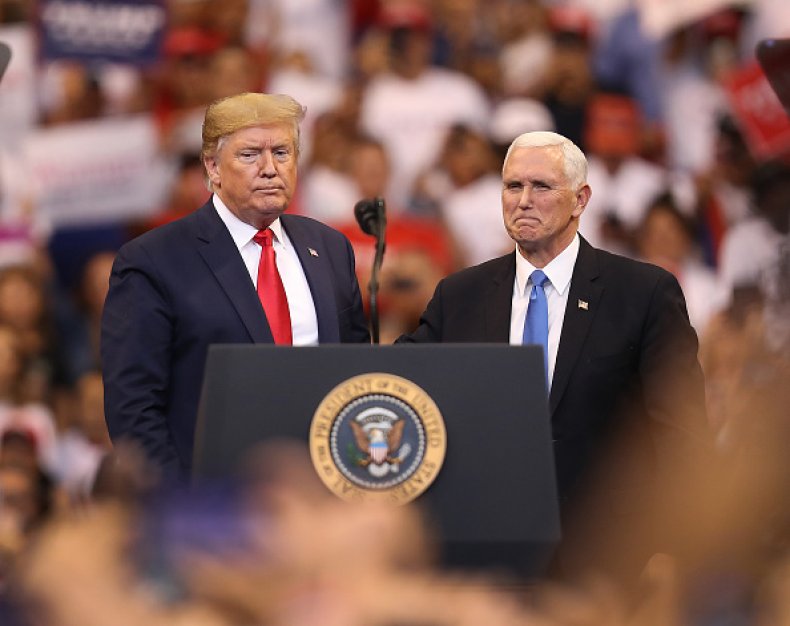 The poll also showed Trump's approval rating with New Hampshire voters to be underwater. More than half of the registered voters polled, or 53 percent, disapprove of the president while 42 percent approve.
Trump lost New Hampshire's' four electoral votes to Hillary Clinton in the 2016 presidential election. Trump was defeated by Clinton by less than 1 percentage point, with Clinton capturing 46.8 percent of the vote compared with his 46.5 percent.
During a 2020 campaign rally in New Hampshire in August, Trump told the crowd that they had "no choice" but to vote for him or risk economic security.
"You have no choice but to vote for me, because your 401(k) is down the tubes. Everything's going to be down the tubes," Trump told the crowd. "So whether you love me or hate me, you've gotta vote for me."
While the 2020 election is still roughly a year away, Trump's hold on the presidency is uncertain as House Democrats move full steam ahead with their ongoing impeachment inquiry. The inquiry was launched in late September amid reports that the president tried to pressure Ukraine to investigate Biden.