Poll Workers in Texas County Could Face $1,000 Fine if They Turn Away Unmasked Voters
Poll workers in Galveston County, Texas, could pay a penalty if they turn away voters without masks.
According to CBS DFW, an executive order was signed on Friday barring the requirement of a protective face covering to vote. Ultimately, this order has the intention of allowing all eligible citizens to vote—regardless of whether or not they are wearing a mask.
"We have had some problems in Galveston County as recently as late [Friday] morning from certain poll workers insisting that voters wear a mask. If they do not, they are not giving them the opportunity to vote," Galveston County Judge Mark Henry, who signed the order, said during a press conference on Friday. "This is a significant constitutional issue."
Galveston County's The Daily News reported that county officials encountered issues with some voting locations at private facilities, prior to Henry's executive order.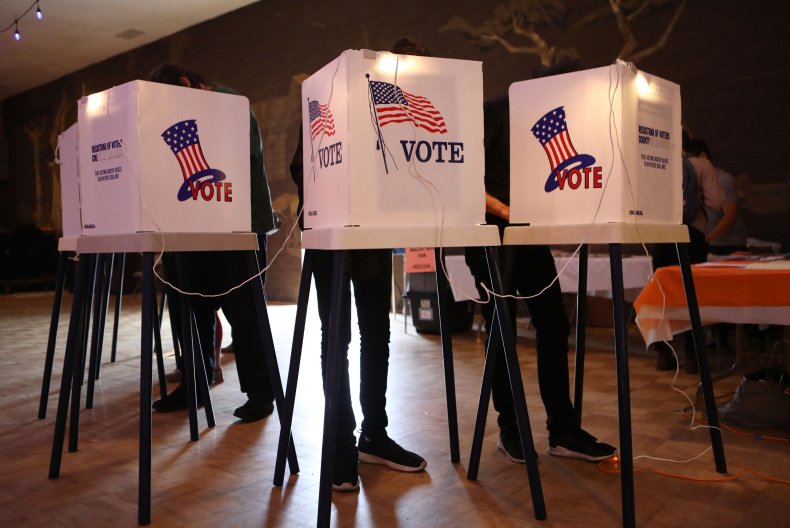 "We have tried for the better part of this week to get this issue resolved at low levels. That has proven unsuccessful to this point," he added. "Honestly, it's getting a little frustrating having to go through this much activity to ensure that everyone has the right to vote."
NBC affiliate KPRC reported that Henry himself was turned away from the polls without a mask on.
Poll workers who refuse mask-less voters could face a fine of up to $1,000.
"The right to vote is a fundamental right of every eligible voter and is essential to our democracy," the county stated. "Voter suppression and voter intimidation will not be condoned in Galveston County for any reason."
Newsweek reached out to Henry and the Galveston County office, but did not hear back at the time of publication.
Texas Governor Greg Abbott previously stated in July that though masks are strongly recommended to curb the spread of the coronavirus, they are not required. His executive order outlined the requirements and exceptions for mask wearing, which included voting.
Abbott noted that masks are not required by "any person who is voting, assisting a voter, serving as a poll watcher, or actively administering an election, but wearing a face covering is strongly encouraged."
According to the Texas Department of State Health Services, Galveston County had a total of 12,046 coronavirus cases accumulated from March 4 until October 17. About 253 of the 254 counties in Texas have reported cases as of Saturday, and the state has seen a total of 16,984 fatalities.