President Donald Trump's son expressed staunch faith in his father's reelection campaign Thursday, telling a Fox News host that election polls are "looking great" and predicting Trump would do better in November than he did in 2016.
Eric Trump, the president's third child and executive vice president of the Trump Organization, appeared on Hannity, touting his father's vocal support base and their "tremendous" amount of enthusiasm.
"The polls are looking great," Eric Trump told host Sean Hannity, adding that he sees "more enthusiasm going into 2020 than I did in 2016, and we're going to win."
Newsweek contacted the Trump Organization for comment, but did not hear back in time for publication.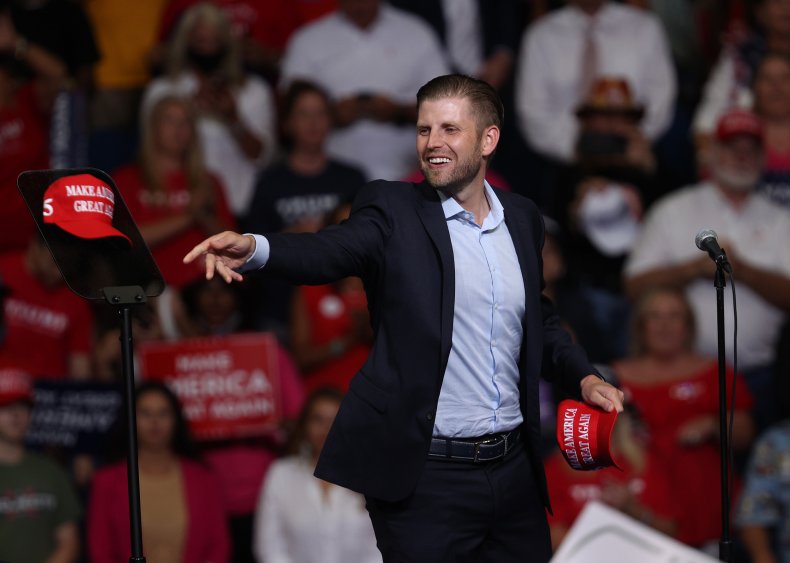 The businessman's comments Thursday come amid troubling polling numbers for his father, as several national polls have Donald Trump trailing presumptive Democratic presidential nominee Joe Biden. While different polls show varying margins, they collectively show Biden winning, although several suggest his lead has narrowed over recent months.
A Reuters/Ipsos survey asked 964 likely voters between August 3 and 4 who they would cast their ballot for, finding that 48 percent of registered voters said Biden, compared to the 38 percent who said Trump.
Comparatively, a Hill-HarrisX poll questioned 2,850 registered voters between August 2 and 5, finding that 43 percent of voters would choose Biden whereas 40 percent would choose Trump. A mid-July Hill-HarrisX poll found that Biden had a 7-point national lead over Trump.
FiveThirtyEight's national polling average shows Biden with a 7.8-point lead over Trump, while RealClear Politics' (RCP) average between July 21 and August 5 has Biden with a 6.4 lead. But one month earlier, RCP's average showed Biden with a 9-point lead, suggesting a small dip in his voter support.
During a July 19 interview with Fox News anchor Chris Wallace, the president claimed the national polls that showed him trailing Biden were "fake in 2016, and now they're even more fake." Jared Kushner, Trump's son-in-law and the person overseeing his campaign, previously told Newsweek that public polling is "all b.s."
Last week, however, the Trump campaign temporarily suspended all its television advertising in an attempt to reevaluate strategy with just 100 days to go until the November election, The New York Times reported.
Trump's approval rating as president has reached all-time lows in the recent months as his administration attempts to deal with fallout from the coronavirus pandemic and growing civil unrest.
Since the pandemic began, Republicans' satisfaction with the state of the U.S. dropped 60 percent, according to a Gallup poll. Just one in five GOP voters is satisfied with how things are going right now, as the statistic dropped from 80 percent satisfaction in February to its current statistic of 20 percent.