Polls, Forecasts and Bookies All Point Biden. Is 2020 Just a Rerun of 2016?
Joe Biden is dominating the polls, forecasts and odds tables with a little less than four months to go until voters decide whether or not President Donald Trump should have a second term in the White House.
The Democratic challenger is almost 10 points ahead of Trump in FiveThirtyEight's average of national head-to-head surveys, and consistently polls ahead of the president in key swing states like Florida, Michigan and Arizona.
One highly rated poll from Monmouth University even put Biden 12 points ahead of Trump nationwide at the start of this month, while another survey published by Morning Consult on Tuesday found the Democrat led the president by 29 points among voters who disliked both candidates—a constituency that proved important to Trump's victory in the 2016 election.
Some bookies also favor Biden's chances of winning the presidency on November 3rd, with Oddschecker reporting in early June that the former vice president was the favorite among all U.K. betting firms.
According to The Economist election forecast, Biden has a roughly 9 in 10 chance of winning the electoral college and a staggering 98 percent probability of winning the popular vote in four months time.
But experts have warned there are indications that the former vice president doesn't have the race in the bag yet— opening him up to possibility of an upset loss akin to Hillary Clinton's in the 2016 presidential race.
Speaking to Newsweek by email, YouGov International Projects Director Marcus Roberts said: "At the moment, the [Economist/YouGov] model is giving Joe Biden an 89 percent chance of winning. If you look at the average of polls, at this time in the election, Biden is about 9 points ahead of where Clinton was. We're aware that this will close in as more voters decide who to vote for and start to engage more with the election but it seems that Biden is starting from a stronger position than Clinton was at this time.
"However, what may be a problem for Biden, is enthusiasm. This time in 2016, the level of enthusiasm Clinton supporters had for Clinton was 13 percentage points higher than Biden supporters have for Biden."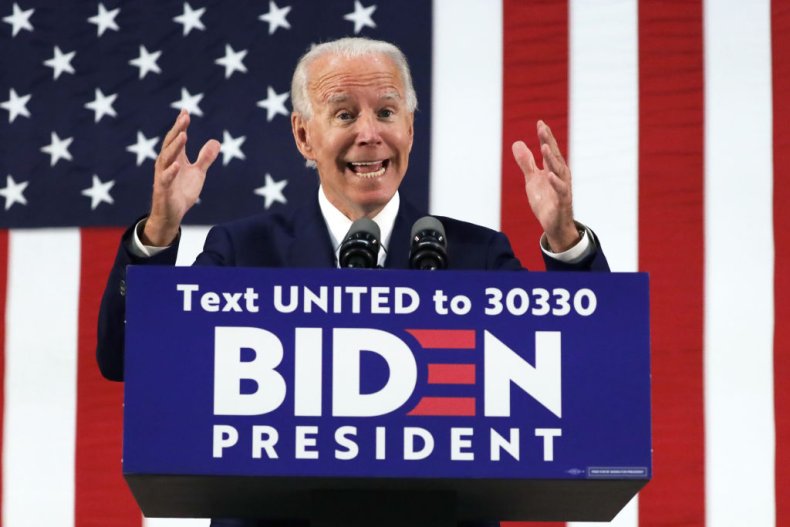 The pollster added that Trump's supporters appeared to be "significantly more enthusiastic" about their candidate than Democrats were about Biden, with one mid-June poll from YouGov finding 68 percent of the president's supporters were enthusiastic about him. By comparison, 31 percent of Biden supporters were enthusiastic about his candidacy.
"As always, turnout will be a defining factor to all of this," Roberts said. "Will the anti-Trump feeling become more powerful than the force of pro-Trump feeling and lack of enthusiasm for Biden?"
Morning Consult senior editor Cameron Easley further cautioned that Trump's poor polling against Biden could be short term "expressions of dissatisfaction" with his performance in office amid the pandemic and widespread protests.
"After all, polls are just a snapshot in time, and this is a very bad moment for the president," Easley said. "As we get closer to Election Day, some voters who are currently abandoning Trump are likely to come home, and that will narrow the margin. However, Biden's lead right now is big, so how far that gets the president, it's tough to say."
He added that in a close race, Trump would still enjoy a "relative advantage" over Biden regarding the electoral college.
"If you see Biden's national lead drop to near where Clinton's edge was in 2016 at the time of the election, it opens up the possibility of Trump holding that Electoral College coalition together and winning another term in office," the pollster said.
Yet, there was a keen awareness that Biden was in a far better position than Clinton was four years ago, when independent voters were more willing to take a chance on Trump.
"Hillary Clinton had a lot more negative baggage than Joe Biden does. She was deeply unpopular and divisive in a way that Joe Biden so far isn't. Trump is also much better known now," Republican strategist Alex Conant told Newsweek. "A lot of independents who were willing to take a risk on Trump in 2016 are now saying they're going to vote for Biden."
The Firehouse Strategies partner added that the election was a "referendum" on Trump that spelled bad news for the incumbent, given his poor approval ratings and polling numbers.
"At this point in 2016, there were a lot more undecided voters or voters who were seriously considering voting for a third-party candidate. That meant Clinton's ceiling was a bit lower. On this day in 2016, she was pulling in 45.8 percent," Easley said.
"Today, Biden is just half a point away from 50 percent. It's going to be harder for President Trump to win re-election if fewer voters are lodging protest votes for third-party candidates. Every indication so far suggests that this will be the case."
The YouGov pollster Roberts also said the former vice president had a "better chance" of beating Trump in November than Clinton did four years ago, later adding that the election was "Biden's race to lose" right now.
"Four months is a long time in politics and anything could happen," Conant said. "We should expect more surprises and a closer race as we get closer to November."