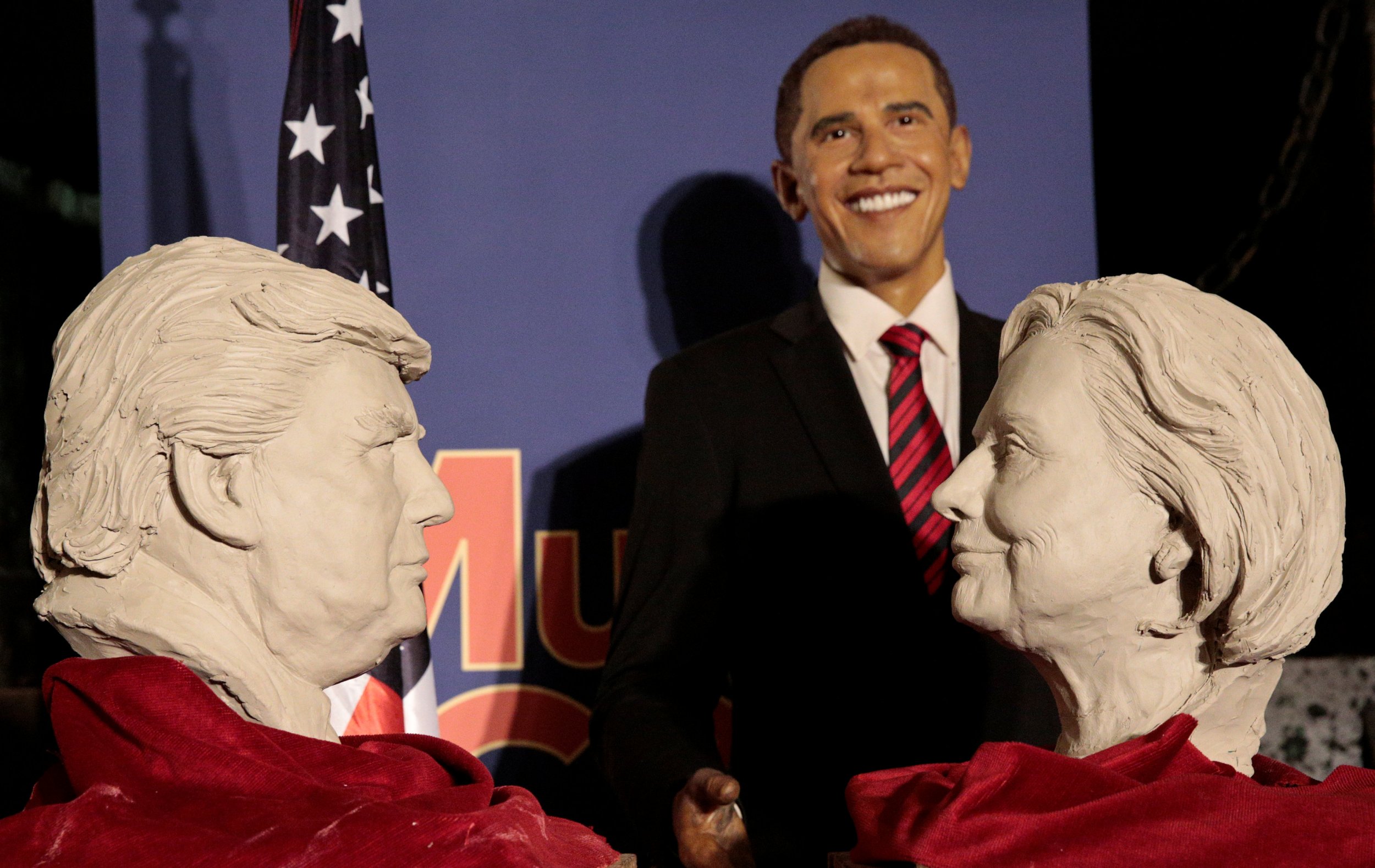 Welcome to The Day in Polls. As we approach Election Day, we'll be keeping you up-to-date on the latest poll numbers and where the candidates stand.
Happy Friday: We've got four days to go before Election Day, so let's get right down to the latest numbers.
The Real Clear Politics average of most state and local polls puts Democratic presidential nominee Hillary Clinton at a 1.7-point lead over Republican nominee Donald Trump, which represents not much of a change from the past few days. A tumultuous week on the campaign trail brought the two candidates closer together in the polls than they've been in weeks, with Trump seeing an uptick in support after the FBI announced a review of emails from Clinton's top aide. On Friday morning, Clinton had 46.7 percent of support to Trump's 45 percent.
A closer look at Friday's polls showed mixed results. Trump and Clinton are tied, each with 44 percent of support, in a new four-way national Investor's Business Daily/TechnoMetrica Market Intelligence (IBD/TIPP) poll. Both candidates are also in a dead heat at 44 percent of support in a new Rasmussen Reports poll. Meanwhile, Clinton is three points ahead with a "hint of momentum" in an ABC News/Washington Post poll. In that survey, Clinton leads Trump 47 percent to 44 percent, and is preferred by voters to Trump on two key issues: the economy and health care. Voters prefer Trump on issues of corruption and immigration.
The main forecasts continue to predict Clinton as the winner next week. According to FiveThirtyEight, Clinton has a 66.5 percent chance of winning the election, as Trump's probability hovers around 33 percent. FiveThirtyEight predicts Clinton will take 294.2 electoral votes, while Trump will take 243.
Over at The Upshot, Clinton has an 84 percent chance of winning the election, compared to 16 percent for Trump. The Upshot also spoke with a number of teenage girls about the election and the effect it's had on their feelings about themselves. A quarter of the girls polled said Clinton's candidacy has "made them more likely to seek positions of leadership," according to the poll. However, around half of the girls polled said Trump's comments about women—he allegedly called former Miss Universe Alicia Machado "Miss Piggy" and "Miss Housekeeping"—have affected the way they think about their own bodies.
Outlier of the day: Friday brought us some alarming statistics on perceptions around voter fraud in this election. On the campaign trail, Trump has repeatedly said the 2016 election is rigged and that he may not accept the outcome—unless he wins.
Ready? A new poll from Rad Campaign and Lincoln Park Strategies found that 51 percent of Trump voters believe that dead people are capable of voting, compared to nine percent of Clinton supporters. There was also widespread belief among Trump voters that undocumented immigrants will vote (55 percent) and that voters can cast ballots more than once in the same state (39 percent).
A new CBS News poll released on Friday found that 42 percent of Trump voters believe that voter fraud happens "a lot," compared to seven percent of Clinton voters. Among registered voters overall, a quarter of those polled answered "not much/none" when asked how much confidence they have that their vote will be counted properly.