Polls Put Scottish Unionists a Nose Ahead as Vote Approaches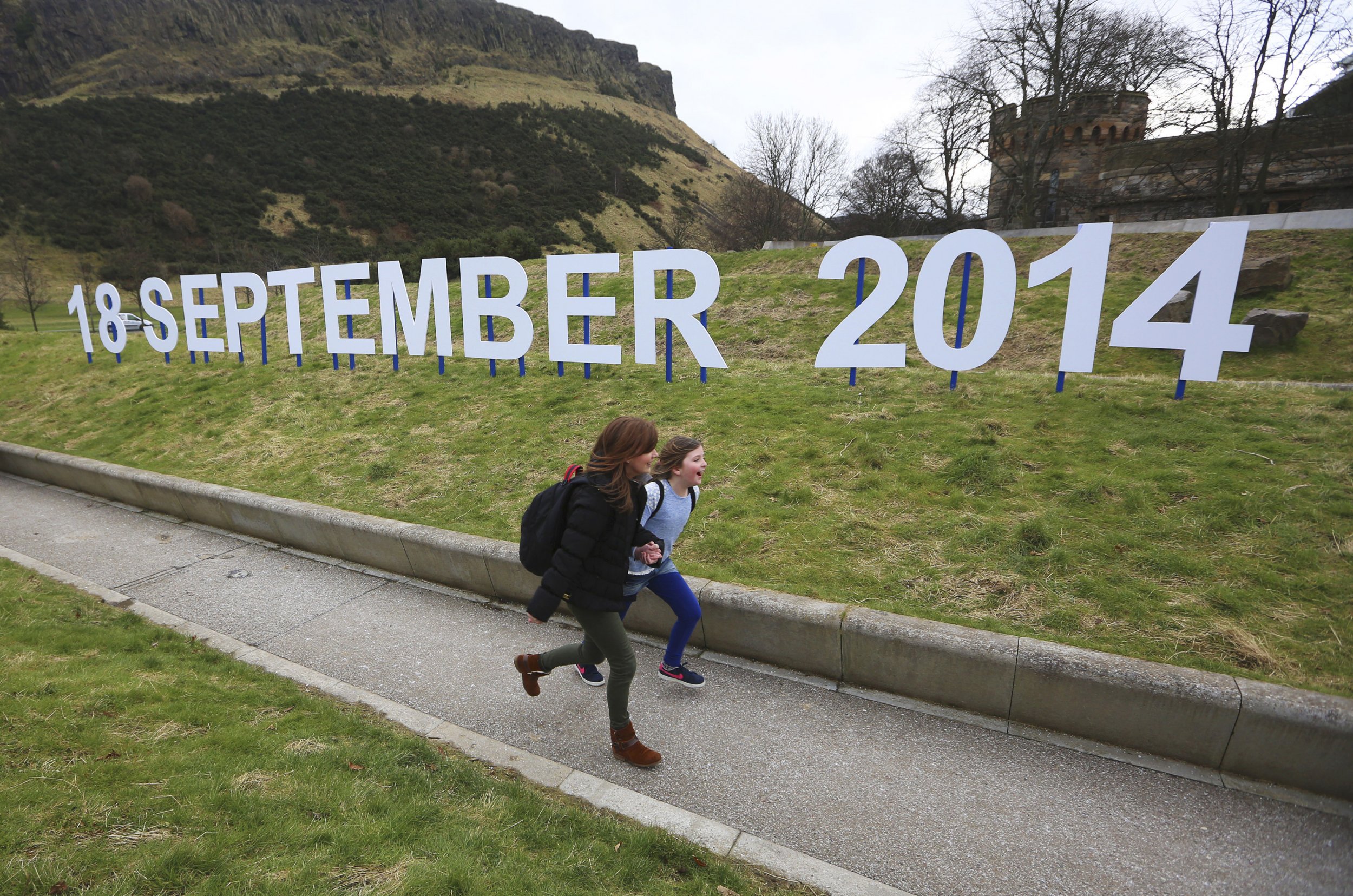 Supporters of keeping Scotland in the United Kingdom have clawed back a tiny lead over separatists less than a week before Scots vote in an independence referendum that is balanced on a knife edge, opinion surveys showed on Friday.
A YouGov survey for The Times put Scottish unionists on 52 percent with separatists on 48 percent while a Guardian/ICM poll put unionists on 51 percent and separatists on 49 percent, excluding those who said they did not know how they would vote.
"The 'no' campaign has moved back into the lead in Scotland's referendum campaign," YouGov President Peter Kellner said in a commentary on the survey. "This is the first time 'no' has gained ground since early August."
The indication that support for keeping the United Kingdom intact has drawn slightly ahead in Scotland is of only meager comfort to unionists; the broader picture painted by recent surveys is that the vote is still too close to call.
Such is the gravity of the situation that finance minister George Osborne, Britain's second most powerful man, canceled a trip to the G20 meeting in Cairns which takes place the weekend after the vote.
Pollsters have shown a surge in support for independence since late August as the secessionist campaign led by Alex Salmond won over supporters of the traditionally unionist Labour party and some female voters in Scotland.
The erosion of the strong unionist lead has prompted investors to sell sterling, shares in companies with Scottish exposure and British government bonds on fears that the United Kingdom might break up.
Sterling has fallen 2.5 percent against the U.S. dollar this month while the cost of hedging against near-term swings in value by the British pound jumped to four-year highs on Friday.
Investors pulled $27 billion out of UK financial assets last month - the biggest capital outflow since the Lehman crisis in 2008 - as concern mounted over the fate of the United Kingdom, a report by London-based consultancy CrossBorder Capital showed.
In the event of a vote for independence on Sept. 18, Britain and Scotland would have to begin work on dividing up the $2.5 trillion UK economy, North Sea oil and the national debt, while Prime Minister David Cameron would face calls to resign.
Scotland says it will use the pound after independence but London has ruled out a formal currency union, while Britain will have to decide what to do about its main nuclear submarine base on the Clyde, which the nationalists don't want.
UK PLC?
So far only one poll this year, from YouGov last weekend, has put the separatists in front. That survey, with a margin of error of plus or minus 2 to 3 percentage points, showed a 2 percentage point lead for the independence campaign.
The polls showing a swing in support to the nationalists sowed fear in the British ruling elite: Cameron rushed to Edinburgh on Wednesday where he begged Scots not to break his heart by destroying the United Kingdom's "family of nations".
In a hurried attempt to win back support for the union, the Labour Party sent dozens of lawmakers to Scotland, where it is the only political force that rivals the Scottish nationalists.
YouGov credited former Labour Prime Minister Gordon Brown, a Scot who is the only British politician that Salmond is said to fear, with winning back support for the union.
"His warnings that independence would be bad for jobs and family finances have struck home," Kellner said of the 63-year-old former premier, who has hit the road in Scotland to give an impassioned defense of the union.
The poll showed that fears of what independence might mean for bank accounts in the event of another financial crisis - with which Brown grappled as prime minister - was an important pillar of the unionist vote.
After two British banks - Edinburgh-based Lloyds and RBS - said they would shift their registered head offices to London if Scotland voted to break away, Salmond accused the British government of orchestrating a campaign of fear by corporate lenders.
"Despite Westminster's efforts we've seen a flourishing of national self-confidence," Salmond, a 59-year-old former oil economist at RBS, wrote in the Daily Record newspaper.
"Westminster politicians talk about 'losing' Scotland; as if we were some sort of possession."
When asked if Cameron had asked business leaders to speak out, his spokesman said he had been "slightly puzzled" by the media coverage as the prime minister had publicly encouraged people across the United Kingdom to make their positions clear.
Both the YouGov and ICM polls show that disdain for Westminster - either its politicians or its policies - is the key reason to vote for secession.
BROKEN BRITAIN?
With some British retailers warning independence would bring price rises and other problems, the head of major pub chain Wetherspoon said Scotland could prosper on its own just as other small countries such as Singapore and New Zealand have.
"It's absurd and underestimates the intelligence of the public to say things like the cost of your supermarket goods is going to rise and [independence] is going to result in economic dislocation," Tim Martin said, adding that Wetherspoon was expanding its outlets in Scotland.
The leader of the United Kingdom Independence Party, which wants Britain to leave the European Union, said the London elite had placed the future of the union on the line by resisting the real devolution of powers to the UK's constituent parts for over a century.
UKIP's Nigel Farage, who will hold a pro-union rally in Glasgow, said Cameron had made a particularly grave error in negotiations on the vote by refusing to allow a third option offering greater devolution, known as Devo-max.
"Devo-max wasn't put on the ballot paper, and with that misjudgment you know Mr Cameron has risked the future of the union," said Farage.
The pro-independence camp says it is time for Scots to rule their own country and build a fairer society without being told what to do by a political elite in London whom they accuse of mismanaging Scotland's wealth.
The unionist campaign, supported by the three main political parties in the Westminster parliament, says Scotland is more prosperous and secure within the United Kingdom and that an independent Scotland would face serious financial and economic hurdles.