Polls Show Donald Trump Leading in Just One Swing State With Exactly Three Weeks to the Election
Polls show that President Donald Trump is leading in just one swing state with exactly three weeks remaining before Election Day.
An average of state polls compiled by FiveThirtyEight found that Trump had a 1.5-percent lead over Biden in Texas on Monday. It is the only swing state where polling averages indicate that Trump is in the lead among likely and registered voters.
According to polls conducted in early October by YouGov and Pulse Opinion Research, Trump had a lead over Democratic presidential candidate Joe Biden that ranged between 5 and 7 points in Texas, and another poll conducted earlier this month by Civiqs found Trump and Biden were tied among likely voters. Though no Democratic presidential candidate has won Texas since former President Jimmy Carter in 1976, polling conducted over the summer and in early fall suggested the state may be leaning closer to the Democratic Party and could have a chance of flipping this election season.
Meanwhile, Biden is holding leads in all six of the key battleground states that political experts have said will be important in deciding the outcome of the election on November 3. According to FiveThirtyEight's state polling averages, Biden has a 3.9-point lead in Arizona, a 4.5-point lead in Florida, an 8.1-point lead in Michigan, a 2.9-point lead in North Carolina, a 7.3-point lead in Pennsylvania and a 7.7-point lead in Wisconsin.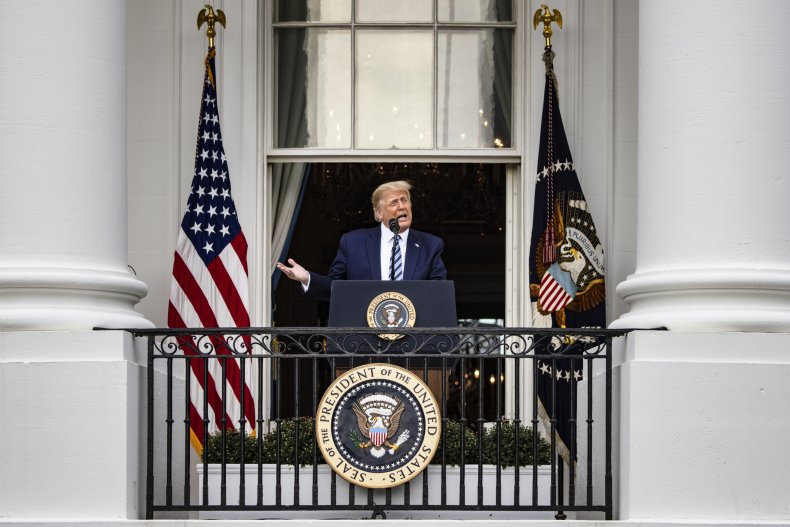 Polling averages for other swing states show that Biden is also in the lead, though by slimmer margins. In Ohio, FiveThirtyEight's polling averages show that Biden holds a narrow 0.7-point lead over Trump in a state that is largely credited with predicting the outcomes of presidential elections. According to 270toWin, Ohio has only voted for the losing presidential candidate once over the last 76 years. While a recent poll conducted among the state's voters by Siena College/The New York Times found Biden leading by 1 point and a YouGov poll published earlier this month said the two candidates were tied, one poll conducted in late September by Hart Research Associates found Trump leading Biden by 2 points, and polls conducted in September and October by Civiqs and Trafalgar Group said Trump was leading by 2 and 4 points.
Like Texas, Georgia is another state that frequently votes for the Republican presidential candidate but has shown in recent polls that it could lean Democratic this election cycle. On Monday, Biden had a 0.9-point lead over Trump in Georgia based on FiveThirtyEight's polling averages, but Monmouth University polls conducted last month found Trump leading by a range of 1 to 5 points. A YouGov poll conducted in late September found Trump leading by 1 point, and a Landmark Communications poll conducted last week found Trump with a 2-point lead over Biden.
Iowa also tends to flip back and forth between parties from one presidential election season to the next. While Trump won the state by more than 9 points in 2016, former President Barack Obama won the state by a similar margin in 2008 but by just under 6 points in 2012. According to FiveThirtyEight's polling averages, Biden had a 1.1-percent lead among Iowa voters with on Monday, but a recent YouGov poll said the candidates were evenly matched and a Monmouth University poll conducted last month found Trump with a 3-point lead among likely voters and a 6-point lead among registered voters.
Nevada and New Hampshire are often considered swing states during election cycles, but polls conducted among voters in each state found Biden handily ahead throughout the summer and early fall. While Minnesota emerged as another potential battleground state this year—both candidates visited the state to campaign last month—it has gone to the Democratic presidential candidate every year since 1976, according to 270toWin, and polls conducted over the last two months by SurveyUSA, Suffolk University, Morning Consult and ABC News/The Washington Post found Biden had a strong lead, with some polls saying he was leading by double digits among voters in the state.
With three weeks remaining until Election Day, Biden remains in the lead in most national polls, with FiveThirtyEight calculating his average lead to be about 10.4 points by Monday. While Trump temporarily suspended his campaign activities due to his COVID-19 diagnosis earlier this month, he returned to the campaign trail with a rally in Florida on Monday night. Biden has continued to make campaign stops over the last week, and both candidates are expected to continue vying for undecided voters and rallying their supporters in the remaining three weeks as the country prepares for one of its most divisive elections in recent memory.