Polls Show Increasing Support for Defunding the Police, But Most Americans Still Against It
Although there has been increasing support for defunding the police, most Americans are still against it.
A new poll from Yahoo! News and YouGov shows support for defunding the police is up 8 percent from a previous poll conducted May 29 and 30 during the first week of protests. However, despite growing support, only 24 percent of Americans support defunding the police.
The Black Lives Matter (BLM) movement has gained momentum amid the weeks-long George Floyd protests across the nation. The poll showed that support for the movement has more than doubled since 2016, with 57 percent of Americans saying they have a favorable view of BLM.
However, defunding the police, which is one of the key approaches the BLM movement has advocated for, is still only supported by less than a quarter of Americans. In fact, more than half of Americans think there need to be more officers policing streets.
The majority of those polled believe that while there are racial problems within police departments, these issues can be solved through reforming the existing system. Nearly three-quarters of Americans want to see a ban on chokeholds and strangleholds by police officers and a mandatory warning before shooting.
An overwhelming 83 percent of Americans also think bystander officers should be required to step in if a fellow officer is seen using excessive force. Other strongly supported reform proposals such as greater widespread reporting of use of force; the use of body cameras by officers; and an increased use of de-escalation tactics over deadly force.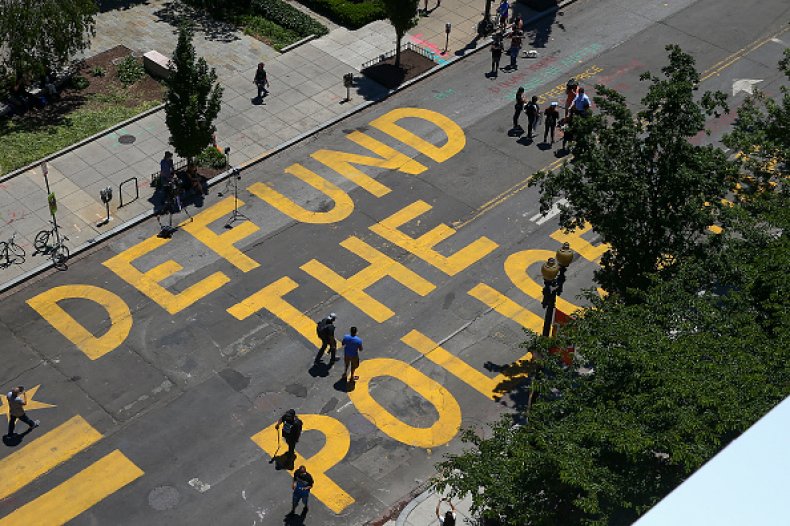 A majority of Americans say some type of change needs to be made to the existing police system. In comparison, 17 percent do not think police departments need to be reformed--a view President Donald Trump adopted after referring to himself as "the president of law and order" on Twitter.
Meanwhile, about 64 percent of Americans favor bringing people together over law and order, and 52 percent found Trump's response to the protests have been more harmful than helpful. More than half of those surveyed think former President Barack Obama would have handled the protests better.
The recent protests that have sparked across the nation following the case of George Floyd--a Minneapolis man who died in police custody after an officer knelt on his neck--have forced the country to reevaluate the role race plays in the U.S.
Conducted on June 9 and 10, roughly two weeks after Floyd's death, the poll indicates that more than half of Americans have become more concerned about racial injustice in America since the protests.
More than half of Americans believe that there is a problem with systemic racism in policing and that police are not held accountable for misconduct. About 63 percent believe there is a systemic problem in the country, and the majority agree that "racism is built into American society. The assumption of white superiority pervades schools, business, housing, and government."