Polling Shows Rashida Tlaib With Blowout Lead as Michigan Primary Gets Underway
Michigan Representative Rashida Tlaib holds a large advantage over Detroit City Council President Brenda Jones as Tuesday's Democratic primary for the state's 13th Congressional District gets underway, according to a recent poll.
Fifty-two percent of respondents said they'd vote for Tlaib, while 24 percent favored Jones. The remaining 23 percent said they were undecided.
The poll, which was conducted by Target-Insyght, surveyed 500 registered voters across Michigan from July 20 to 22. The survey has a margin of error of plus or minus 4.5 percentage points.
Tuesday's primary marks the second time Jones and Tlaib have faced off against each other. During the 2018 midterm elections, Tlaib won a six-way primary race by less than 1,000 votes, and Jones finished second.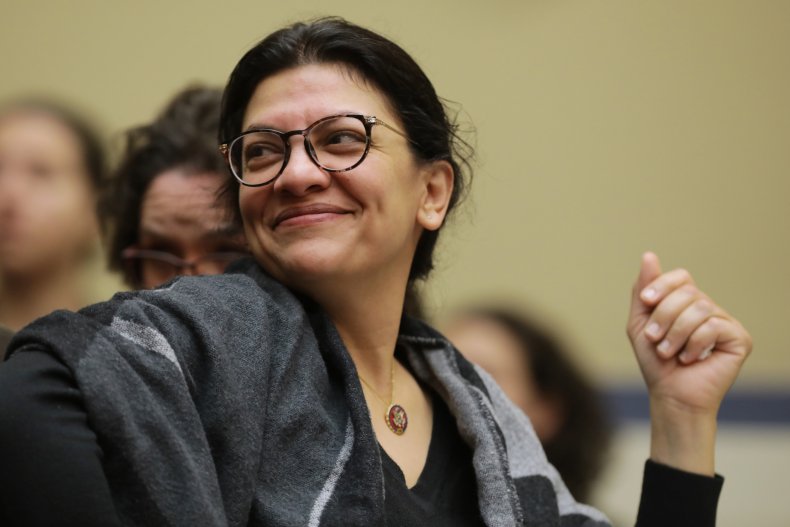 According to The Hill, Tlaib raised $770,000 during the second quarter, which brings her total fundraising amount to $2.9 million, compared with Jones' total of $140,000.
Tlaib also recently gained an endorsement from House Speaker Nancy Pelosi, who described her as "a tireless advocate for the residents of Michigan's 13th Congressional District."
"Rep. Tlaib never stops fighting for her district, which she is proud to represent. And I am proud to endorse her for re-election," Pelosi said in her statement.
During her first year as a congresswoman, Tlaib became known for her criticism of President Donald Trump and is a member of a group of four progressive congresswomen known as "the Squad."
Jones and her supporters have argued that Tlaib has been too focused on dealing with national issues and not those in her district.
"I'm not interested in being a rock star. I'm just interested in bringing home the money, working for people of the 13th District and uniting the community," Jones recently told The New York Times.
The Target-Insyght poll also found that more Michigan voters have a favorable view of Tlaib, compared with Jones. Seventy percent of respondents said they viewed Tlaib favorably, while 16 percent said unfavorably. Fourteen percent said they had no opinion.
Comparatively, 45 percent of the poll's respondents said they have a favorable view of Jones, while 17 percent said unfavorable and 39 percent said they had no opinion.
Tlaib's 28-point lead over Jones is a jump from a previous poll, also conducted by Target-Insyght. From March 31 to April 2, the poll surveyed 500 registered voters in Michigan and found 43 percent supporting Tlaib and 34 percent siding with Jones.
On Tuesday, primary elections are also taking place in Kansas, Arizona, Missouri and Washington.