As Polls Show Trump Struggling in North Carolina, Democrats Outnumber Republicans in First Days of In-Person Voting
North Carolina voters are on their fourth day of in-person early voting, and if the current trend continues, it could spell trouble for President Donald Trump's path to re-election.
Trump won North Carolina in 2016 by about 4 percentage points, but with less than three weeks until the election, he faces an almost 3-point gap between himself and former Vice President Joe Biden. Both candidates are spending some of their final campaign days in the state, and more than 1.5 million people have already cast ballots there. As of Monday, Democratic Party turnout is 1.8 times higher than that for Republicans.
Of the total ballots cast, registered Democrats were responsible for 708,355, equivalent to about 46 percent of the votes, according to the United States Elections Project. Republicans, with 379,640 ballots cast, account for about 25 percent of the total votes, less than the 28 percent cast by voters with no party affiliation.
Despite concerns that people would be dissuaded from going to the polls because of the coronavirus, both Republicans and Democrats in North Carolina have cast more ballots in-person than by mail so far.
Early-voting locations opened last Thursday. After three days, 918,228 in-person votes were cast, according to the Elections Project. Registered Democrats account for about 15 percent more in-person votes than Republicans.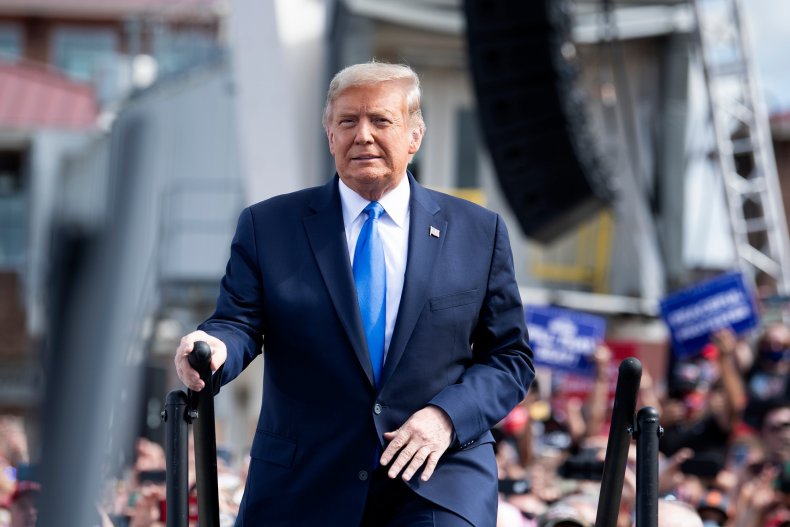 At a rally in Greenville on Thursday, Trump said there was going to be a "red wave" and encouraged people to go out and vote in person. He called the 2020 election the most important one in the country's history and criticized Biden for turning his party over to "socialists, Marxist, communists" and, as "some people would say, far-left lunatics."
"Well, don't clap too hard. Go out and vote," Trump said. "We'll clap later, because these people are crazy."
Newsweek reached out to the Trump campaign for comment but did not receive a response in time for publication.
Depending on how other swing states shake out, North Carolina could be critical to Trump's re-election. Biden has a 45.8 to 48.5 percentage point lead over Trump, according to a Real Clear Politics average, but a poll from Emerson College found the two were in a statistical tie. The poll said each candidate had 49 percent support among voters, with Trump taking the lead in rural areas and Biden leading in the suburbs and urban areas.
Democrats also lead in mail-in ballots and have a return rate that is 5 points higher than the Republicans' number. Republicans, who polls show are generally less likely to vote by mail, have a return rate that's less than 1 percentage point higher than those without a party affiliation.
On Sunday, Biden told voters at a rally in Durham that although he's running as a "proud Democrat," he will "govern as an American president." He said that the president's duty is to care for "everyone in America" regardless of political affiliation and that Americans' duty is to vote.
"We got to keep the incredible momentum going. We can't let up," Biden said. "So folks, it's time to stand up. Stand up and take back our democracy. No more time left."