Polls Show Why Trump Flip-Flopped on Dreamers
This article first appeared on the American Enterprise Institute site.
President Trump last Tuesday announced his decision to rescind the Deferred Action for Childhood Arrivals (DACA) program put in place by President Obama's executive order in 2012. Polls show public opinion at odds with Trump's decision.
In a YouGov/Economist poll taken before Trump's announcement, a solid plurality of Americans (48 percent) said they wanted him to keep DACA, while 29 percent wanted the President to end it.
Democrats (73 percent) and independents (43 percent) were in favor of keeping the program. Only 30 percent of Republicans were, while 49 percent said it should be ended.
After the announcement, 55 percent of Americans in a HuffPost/YouGov survey said they thought Trump made the wrong decision, with 88 percent of Democrats and 53 percent of independents giving that response. 83 percent of Republicans thought the president made the right decision.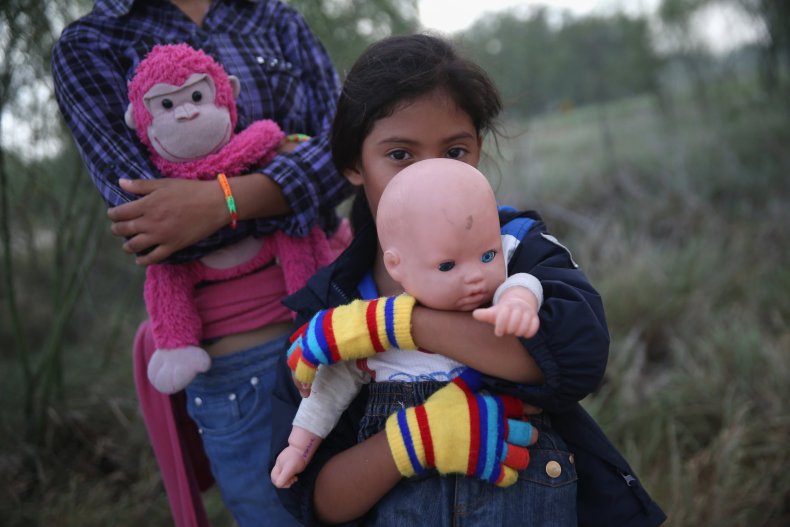 Broader questions about DACA that don't mention Trump also showed more support than opposition to the program.
The September 5–6 HuffPost/YouGov survey asked two differently-worded questions, each of half their sample. 53 percent said they supported "allowing undocumented immigrants who came to the US as children to stay in the country," while 29 percent were opposed.
47 percent said "undocumented immigrants who were brought into the country as children" should be allowed to stay in the country; 30 percent said they should be required to leave the country. In the YouGov/Economist poll, 55 percent said they favored DACA.
Other recent surveys taken prior to the announcement showed higher levels of support for the program. When Politico/Morning Consult asked registered voters about the best way to handle the Dreamers, 58 percent said they should be allowed to stay and become citizens if they meet certain requirements, and 18 percent said they should be allowed to stay and become legal residents, but not citizens.
15 percent thought they should be removed or deported from the United States. In an August NBC News/SurveyMonkey poll, 64 percent said they supported DACA. 63 percent of registered voters in a March Suffolk University/USA Today survey said they thought Trump should continue Obama's protection for Dreamers.
In all recent surveys, majorities of Democrats were supportive of DACA and allowing Dreamers to stay. Republicans' responses varied, with most surveys showing them either opposed or divided about DACA.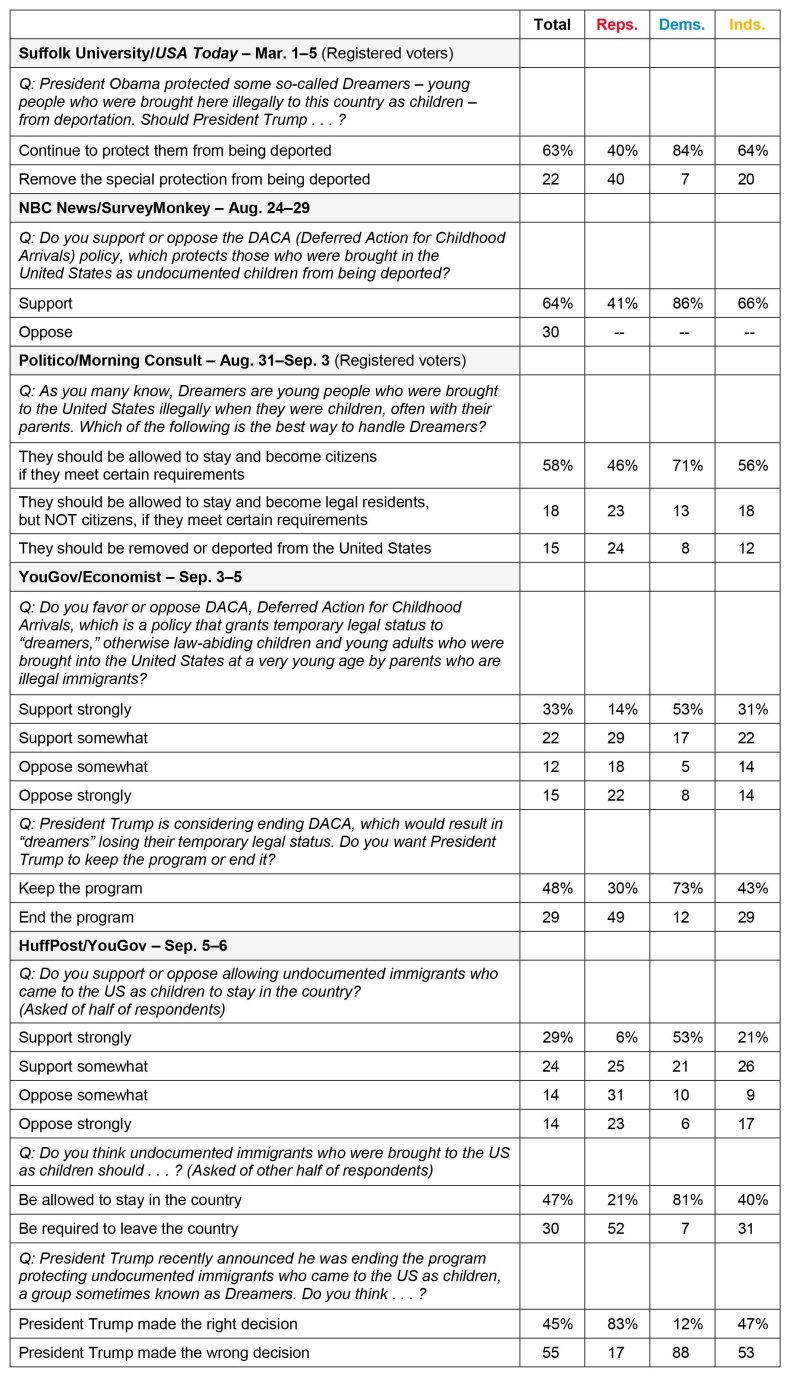 Public Religion Research Institute surveys from 2011 to 2015 show Americans have been supportive of allowing people brought to the US illegally as children to gain legal status for some time.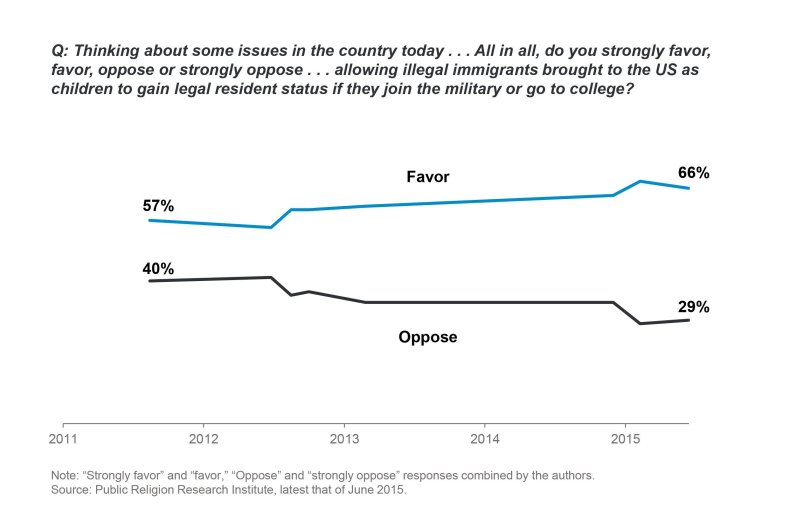 The polls make clear that most Americans feel compassion for young people who were brought here unlawfully at a young age and who have stayed out of trouble and in school.
Looking beyond DACA, surveys show a majority support giving undocumented immigrants living in the United States a chance to remain here legally.
Americans' general feelings toward immigrants and immigration have become more positive in recent years. A new NBC News/Wall Street Journal survey shows a nearly 25 point jump since April 2005 in the share of Americans who think immigration adds to our character and strengthens the United States.
See more survey trends on the topic in AEI's Political Report.
Karlyn Bowman is a Senior Fellow at AEI.