Republican Roy Moore Outpolling Democrat Doug Jones in Alabama Senate Race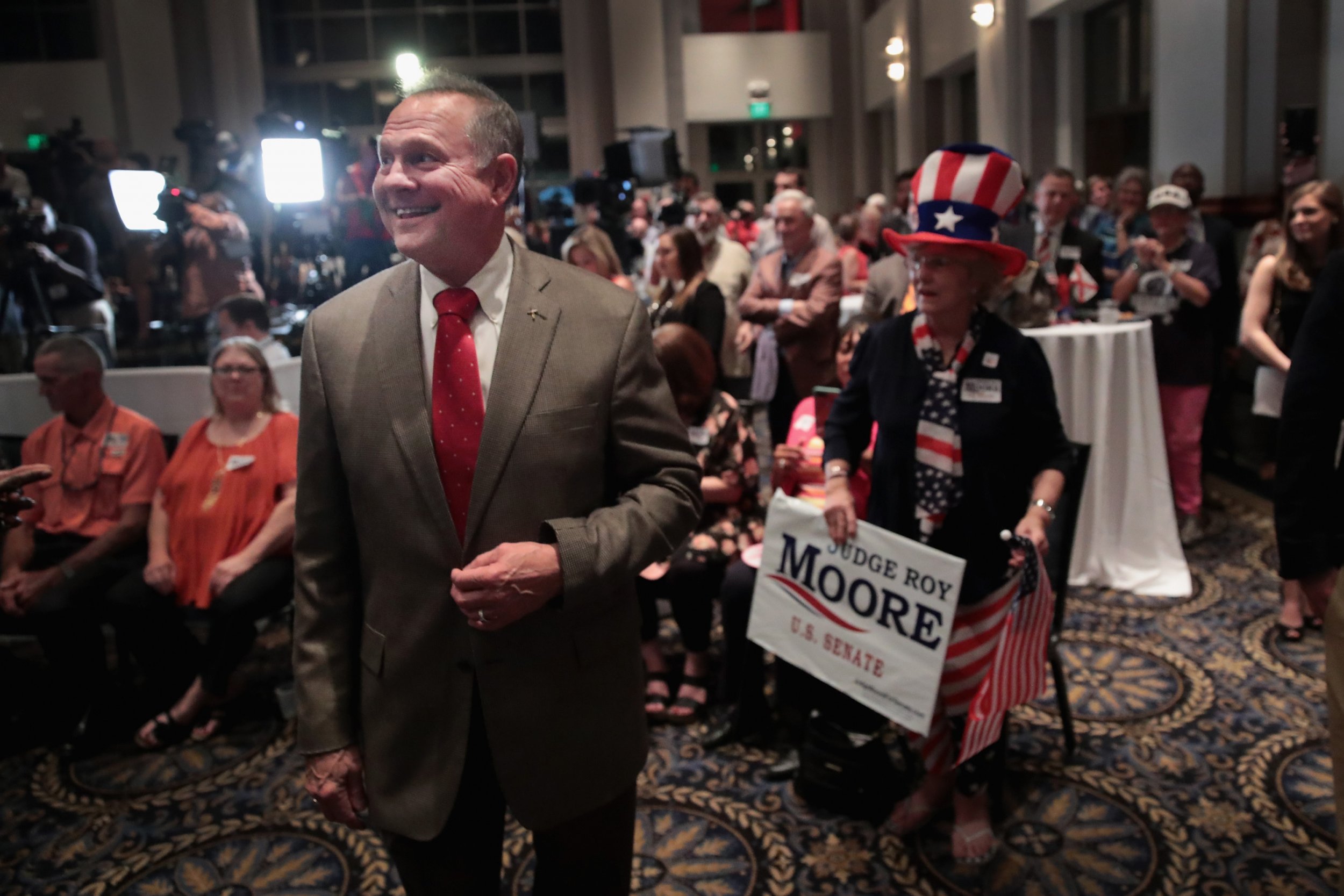 Gun-toting, horse-riding Republican Roy Moore would handily beat his Democratic rival for Alabama's senate seat if the election was today, a new poll shows.
The former Alabama Supreme Court justice is polling at around 50 percent versus 44 percent for Democrat Doug Jones. The remainder is undecided in the Decision Desk HQ poll, which has a margin of error of plus or minus 4 percent.
Moore's margin suggests a tighter race than expected, given that Alabama has twice as many Republicans as Democrats—and 13 percent more than the U.S. average.
But a six-point lead is sizeable, given that Moore, who beat President Trump's candidate Luther Strange for the GOP nomination, has been a controversial figure in Alabama for years.
Moore is a staunch evangelical Christian conservative who has been removed from the Alabama Supreme Court twice: once over refusing to take down a Ten Commandments monument and another for his stance against marriage equality.
And in 2005, he described homosexuality as "abhorrent, immoral, detestable, a crime against nature and a violation of the laws of nature and nature's God upon which the nation and our laws are predicated." He said gay sex should be illegal.
In his last race for the court in 2012, Moore defeated his challenger by only 3 percent.
The latest poll also found that are over 55 percent of the likely voters in Alabama are evangelical Christians, and that the same percentage of voters are somewhat or strongly opposed removing Confederate monuments—numbers that will likely help Moore over Jones, who has objected to Moore's use of his Christian belief as a basis for policy.
The six-point lead for Moore isn't as big as Alabama Republicans usually enjoy.
"Any time you get a result that seems to run totally contrary to the conventional wisdom of a state's politics, it gives you pause," Brandon Finnigan, the executive director of Decision Desk, told BuzzFeed News. "I still have difficulty seeing him lose in Alabama. But in a special held 13 days before Christmas? Who knows."
Polls can dramatically change so far before an election. A full month before Moore beat Strange in the primary, he was projected to win by 18 points. He ended up winning by nine points.
Jones also benefits from an apparently split Republican electorate. During the campaign, Trump strongly backed Strange. But Trump's former chief strategist Steve Bannon campaigned for Moore—at one point even telling Alabamians that a vote for the anti-establishment candidate was "a vote for Donald J. Trump."
The day after the primary election, President Trump deleted his tweets of support for Strange.