Pollster Who Called 2016 Correctly Says Trump Win Likely as 'Shy Voters' Shun Shutdowns
One of the few pollsters who accurately predicted that President Donald Trump would win the 2016 presidential election told Newsweek he feels "more confident every day" that Trump will also win his bid for re-election.
Key to Trump's path to victory are his "shy" supporters who aren't necessarily telling most pollsters the truth about who they will vote for because of societal pressures that have only grown in the last four years, according to Robert Cahaly, a pollster and senior strategist with the Atlanta-based polling company Trafalgar Group.
Cahaly made national headlines in the fall of 2016 when he announced predictions at odds with most other national polls, which said then-Democratic presidential nominee Hillary Clinton was destined for a landslide triumph. Cahaly stood by his predictions and watched as Trump led his supporters to a victory in the electoral college, exceeding the 270 electoral votes needed to win and securing his place in the Oval Office with 304.
This election cycle, Cahaly said he believes Trump will score electoral college votes in "the high 270s" and "quite possibly a lot more."
In contrast, most national polls conducted in recent weeks have predicted that Democratic presidential nominee Joe Biden will win handily. The former vice president is also leading with varying margins in most battleground state polls. But many Americans are hesitant to believe pollsters after what was, for many, a surprising defeat for Clinton in 2016. Though Biden appeared to be polling even stronger than Clinton did both nationally and in many swing states with just days remaining before the election, public trust has eroded in the polling system because of the "silent majority" who were not showing up in 2016's pre-election polls but who came out in force to elect Trump.
Based on Trafalgar Group's voter surveys, Cahaly said he believes the election on November 3 will have a similar outcome. "I feel more confident every day, because we get more data every day," Cahaly said.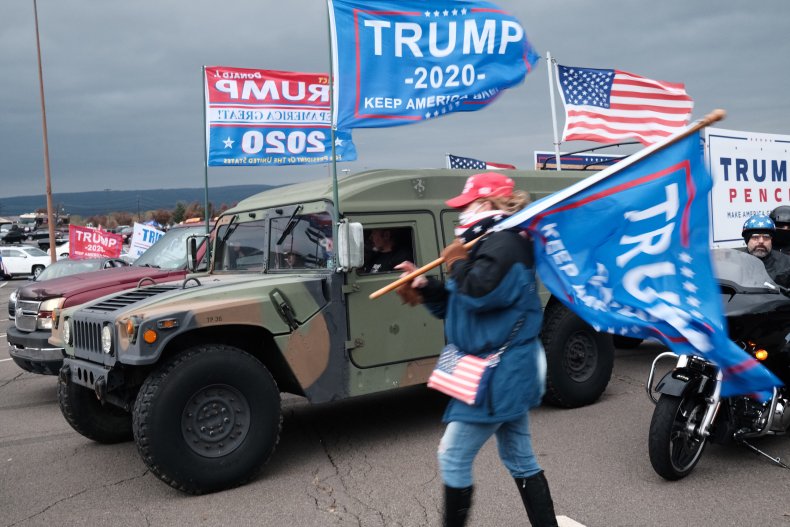 While Cahaly said he expected an October surprise–style scandal could shake the confidence he had in his predictions, nothing in the same vein as the Billy Bush Access Hollywood tapes from 2016 have come up to introduce brand-new vulnerabilities to Trump's campaign. Instead, the final presidential debate on October 22 emphasized what he said many of the voters he's spoken with identify as the most important issue heading into the election: the possibility of another economic shutdown.
Trump, who has touted the success of the economy before the coronavirus pandemic necessitated shutdowns across the country this year, has repeatedly said he does not want any more closures. Meanwhile, Biden has indicated he is open to additional shutdowns if they are deemed necessary to stifle the virus's spread.
"Even [voters] that don't like Trump, they're like, 'I don't like Trump, but we can't have another shutdown.' Because the economy has always trumped—pardon the expression," Cahaly said. "The economy has always been more important."
Those voter sentiments didn't mean they weren't concerned about the virus, Cahaly said. It just meant that when it came to weighing "acceptable risk versus non-acceptable risk," voters told him it was an "easy choice" for them to make.
Another commonality among Trump supporters Cahaly has spoken with is their frustration with the recent violence seen during protests throughout the summer, cancel culture and a general shift away from the accepted ways of living and communicating that older voters grew up with. Cahaly pointed to a New York Times opinion article published over the summer that contemplated the complicated history of Mount Rushmore, a monument that is seen by some as a celebration of American history and by others as a symbol of the country's colonialist past. New discussions that questioned widely accepted beliefs or symbols were frustrating to many voters, he said—and they found it even more frustrating when their children engaged with those cultural re-examinations.
"They did not get what was happening until it was right in their face," Cahaly said. "What shocked them even more was when their kids weren't shocked. And that got them very concerned. That's what I hear from adults, is like, 'I got mad, but I got madder when I realized my kids weren't mad. And I realized my kids kind of thought some of this stuff.'
"That has motivated a bunch of people to vote," Cahaly continued. "There is a silent majority that got very upset by all that. People who spent their whole life treating people the same, living by the code of conduct, judging each person by the character and not the color of their skin. And somehow that wasn't good enough anymore."
But if these upset citizens are part of a silent majority, why aren't most national polls identifying them as such? Cahaly said it's partly due to the way some polls are conducted. One of the discrepancies Trafalgar Group noticed in its own polling was that online polls were more dependable than polls conducted over the phone, the latter of which Cahaly said returned results that were 3 to 4 points off.
In mid-October, Cahaly told the National Review that his research indicated Biden supporters were five times more likely to agree to speak with pollsters than Trump supporters were, another element that could sway the results of a voter survey.
"It didn't take us long to figure out we had a social desirability situation playing out," Cahaly told Newsweek. "When faced with a live caller especially, people cater their answer in a way that will make them look best in the eyes of the person asking the question."
Cahaly said his team used the "neighbor" question—which asks voters how they believe their neighbors are voting—in 2016 to give voters a way to share their own views on a candidate without fear of judgment. "It's a projection device. It lets you say what you want to say without being judged for it," he said. "We saw that in almost every state, Hillary would drop and Trump would go up, when you asked who your neighbors vote for."
After seeing how that question impacted poll results, Cahaly said his team began incorporating more elements of anonymity for their respondents in an attempt to drill down to voters' real opinions. "The more anonymous your poll is, the more likely somebody is to tell you the truth," he said.
If voters were concerned about publicly announcing their support for Trump in 2016, Cahaly said they are even more hesitant to speak out four years later—and he believes there are far more "shy" Trump voters this time around.
"Absolutely. Unquestionably bigger," he said of Trump's "silent majority." "Because there's just a bigger price. What was cancel culture in 2016? It didn't exist. We've been through a whole new metamorphosis."
Though Cahaly said his polling data suggests Trump will win re-election, not every battleground state is predicted to swing in Trump's favor. According to a Trafalgar Group poll conducted on October 25, Biden is favored to win Wisconsin by a narrow margin identical to the one that Trump won the state by four years ago. The Associated Press' decision to call the state for Trump in the early morning hours the day after the 2016 election was immediately followed by the AP's prediction that Trump would also win the presidency.
However, other Trafalgar Group swing state polls conducted in October suggested Trump victories, including in Arizona, Florida, Michigan, North Carolina and Pennsylvania. Cahaly said Trump needs to pull off a 4- or 5-point lead in Pennsylvania to secure the state, the results of which Cahaly expects will be complicated by a last-minute U.S. Supreme Court decision to allow state election officials to receive ballots after Election Day. But he doesn't imagine Trump will face severe threats in Texas, a state the Democratic Party has indicated could lean in their favor for the first time since 1976.
"No. I don't believe it," Cahaly said of Texas' chances of flipping.
A state that he thinks could flip is Nevada—though in this case, the shift would be in the Republican Party's favor. A Trafalgar Group poll conducted on October 29 said Biden was leading Trump by 2.4 points—and according to state polling averages compiled by FiveThirtyEight, Biden was leading among Nevada voters by approximately 6 points by the end of October—but Cahaly said the possibility of another lockdown was of particular interest to Nevada voters and could result in an unexpected lean toward Trump.
"Here's what's happening in Nevada: One, Trump's doing incredibly well with Hispanic voters," Cahaly said. "Two, Biden is Mr. Shutdown. And if you work in the casino industry, Mr. Shutdown means you don't have a job next year."
In addition to Nevada, Cahaly said he plans to pay close attention to how the presidential race plays out on Election Day in Michigan, Minnesota, Pennsylvania and Wisconsin. Regardless of how each state ultimately leans, Cahaly said he believes this election will be a turning point in U.S. history.
"The thing is, it's going one way or another. There are so many people who believe, inherently, that this prevailing media notion of what America is, how America sees itself, is wrong, and there are people who believe it's right," Cahaly said.
"This is a fork in the road. It just is."