#PollThePeople Trends as DNC Rejects Andrew Yang Request for More Polls Ahead of Iowa Debate
Andrew Yang's request for more early-state polls to be commissioned ahead of the next primary debate in Iowa has been rejected by the Democratic National Committee, an appeal and subsequent refusal that's prompted the 2020 candidate's loyal social media following to ignite debate over "#PollThePeople."
Yang first petitioned for polls in states hosting the first primaries and caucuses in a December 21 letter—two days after the most recent debate—to DNC Chairman Tom Perez that was obtained by The Daily Beast. The states are Iowa, New Hampshire, Nevada and South Carolina, where candidates have largely focused their recent time and resources.
Despite qualifying for the first six debates, Yang has yet to meet the requirements for the seventh that will take place on January 14 in Iowa. Former Vice President Joe Biden; Sens. Bernie Sanders (I-VT), Elizabeth Warren (D-MA) and Amy Klobuchar (D-MN); and South Bend, Indiana, Mayor Pete Buttigieg have all met the DNC threshold for polling and donations to make the stage. Yang has met only the donations requirement so far.
More polls, the millionaire entrepreneur argued, "would provide an accurate snapshot of the current state of the race and where voters' hearts and minds are, thus getting ahead of an imminent problem." He said they would also encourage more diversity for the debates, which, without the inclusion of Yang, will consist of all white candidates.
"With the upcoming holidays and meager number of polls currently out in the field, a diverse set of candidates might be absent from the stage in Des Moines for reasons out of anyone's control," Yang wrote. "This is a troubling prospect for our party. Regardless of the DNC's best intentions, voters would cry foul and could even make unfounded claims of bias and prejudice."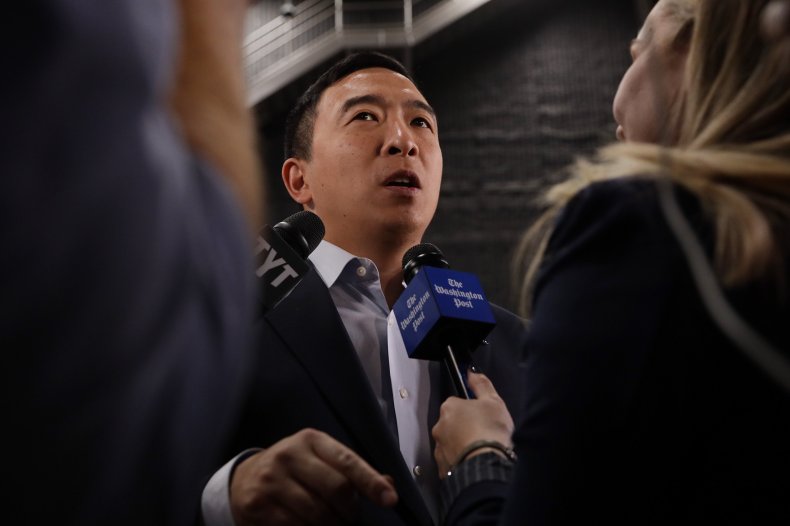 Yang's letter also argued that the lack of polling in more than a month in the four states will render useless any candidate's increase or decrease in popularity since the sixth debate on December 19.
The DNC rejected Yang's request, saying in a statement that sponsoring its own qualifying polls during a primary "would break with the long standing practice of both parties using independent polling for debate qualification, and it would be an inappropriate use of DNC resources that should be directed at beating Donald Trump."
The Yang campaign, frustrated that the DNC chose to respond to media outlets before Yang's letter, said time was running out for the DNC to "uphold the integrity of the primary process."
"The DNC chose to respond to the press before they responded to Andrew Yang. That should be a key indicator of what their priorities are," a senior campaign official told Newsweek.
Yang's top campaign officials, in addition to the candidate himself, publicly ridiculed the DNC on Twitter Monday. He offered to fund the commissioned polls, writing that it's "a small price to pay to actually see what voters are thinking at this crucial time."
"Hasn't been a qualifying early-state poll (where we've invested heavily) in 47 days now... silence from the DNC," wrote campaign manager Zach Graumann. "Guess we'll just have to prove them wrong when the voting starts."
Steve Marchand, a senior adviser to Yang, questioned how the DNC could "require 4 qualifying polls at *any* % level if there have been literally zero polls taken since the last debate?"
"It means performance in the last debate has no impact on candidates' future viability to make debate stages," he continued. "Is this fair?"
Fellow 2020 Democratic contender Tom Steyer also threw his support behind Yang's request. Additional polls would "ensure the most diverse field possible and to reflect the current support of voters in the early states," the billionaire candidate wrote.
In its statement to Newsweek, the DNC stood by its belief the governing body has been "more than inclusive throughout this entire process with an expansive list of qualifying polls." The DNC noted that for the December debate, it included 26 polls—more than half of which were state polls.