Taking a shower is second nature to humans, however, one Pomeranian dog didn't seem to be enjoying the experience in a viral Instagram video.
The footage was shared to the social media site by Bigpomfamily, an account run by a woman called Roberta who has six Pomeranians called Mel, Agnes, Júlia, Max, João and Slash.
In the clip we can see João, who has brown and black fur, in the shower glaring at the camera as the water falls down on his head, flattening his fur.
The sweet animal's pained expression as he blinks away the water makes for amusing viewing.
Roberta captioned the humorous footage in Portuguese, but her words can be translated to mean: "Day that João's face became a meme #saudadinha #tbt #throwbackthursday #soueunavida."
Since it was posted on December 17, 2020 the video, which can be watched here, has been viewed a staggering 441,000 times and attracted more than 34,200 likes. It was also shared to TikTok on June 25, where it attracted a further 19,300 views.
Many people also took to the comments section to share their thoughts on the funny footage.
One Instagram user by the name of Fluffy.miracle.stonerose observed that little dog "Looks so mad hehehe," alongside a heart-eyed emoji.
Another person, Doglover_1001, gushed: "Aw this is so cute."
Dorito_the_boss, no doubt in reference to the pet's expression, commented: "The pain....."
Hey.u_up typed: "This is hilarious."
Cr8zdrgn theorized that the little animal looked as though "She's plotting her revenge."
Greenstonebellydance tagged a friend in her comment, writing: "Oh my gosh," with a string of laughing-face emojis.
Alnurpradhan commented: "Poor guy."
Recently, another video of a dog looking less-than-thrilled went viral online, showing a golden retriever's menacing glare.
In the footage, shared to TikTok on June 23 by Meshally07, the dog is seen sat in the front seat of a silver car looking friendly.
The camera then pans to an older-looking golden retriever perched on the back seat whose eyes are narrowed and staring at the camera operator.
Text written across the video reads: "The chances of being killed by a Golden Retriever are low.... But not zero."
TikTok was also amused by a clip showing a corgi staring intently at a man in a restaurant.
In the video, which was shared to the app by Ian Ludlow, the man can be seen filming himself using his phone's front camera.
He then zooms past his head to show that a small dog is sat at the table behind him with a frozen smile on its face and its tongue poking out.
Newsweek has contacted Bigpomfamily for comment.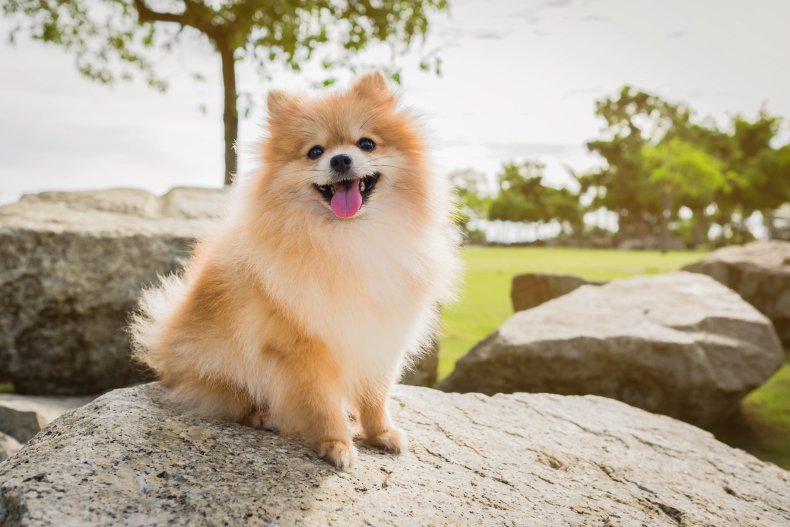 Correction 9/20/21: This article was updated to correctly state the language used in the video is Portuguese.