Pompeii's Second Destruction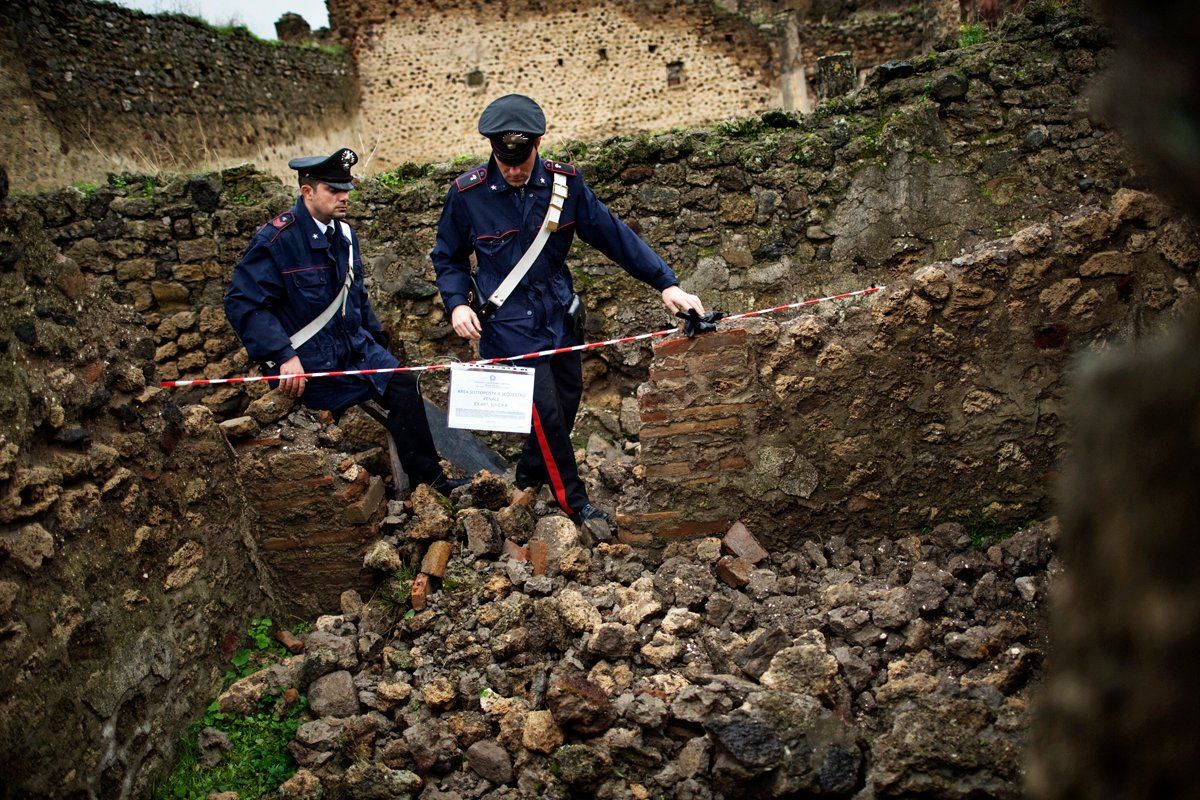 In early November a building where athletes once trained to fight collapsed into a pile of rubble. Since then, structures have been tumbling down at an astonishing rate. Huge sections of a garden wall around the House of the Moralist fell on two separate occasions. In early December an ancient shop and the House of the Small Lupanare were reduced to heaps of mortar. Shelves regularly fall from the moldings, and a wooden scaffolding put in place a half-century ago is visibly rotting. Reports in the local newspaper suggest that many more buildings have crumbled without a mention. The government blames an unusually rainy autumn for the recent damage, but since 2008 there have been 15 major catastrophes that experts attribute to neglect. The irony is that if any city should know how to deal with ruins, it's this one: Pompeii.
The ruins of Pompeii, destroyed after the Italian volcano Mount Vesuvius blew its top in A.D. 79, have actually been falling apart for years. "The real truth is, no one has done anything to secure these ancient excavations since they were excavated," says Claudio D'Alessio, mayor of Pompeii. "You'd think that at least [the recent destruction] would have prompted an intervention to prevent new collapses, but there's not much more than a few fences to make sure the next collapse doesn't hurt anyone." Pompeii has intermittently been on the World Monuments Fund's list of endangered sites to watch, and UNESCO dispatched an unprecedented emergency mission to the city in early December after the House of Gladiators fell. Experts from the International Council on Monuments and Sites studied the damage at more than a dozen of Pompeii's most popular relics and demanded that streets be closed on Jan. 1 while emergency fortifications are put in place. But those Band-Aids have about as much chance of saving the city as the locals did when Vesuvius erupted. Some experts predict that Pompeii as we know it is unlikely to survive even beyond the next decade.
Unfortunately, the good people of Pompeii—or at least the ones with the power to throw the city a life vest—beg to differ. Jeannette Papadopoulos, superintendent of the Pompeii archeological park, warns against "useless alarmism" after the recent collapses. "These types of events are expected over the course of the life of a 2,000-year-old vast archeological site," she says. And according to a shocking statement issued in December by Italy's culture minister, Sandro Bondi, the buildings that fell were hardly worth saving. "The collapse did not involve anything of artistic, archeological, or historical worth," he wrote. The preservation community promptly called for his resignation, though it does that almost every time a Pompeii structure crumbles to dust and nothing is done. Well, not exactly nothing. Guards have cordoned off several streets, patrolling vigilantly to make sure none of the 3 million tourists who visit each year steps, sits, or even leans on anything precarious lest it, too, turn to rubble.
If Bondi's and Papadopoulos's arguments hold as much water as a cobblestone street, that's because the government knows full well what it would take to save Pompeii—money. The region of Campania is in financial straits due to a crippling garbage crisis that has seen millions siphoned from all departments and shoveled into waste removal. Pompeii has an annual budget of $103 million, but it would take nearly twice that amount to implement the kind of preservation program the site needs. Funding drives in Pompeii to find private sponsors of preservation projects have curiously found no takers. Certain areas of the 160-acre site are now regularly rented out for social events and concerts, but the only thing the public knows about that income is that it's clearly not going to maintenance.
In December the military police launched a criminal investigation after an independent study showed that the latest collapses were caused not by rain but by negligence. Authorities handed down nine "notices of investigation," legal warnings that people are being investigated for criminal behavior, either for siphoning funds or awarding contracts to unqualified agencies. In one case, a maintenance contract was allegedly awarded to a top administrator's relative with no experience in archeological preservation. The work was never completed, though the contract was paid in full. At least one expert says that the only hope for saving Pompeii is for the government to hand over responsibility for the site entirely. Philippe Daviero, a noted European art critic, is pushing for complete privatization of many of Italy's most-endangered gems. "Take Pompeii away from the Italian state and give it over to the international community," he says. "Pompeii belongs to the tourists from all over the world who visit it. They would take better care of it."
Perhaps Pompeiians should do as the Romans do. When the cash-strapped culture ministry couldn't come up with $33 million to clean the pollution-stained Colosseum in October, Diego Della Valle, the wealthy Tod's shoe magnate, stepped up and promised to personally fund the whole cleaning project. "I am interested in sustaining the prestige of 'made in Italy,?" Della Valle told NEWSWEEK. It may be too late even for that. Conservationists have warned for decades that if all of Italy doesn't start dedicating more resources to preservation, many of its most highly regarded archeological sites risk collapse.
Italy's 2011 budget allocates $340 million to the cultural ministry, which finances most preservation. In 2008 the ministry received $603 million—and that was before a series of recent archeo-emergencies. In March an enormous section of the roof of Rome's celebrated Nero's Golden Palace caved in, crushing an internal gallery and destroying the once gilded vaulted ceiling. The site is closed until it can be shored up (though thus far scant work has been done). In May three chunks of ceiling mortar spontaneously fell from one of the arches in the Colosseum just a few hours before it opened to the public. The fact that no one had considered the damaged arch vulnerable to collapse has caused concern that the entire ancient amphitheater is seriously at risk. In Florence, flaking tiles and cracks in the ceiling have raised the alarm that the city's architectural masterpiece, the Duomo, is showing its age. "With no maintenance and nonexistent funds, the whole of Italy is at risk of collapsing," warns Alessandra Mottola Molfino, head of the culture watchdog group Italia Nostra. "Every single historical monument in the country is at risk of the same fate as Pompeii." Only this time, the destruction won't come from a volcano.