U.S. Tries to Rally World Support Against 'Tyranny' of China
Secretary of State Mike Pompeo announced a new era of U.S. relations with China, which he said President Donald Trump's administration would no longer treat as a "normal nation," and rallied other like-minded governments to confront Beijing.
Pompeo spoke at the Richard Nixon Presidential Library and Museum in Yorba Linda, California, commemorating the former president's establishment of diplomatic ties with the People's Republic from almost 50 years ago. Recalling Nixon's hopes that opening up to Beijing would "induce change" in China, Pompeo said that Washington and other powers should no longer "continue blind engagement" with its top economic competitor.
"The old paradigm of blind engagement with China simply won't get it done. We must not continue it and we must not return to it," Pompeo said. "The free world must triumph over this new tyranny."
"China is increasingly authoritarian at home and more aggressive in its hostility to freedom everywhere else," he added.
Accusing China of dishonesty in every facet of its foreign policy, Pompeo put a new spin on a Russian proverb "trust, but verify," made famous by former President Ronald Reagan during his dealings with the Soviet Union. The secretary of state said that when it comes to the Chinese Communist Party, he will "distrust, but verify."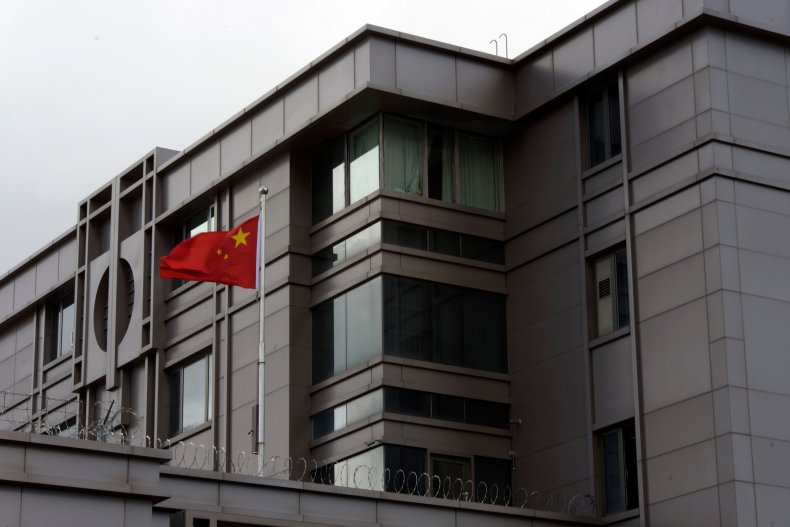 Pompeo's remarks come at the heels of a series of hardline measures taken by the Trump administration against China, which Secretary of Defense Mark Esper defined last week as the United States' top strategic competitor. As the Pentagon boosts its South China Sea presence to counter heightened Chinese military activities there, Pompeo has steadily announced sanctions against Beijing, accusing it of human rights abuses and political repression.
Trump sought a tougher stance on China early in his tenure and ramped up tensions with a trade tit-for-tat trade war partially stalled by a phase-one trade agreement reached in January. As the novel coronavirus pandemic gripped the world, however, the White House blamed Beijing for mishandling the outbreak and doubled down on efforts to confront it -- even as Washington dealt with overlapping domestic crises of public health, an economic recession, and mass protests.
"I reject the notion that we're living in an age of inevitability, that some 'trap' is pre-ordained, that CCP supremacy is the future," Pompeo said. "Our approach isn't destined to fail because America isn't in decline.
"The free world is still winning. We just need to believe it, know it and be proud of it," Pompeo said.
The top U.S. diplomat called for the combined military, economic and political power of also called for "a new grouping of like-minded nations, a new alliance of democracies."
Pompeo's signaled a call to arms based on arguments he and other Trump administration officials have been developing for some time. Chinese officials have frequently hit back at such portrayals of their country as a malign global actor, questioning the United States' own track record.
Chinese Foreign Ministry spokesperson Hua Chunying responded Thursday to an earlier Pompeo tweet in which he accused the Chinese Communist Party of "acting in a way that poses real threats to the world" and vowed that the U.S. would "make sure that we preserve American national security and impose costs on the CCP in order to achieve a change in behavior."
"Wonder why #Pompeo hates the CPC so much? Is it because CPC poses real threats to the world? Let's look at the facts," Hua tweeted.
Attached, she shared an earlier statement in which her ministry touted China's accomplishment of becoming "the world's second largest economy in decades without resorting to warfare, colonialism and slavery." The statement also contained figures showcasing the country's economic, humanitarian and peacekeeping contributions to the world, comparing them to U.S. wars abroad around the world and a decline in global trust in Washington.
"Then who is the real threat to the world?" the statement asked rhetorically.