Pompeo Lays Out Conditions for Trump-Iran Meeting After President Says 'No Preconditions'
Secretary of State Mike Pompeo has discussed conditions that Iran must fulfill before President Donald Trump will meet with the Middle Eastern nation, contradicting the president's earlier statements.
During a press conference at the White House on Monday, Trump told reporters: "If [the Iranians] want to meet, we'll meet." He explained that he believes in meetings—especially when the stakes are high—adding that "no preconditions" would be asked.
But hours later, Pompeo spoke to CNBC's Closing Bell, laying out reforms Iran must make before Trump would meet with its leaders.
"If the Iranians demonstrate a commitment to make fundamental changes in how they treat their own people, reduce their malign behavior, can agree that it's worthwhile to enter into a nuclear agreement that actually prevents proliferation," the secretary explained, "then the president said he's prepared to sit down and have the conversation with them."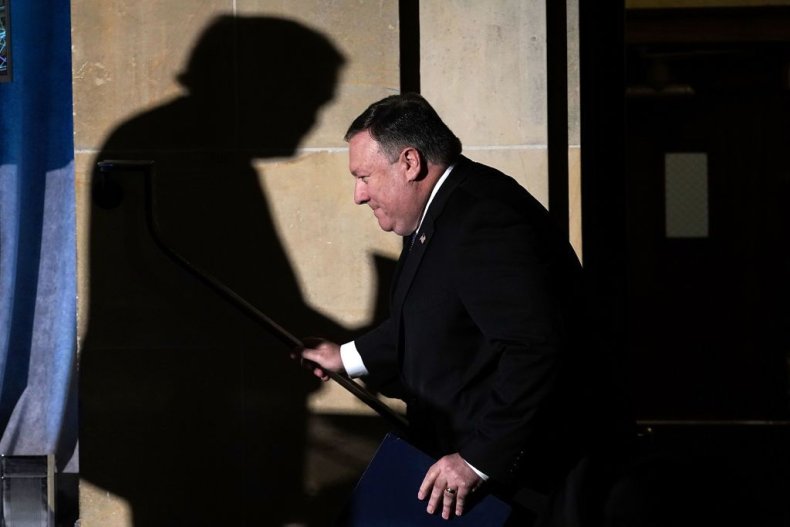 Pompeo also voiced his support for a summit between Tehran and Washington, saying Trump "wants to meet with folks to solve problems."
For its part, Iranian leaders dismissed the possibility of any such meeting taking place without the U.S. changing its stance on the 2015 Joint Comprehensive Plan of Action, commonly known as the Iran nuclear deal.
Hamid Aboutalebi, an adviser for Iran's President Hassan Rouhani, said that Tehran would not meet with the U.S. until it shows "respect for the great nation of Iran," returns to the nuclear agreement and reduces hostilities, The Guardian reported.
Iranian Interior Minister Abdolreza Rahmani Fazli also dismissed the possibility of a meeting, saying Tehran does not trust Washington. "How can we trust this country when it withdraws unilaterally from the nuclear deal?" he said, according to Reuters.
Tensions have been at a high between the U.S. and Iran following Trump's May decision to withdraw from the nuclear agreement. Washington aims to implement new and harsher sanctions against Tehran, despite opposition from France, Germany, the United Kingdom, Russia and China.
Last week, a war of words erupted between Iran and the U.S., with Rouhani warning that "war with Iran is the mother of all wars." Trump responded with an all-caps tweet, telling Rouhani to never threaten the U.S. again or "SUFFER CONSEQUENCES THE LIKES OF WHICH FEW THROUGHOUT HISTORY HAVE EVER SUFFERED BEFORE."
Pompeo added his voice to the fray as well, referring to Iran's leaders as a "mafia" that disregard the interests of their own people to shore up wealth and ensure their own personal agendas. The secretary of state's counterpart in Tehran, Foreign Minister Javad Zarif, replied to U.S. criticism, brushing it aside by saying: "We've been around for millennia and [have] seen [the] fall of empires."
Analysts have suggested that Iran's Supreme Leader Ayatollah Khamenei has insisted on a hard-line policy of no engagement with the Trump administration following its withdrawal from the nuclear agreement. Previous reports have also alleged that the White House has asked for numerous meetings with Iran's president, all of which have been rebuffed.