Pompeo Mocks Iran's Soleimani in Fiery Defense of Trump-Era Policy as Biden Attempts Reset
Former Secretary of State Mike Pompeo on Saturday mocked slain Iranian military officer Qasem Soleimani, as he defended foreign policy under the Trump administration. His remarks come amid President Joe Biden attempts to strengthen U.S. diplomacy with Iran in what his administration has signaled as a reset after Trump.
"What's good news today for me is when you're a diplomat... you have to stay in your lane. I don't have that. I'm not a diplomat. I'm going to let it rip," Pompeo said in a fiery speech at CPAC, before praising the U.S. assassination of Soleimani.
"So how many of you remember Qasim Soleimani?" he asked the audience. "Allah rest his soul. He didn't cause trouble for Americans ever again."
Pompeo touted the policies that he enforced in Iran and China under Trump and the anger that he had evoked from the two countries. "The Chinese have sanctioned me. The Iranians don't think so much of me either," he said to loud applause. "But I'm proud of our fight... we have upended the status quo."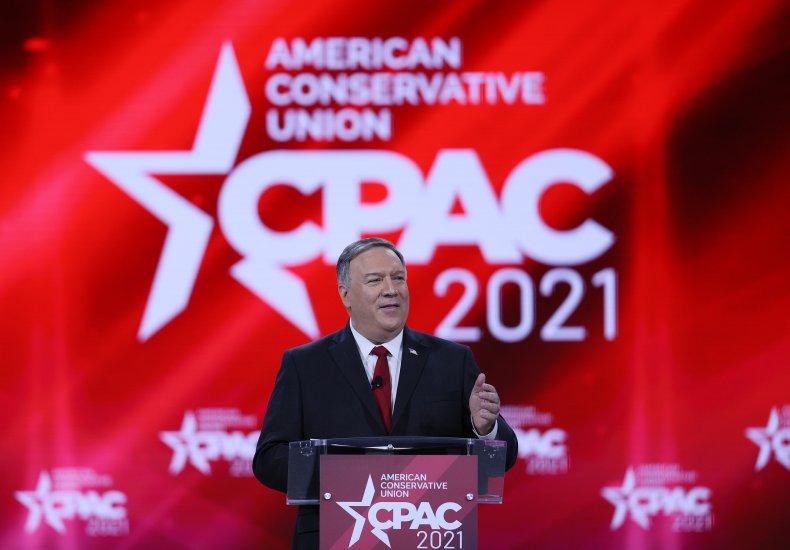 Trump ordered a U.S. drone strike that killed Soleimani, the head of Iran's Revolutionary Guards Quds Force last January. Pompeo was reportedly among the advisers that urged the ex-president to take the opportunity to take the kill.
On February 18, nearly a month after Biden's inauguration, the U.S. said that it was ready to restart diplomacy with Tehran and talks about a nuclear deal, which the Trump administration abandoned in 2018. At the same time, Secretary of State Antony Blinken reaffirmed to European allies that Biden wants Iran to return to the nuclear deal and is "prepared to engage in discussions with Iran toward that end."
But on Thursday, Biden authorized airstrikes in eastern Syria areas allegedly held by Iran-backed militia groups in response to recent and unclaimed rocket attacks on U.S. forces in the region. The move mirrored the red line set by Trump, who ordered attacks on Syrian and Iraqi positions after similar rocket attacks.
Iraqi ambassador to the U.S. Fareed Yasseen told Newsweek that "the response of the [Biden] administration, at the least, showed greater respect for Iraqi sovereignty than the previous administration in that the retaliatory strike did not occur on Iraqi territory."
In a statement to Newsweek, a spokesperson from the State Department indicated that the Biden administration intends to remain vigilant on Iran-backed forces acting outside of Iraqi law but will not prevent positive ties between Baghdad and Tehran.
"While we encourage Iraq to maintain friendly, productive relations with all its neighbors, we remain concerned about Iranian influence that undermines Iraqi stability and the integrity of state institutions," the spokesperson said. "Our diplomatic approach seeks to dissuade Iran from funding and arming groups outside the control of governments around the region, including Iraq."