Trump Administration Will Not 'Change American Policy' for US Captives in Response to Syria Demands
Secretary of State Mike Pompeo has said President Donald Trump's administration was not willing to alter its foreign policy in order to advance efforts to return American captives held in Syria, where Newsweek reported Damascus is asking for sanctions relief and troop withdrawal from the southern desert garrison at Al-Tanf in exchange for cooperation with Washington.
Asked by a reporter Wednesday if the U.S. was prepared to pull troops from Syria as requested by the government of President Bashar al-Assad in exchange for help in returning American journalist Austin Tice and Syrian-American psychotherapist Majd Kamalmaz, according to a Lebanese official and Syrian source who spoke to Newsweek on Monday, Pompeo said Washington's policy remained unchanged.
"When we work on prisoners' issues, this is something we focus on, we compartmentalize that," Pompeo told the press briefing. "Our ask is that the Syrians release Mr. Tice, they tell us what they know. They have chosen not to do that so far."
While the U.S. would work to secure the release of Tice and others abroad, Pompeo said such effort would not affect the Trump administration's overarching strategy in the region.
"We'll continue to work for the return of not only Austin, but of every American that's held," Pompeo said. "We're not going to change American policy to do that."
Pompeo made it clear that cash ransoms are out of the question.
"As the president said clearly, we don't pay for the return of hostages," Pompeo said.
He emphasized that these policies applied beyond Syria as well.
"We work to make the case that they need to get these people returned and that is our expectation of every country," Pompeo said. "Not only Syria, but all the Americans that are held in Iran, every place we find them, we work diligently and we've had enormous success."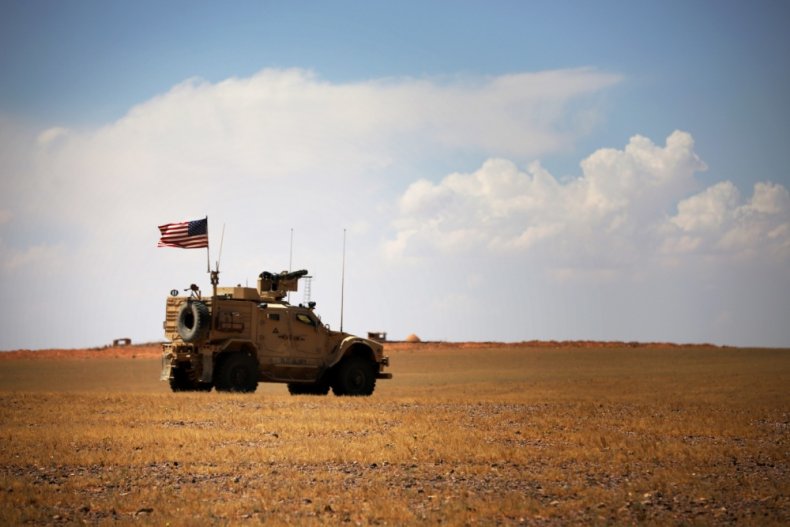 Washington suspended relations with Damascus early on in Syria's civil war, which erupted in 2011, pitting the government against an array of insurgents, some of whom received backing from the U.S. and its regional partners.
Despite having no formal ties, the Trump administration has reached out to Damascus in hopes of securing the release of Tice, who disappeared in 2012, and Kamalmaz, who vanished in 2017.
Both were last seen near the suburbs of Damascus, and their captors have not been officially identified. A short clip that emerged shortly after Tice's disappearance appeared to show him in the custody of Islamist fighters, and Kamalmaz's family said they received secondhand proof of life from a former Syrian prisoner months after the health worker was last seen.
The latest effort to recover the two came through a third party, Lebanese General Security director Abbas Ibrahim, who traveled to Washington last week. The Syrian asks were revealed in a four-hour meeting with national security adviser Robert O'Brien, a Lebanese official told Newsweek at the time.
Damascus has long denounced Washington's policy of sanctions against Syria, where the collapse of the national currency and stalled reconstruction efforts have been further compounded by the COVID-19 pandemic.
Syria, joined by supporters Russia and Iran, also considers the Pentagon an occupying entity, as U.S. troops operate without the permission of the country's government in supporting the mostly Kurdish Syrian Democratic Forces in the northeast, as well as a rebel group called Maghawir al-Thawra at Al-Tanf.
The Syrian government has publicly denied direct knowledge of Tice's whereabouts. The Syrian mission to the United Nations has not yet responded to Newsweek's request for comment, but it has previously condemned the U.S. military presence in the country in comments sent to Newsweek.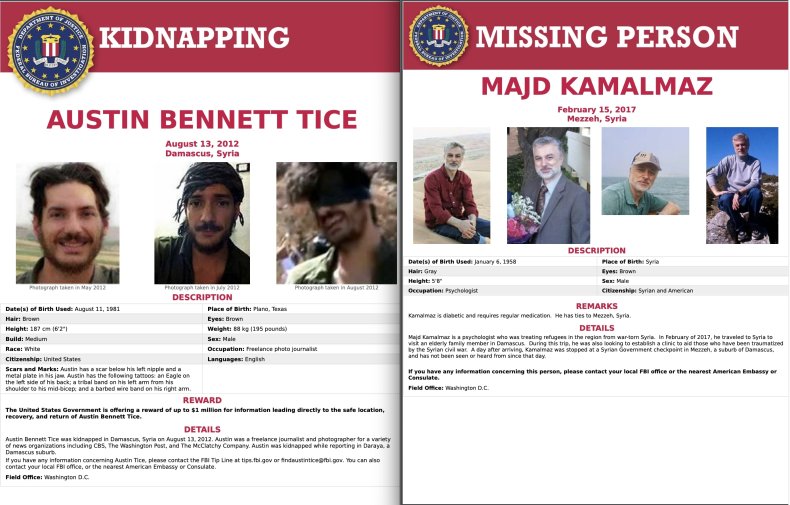 In a statement sent to Newsweek, Kieran Ramsey, director of the multiagency Hostage Recovery Fusion Cell, said that Tice's case remains ongoing.
"The Hostage Recovery Fusion Cell continues to advocate, as the voice within the U.S. government for the Tice Family, the pursuit of the expeditious recovery of Austin," Ramsey said. "We remain inspired by the resolute hope of Marc and Debra [Tice] that we will ultimately prevail over all obstacles and bring Austin safely home."
Tice's mother and father released a statement shortly after Newsweek's report Monday, advocating for talks between Washington and Damascus.
"For years we have pushed for engagement between the US and Syrian governments to help bring our son safely home, so we hope recent reports are accurate," Marc and Debra's statement said. "We are deeply grateful to everyone working for Austin's safe return, and his continued absence shows there is more to be done."
Officials from Russia and the Syrian Democratic Forces also advocated such discussions in conversations last month with Newsweek as part of a larger effort to end the conflict.
The Wall Street Journal reported Sunday that a senior Trump administration official, national security council counterterrorism senior director Kash Pa­tel, traveled to Dam­as­cus earlier this year in an effort to secure the release of Tice and Ka­mal­maz.
The story was confirmed Monday by Syrian state-run newspaper Al Watan, which noted that Patel's trip was preceded by three other U.S. official visits in previous months and years.
Patel earlier this month helped facilitate the release of two other Americans, humanitarian worker Sandra Loli and businessman Mikael Gidada, who were being held in Yemen by Ansar Allah, a rebel Zaidi Shiite Muslim movement also known as the Houthis and supportive of Iran. In return, Washington oversaw the release of nearly 250 Houthi fighters stranded in neighboring Oman.
Ibrahim was instrumental in mediation efforts that ultimately led to the release last summer of travelers Sam Goodwin from the U.S. and Kristian Baxter from Canada, both of whom had been detained in Syria.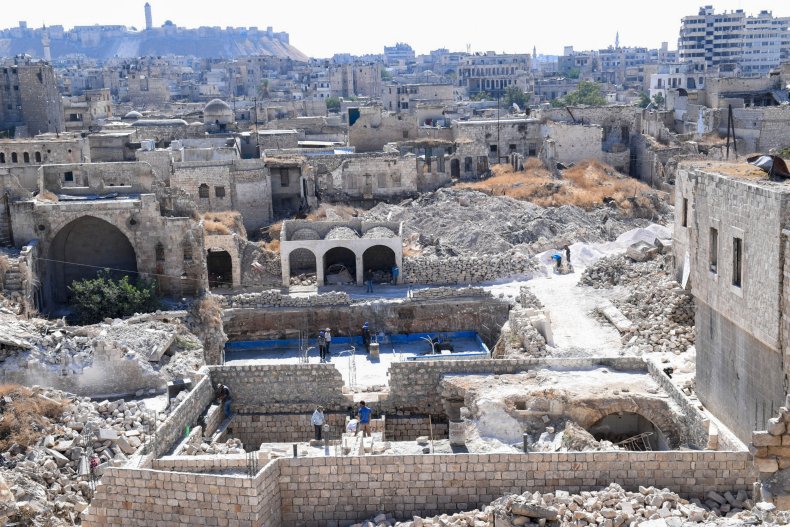 The Trump administration has championed its efforts to release U.S. citizens in captivity abroad.
The president has also railed against what he viewed to be "never-ending foreign wars" launched by past administrations. This includes desires to draw down troops in Iraq and Afghanistan and to get "totally out" of Syria, as he told a rally last week in Des Moines.
Questions have surrounded the Pentagon's lingering presence in Syria since Trump declared victory of the Islamic State militant group (ISIS), or Daesh, last year. Since last fall, Trump has said the U.S. was in Syria "only for the oi,l" which is present in fields now guarded by U.S. troops and partnered Syrian Democratic Forces in the northeast.
The Pentagon defines its U.S.-led coalition mission as providing "high-level advising and enabling of our partner forces to defeat Daesh remnants and set conditions for follow on operations to increase regional stability."
Asked by Newsweek to define U.S. policy in Syria, a State Department spokesperson offered a three-point response: "The enduring defeat of ISIS and Al-Qaeda, an irreversible political solution to the Syrian conflict in line with UNSCR 2254, and the removal of all Iranian-supported forces."
The spokesperson linked the U.S. military presence in oil and gas fields in the northeast to the Pentagon's sole U.S.-led coalition goal of defeating ISIS by arguing that the operation was "denying ISIS access to critical resources and revenue that could allow it to regain strength."